Alumnus elevates analytics into a starring role in film industry.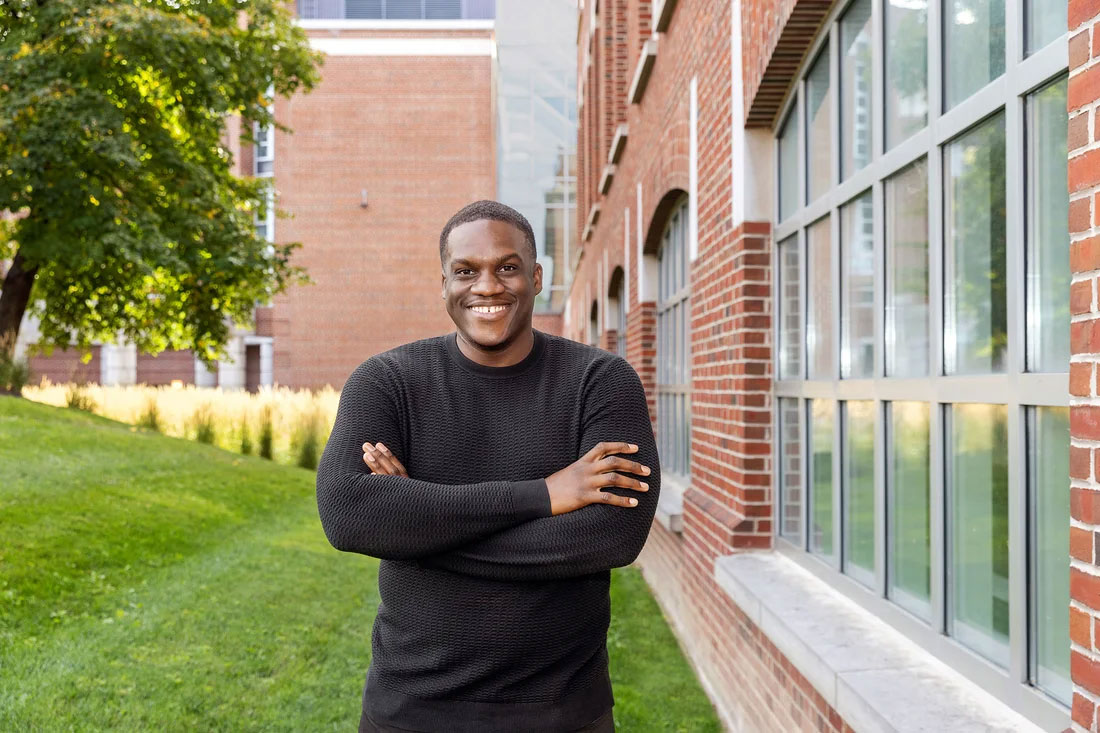 Jamal Salmon '12 plays a major role in the motion picture industry. He's not a Hollywood star, director or producer, but he's influential when it comes to understanding audiences and promoting blockbusters. As the senior vice president of global data analytics at Paramount Pictures, he infuses data and information into studio executives' decision-making process on movies. Whether questions focus on advertising and marketing, targeting specific audiences or even adjusting trailers to amplify a movie's appeal, he provides data-driven guidance that shapes a film's fate. "My role is to help inform everything—from is this the right ad to run on Monday Night Football, to is this the right audience to advertise to for a film, to everyday questions of should we be making more or less of this type of movie?" says Salmon, an alumnus of Syracuse University's Falk College.
Salmon's work has helped propel the success of such smash hits as A Quiet Place and Top Gun: Maverick, which blasted by the billion-dollar mark at the box office. With the proliferation of streaming services and changing viewer habits, Hollywood has had to adjust accordingly—and embracing data analysis is a key part of that shift. According to Salmon, who joined Paramount in 2017, incorporating data as part of the business strategy is relatively new for the film industry. "My favorite thing about my role is that I'm often tasked with trying to come up with solutions for problems that didn't exist even two years ago," he says. "I'm always solving new challenges in a space where people are watching movies at home and in the theater, and that pattern changes every single day."
Salmon—who was honored at Orange Central with the 2022 Generation Orange Award, which recognizes outstanding graduates of the last 10 years—previously held analytics positions at Netflix and Google. But he forged his foundation in analytics in the sports world. After earning a bachelor's degree in sport management, he joined Bloomberg Sports as a basketball/baseball analyst and then became a senior research analyst at ESPN, where he'd interned in college.
"At the time I was a Falk College student and as a sport analytics professional, a lot of the learning was around trying to understand how we could infuse traditional business concepts into the very specific realm of sports," he says. Now, Salmon draws comparisons between the evolution of analytics in the sport and film industries. "For me, the biggest parallel is they're both environments that historically haven't had strong data representation," he says.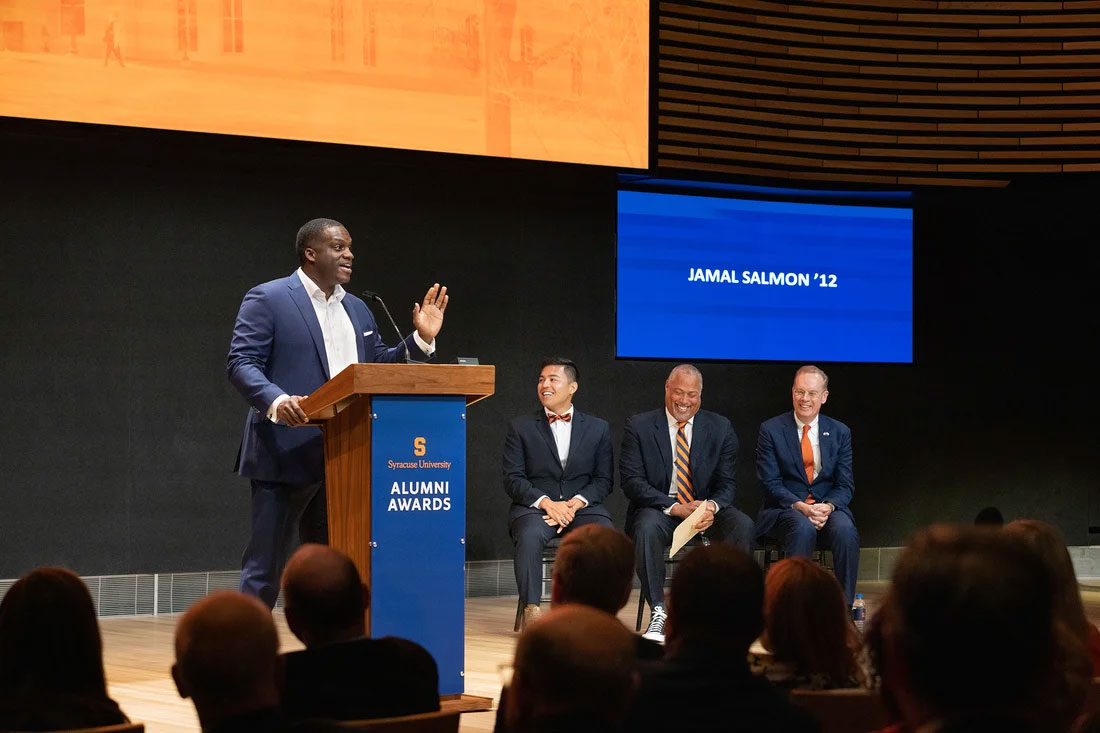 Captivated by Sports Stats
Salmon has always been a big sports fan. Growing up in Queens, New York, he spent a lot of time watching ESPN's SportsCenter and feasting on box scores and stats. "My connection to sports has always been through numbers," he says. "I could quote batting averages, league leaders and many different stats for baseball and basketball." And when he realized there were careers in the sport industry for a numbers guy like him, he looked to explore that path in college. "Falk College was the leader in the sports program space, and that's where I wanted to be," he says.
For Salmon, his Syracuse University experience was transformational. He built strong relationships with Falk College faculty advisors, who provided both academic and career guidance. He emphasizes how collaborating on group projects and managing an intense course load while carving out time for a social life and activities helped prepare him for the problem-solving challenges he faces today. "The ability to go to Falk College was really special for me," he says. "The idea that I could take courses that touch so many disciplines and were all connected by what I was most passionate about—the sports business—was really unique, hard to find and everything I thought it would be."
Among Salmon's fondest campus memories are playing basketball, especially intramural league battles on the court. He was also tight with a group of friends who met regularly at the Schine Student Center to hang out and catch up on their days together. Many of them became lifelong friends. "The friendships I made at Syracuse have supported me not only in my personal life, but also in my career," he says. "Friends of mine have shared opportunities, and I've been able to do the same for them. The opportunity, almost by chance, to meet them on this campus has changed my life."
Creating Student Opportunities
Salmon says his career vision began to take shape on campus, and he treasures those moments where he learned and grew as a person, realizing the positive impact of his time on campus. Today, he supports the University as a member of the Office of Multicultural Advancement Advisory Council and through the Our Time Has Come Scholarship program. "When I think about the opportunity to give to Syracuse University, it's through the lens of, what if I didn't have those four years, what would that mean to me?" he says. "I know that a lot of opportunities are provided by giving back to the University. Contributing to the Our Time Has Come Scholarship gives that opportunity to so many students, especially students of color."
Salmon also likes to mentor students and has welcomed students from the Syracuse University in Los Angeles program to Paramount for an inside look at the studio. For him, it's all part of sharing his success by helping others while continuing to innovate in his career. "Every day I'm learning something new," he says. "I still think I'm breaking new ground and that, for me, is the part that's most exciting."
~ An SU Story by Jay Cox originally published on November 28, 2022.