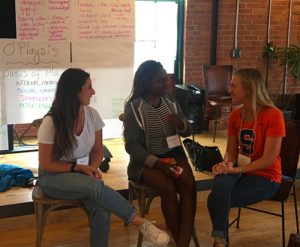 In August 2019, Syracuse University students travelled to Boston, Massachusetts to complete a two-day training through the Life is Good (LIG) Playmaker 2-Day Intensive Retreat for professionals who work with children who have experienced trauma. According to LIG, "a Playmaker is someone who spreads the power of optimism to children who desperately need it."
The retreat was packed with engaging hands-on activities that introduced the LIG philosophy founded in optimism. Retreat participants, or "Playmakers," experienced the four key ingredients of play—internal control, social connection, joyfulness, and active engagement—and how to integrate them into their work with children and families. Self-care strategies for the Playmakers working with children included mindfulness and reflection.
Thanks to scholarship funding from the Sport and Human Development Institute in Falk College, three Syracuse University students attended the retreat. "The students in our human development and family science program work directly with children and families in community internships and the techniques and tools from this training could transform these experiences. The training did not just give us a list of games to play, it equipped us with a mindset that will influence how we think about structuring all future play opportunities," says Rachel Razza, Ph.D., associate professor and graduate director in the Department of Human Development and Family Science (HDFS) in Syracuse University's Falk College. "I appreciated the trauma-sensitive approach and inclusive framework that shaped the activities and emphasized play as a critical vehicle for empowering children and restoring playfulness."
The biggest takeaway for HDFS and political science major Anuoluwapo Omole '20 was learning strategies to create activities for children—and adults—that meet their needs and "allow them to feel included and have fun," she says. The retreat included exercises to apply these strategies, which was a valuable practice for psychology major Samira Suljic '21. "It was most exciting to actually play the activities," says Suljic. "Becoming an LIG Playmaker, I now have many new ideas stored to apply to the future I'm pursuing as an occupational therapist specialized in pediatrics. My objective will be to create a joyous, safe, and connecting environment so everyone can be at their best."
Razza plans to incorporate several retreat strategies into her courses, "Play, Child Development, and Early Education" and "Mindfulness in Children and Youth," as well as teacher trainings in the community. "This training is an excellent example of Falk College's theory-to-practice academic model that promotes active learning among students whose career paths focus on the promotion of well-being among individuals and communities," she adds.
Programs in the Department of Human Development and Family Science focus on life-span development across cross-cultural contexts, social, physical, emotional and behavioral development, and family dynamics and research training.