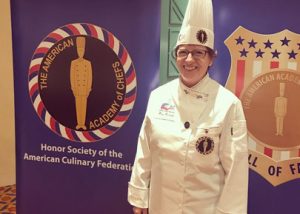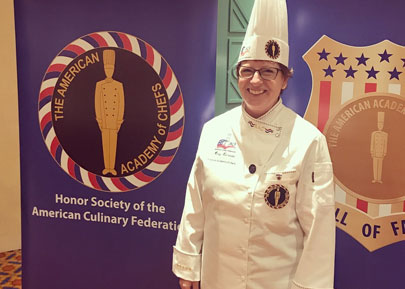 In July, Associate Teaching Professor Mary Kiernan was inducted into the American Academy of Chefs (AAC), the honor society of the American Culinary Foundation (ACF). The ACF was established in 1929. Today, the professional chefs' organization boasts 17,500 members and more than 150 chapters throughout the U.S. See the full list of 2017 AAC inductees online.
"It is the highest honor for me to be recognized by my colleagues in the culinary world," says Chef Kiernan. "We all work hard to elevate the profession of the chef. To be able to stand side-by-side with this esteemed group of chefs, who continuously promote scholarship so that others may choose this path, is by far my greatest achievement."
Prior to her current role as Associate Teaching Professor in the Falk College Department of Public Health, Food Studies, and Nutrition, Chef Kiernan held other roles within Syracuse University. She first came to SU in 2000 to work in Carrier Dome Catering where she managed 42 private suites and numerous other functions related to games and floor dinners. She became an instructor in Hospitality Management in 2007 and received her IMBA at Syracuse University's Whitman School of Management in 2012. She also holds a bachelor of science in hospitality management from Florida International University in Miami.