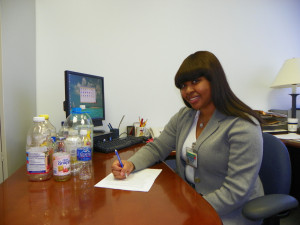 Improving the way of life for others has always been important to May 2011 public health graduate Shanique Campbell. And living in the health and wellness residential learning community her freshman year paved a career path to do just that.
All students in the learning community are required to take HTW 121, "Personal/Social Health." Campbell, who entered SU as an undeclared student, fell in love with the subject area her first semester on campus. That spring, she declared a major in public health.
"I always knew I wanted a career focused on medicine and the well being of others. Learning how to protect and improve the health of the population makes you feel you can make a difference in the world," she notes.
Named a McNair Scholar in 2010, Campbell identified maternal and child health as the focus of her research project. The McNair Scholars Program at Syracuse University, which includes a hands‐on research project, supports high‐achieving undergraduate students in preparation for graduate and doctoral studies.
After talking to her McNair mentor, professor of public health Sandra Lane, Campbell was interested in studying sweetened soda consumption in pregnant women. During the 2010 McNair Summer Academy, Campbell developed her project's rationale. While an intern at the Center for Maternal and Child Health at SUNY Upstate, she created consent forms and study fliers eventually shared with the study subjects: pregnant women in their third trimester (See side bar for survey questions). Campbell shared information collected with obstetrical residents who will abstract data from the delivery charts, including pre‐pregnancy weight and height; weight gain; blood glucose measurements; infant gestational age and birth weight; maternal pre‐natal or perinatal illness or infection; type of delivery; and maternal age, race and ethnicity, among other variables.
Campbell notes her coursework in public health has been very useful for her research. "What I learned in my health literacy course helped me create a study flier on an appropriate grade reading level." Another class that helped Campbell prepare for this experience was "Culturally Competent Healthcare." "In interviewing women from many different cultural backgrounds, I had to be aware of, and respectful of, each culture I encountered," she adds.
This fall, Campbell will enroll in Johns Hopkins University's accelerated B.S.N. nursing program, with plans of matriculating into the M.S.N. program. Once she completes the M.S.N. nursing degree at Johns Hopkins, Campbell plans to practice as a certified nurse midwife and attain a Ph.D. in nursing to conduct more research to benefit the maternal and child health community.
Campbell's professional development portfolio includes study aboard in London, Geneva and Amsterdam in the Comparative Health Policy Program. Service learning was a highlight of Campbell's SU career and included work with the Syracuse VA Medical Center, the Genesis Health Project and Professor Luvenia Cowart, and the Refugee Assistance Program.
"Community engagement teaches you skills needed as a professional—skills that cannot be learned in the classroom," concludes Campbell.