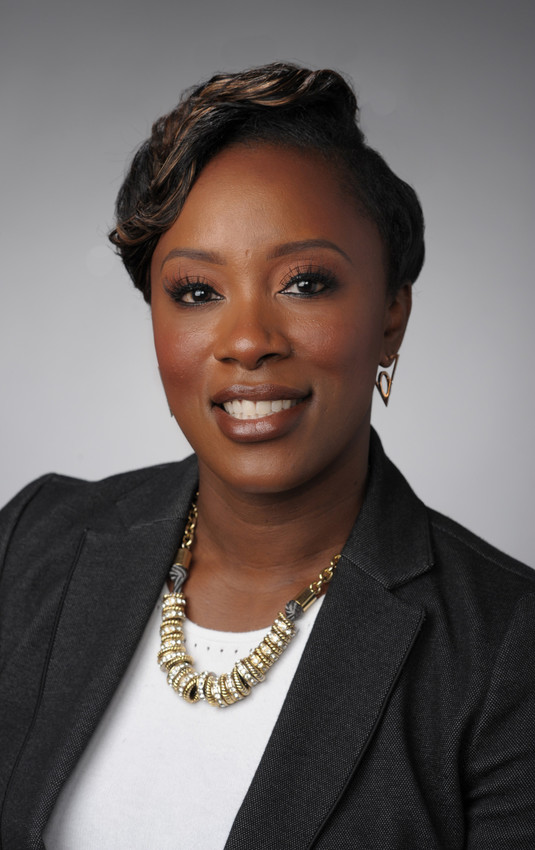 4 Questions With Sheriah N. Dixon G'12
On Nov. 1, the Division of the Student Experience named Sheriah N. Dixon G'12 the dean of students, leading the teams in Community Standards, Parent and Family Services, Remote Programs Student Support, Student Title IX Case Management and Student Outreach.
While Dixon may be new to the role, her connection to Syracuse University began nearly 15 years ago when she arrived as an assistant residence director in Flint Hall. During this time, Dixon balanced working while also pursuing a master of social work degree at the Falk College of Sport and Human Dynamics. She then went on to spend more than five years at Onondaga Community College in leadership roles in residence life and student conduct.
Returning to the University in 2018, Dixon was hired as an equal opportunity and Title IX investigator. Building upon her experience in student conduct and Title IX, Dixon then took on the role of director of Community Standards. For more than four years, she oversaw the University's student conduct system, collaborated with campus partners to address student behaviors and promote welcoming, inclusive communities, and supported recruitment and training for conduct boards.
"Sheriah's professionalism, student focus, broad experience and demonstrated leadership made her well-positioned to take on this critically important role in our division. In her first few months, her positive impact on our students and families can already be felt," says Allen Groves, senior vice president and chief student experience officer.
Now that Dixon has settled into her new role, we asked her four questions to learn more about her and what to expect as she starts her first spring semester as dean of students.
What made you interested in working in student affairs?
College was hard. I struggled my first two years and didn't feel prepared because I didn't know how to study, I had culture shock, I was insecure, I was nervous and my mom was paying for college, so I felt obligated to work to help with extracurricular things I wanted and needed.
During this really critical time in my college experience, my advisor, the director of residence life, a financial aid counselor and a faculty member—people I am still close with today—all played a huge role in my success. I became a resident advisor and an orientation leader, and I worked for the Alumni Office. The support I got from them, the advice I received and the encouragement, all helped me walk across that stage. Their guidance and support helped me to develop the confidence I have now and helped me realize that I wanted to do the same for others.
From those experiences, I knew I wanted to work with college students and be on a college campus. I wanted to give back and support students who struggled like me, empowering them to meet and overcome challenges. I wanted to work with parents and give them advice on how to support their students while they are in college. My mom was there every step of the way when I went to college and did all she could to support me and give me opportunity. I wouldn't be the woman I am today without her.
What are you most looking forward to in your role as dean of students?
I am looking forward to getting to know our students and their families on a more personal level. College can be hard and being a parent or support person can be hard. In those times, I want them to know we are here to support them every step of the way the best way we can. We are also here to support them in achieving their goals and celebrating their successes.
The dean of students team comprises five distinct units. How does your team work together to enhance the student experience?
While our team may have different specialties and areas of focus, we all have a common goal—to provide support to students and families as they grow and develop. We all work together to help our students and families understand expectations, provide guidance and support when there is a concern, and empower students to develop critical life skills, like independence, accountability, self-advocacy and resiliency.
What are your top priorities for the spring semester?
First and foremost, attending as many events as I can to meet and engage with students. In my first few months in the role, I have already had the opportunity to connect with students and families and hear their stories, provide support or address concerns. Listening to our students and families has and will continue to be a top priority for me in this role. I also want to continue to get to know the talented staff on my team and the dedicated campus partners who all play a part in shaping the student experience.