By Emma Henzes '20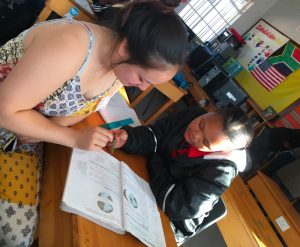 Caitlin Mogan '20 tailored her college experience to be colored with travel opportunities. Her three study abroad experiences included a semester abroad and two summer programs.
"It was out of the ordinary to study abroad three times, but it's definitely doable," Mogan says.
As a public health major, Mogan went to South Africa to fulfill her global health education experience credit. She previously had experiential learning from her classes and activities on the Syracuse University campus volunteering at St. Joseph's hospital, working with refugee families with the Syracuse-area Catholic Youth Organization (CYO) and assistant teaching in an English as a Second Language course.
"The South Africa program was really great," Mogan says. "It gave me a lot of leadership experience because we do a lot of experiential learning in public health."
Falk students on the South Africa Immersion Trip participate in implementing a program benefitting local community groups in Makhanda, Eastern Cape of South Africa. Mogan loved this option because she personalized her experiential credit, mutually-designing a program with community experts. Her group chose to lead a drug awareness program due to the needs of the Makhanda community they were helping. She designed curriculum and educated Makhandan secondary students about drug issues their community faced.
Mogan's time abroad in Makhanda provided insight into what she could potentially do in the future after graduation. After her rewarding experience teaching the South African students and seeing how they learned, Caitlin wants to work in an educational setting.
Mogan began her college experience at Syracuse's campus in Madrid, Spain as a Discovery Program student. She then spent her summer going into her sophomore year at Syracuse's Florence, Italy program. She loved the classes that the Florence campus offered, taking art history and photography classes.
"I have no idea what I want to do and the only way I'm going to figure it out is if I see everything I can see, so that's why I want to go to as many places as I can," she says. "That's ultimately why I chose public health because of the experiential credit that allows you to try many different things." Public health prepares students to pursue a wide range of careers that promote the health of communities all over the world, from clinical health and health care administration, to law and policy, to disaster prevention and response.
"I really like to see how other people live, the challenges other people face, and the successes they have because we can learn so much from that," says Mogan.