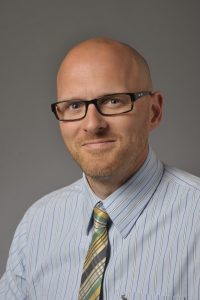 Dan Sieburg G'16, LMSW, was named Chief Executive Officer of the Rescue Mission by its Board of Directors in November. In this role, he will oversee a $20 million annual budget, as well as staff and programming in the Syracuse, Binghamton, Auburn and Ithaca areas. Sieburg joined the Rescue Mission 10 years ago and most recently served as Chief Program Officer responsible for the oversight and effective delivery of programs to support men, women and children experiencing hunger and homelessness.
Says Sieburg, "the School of Social Work in Falk College at Syracuse University has helped to solidify my foundation of knowledge and best practices, best preparing me to lead this 130-year-old organization."
The Rescue Mission is a long-time collaborative partner of the School of Social Work, offering field placement and service learning opportunities for students. Currently, six MSW students are placed there. Earlier this year, in recognition of the 60th anniversary of the School of Social Work, the Syracuse University community participated in the Martin Luther King, Jr. Day of Service at multiple community sites, including the Rescue Mission. Volunteers sorted and packed boxes of clothing, prepared sandwiches for delivery by the Rescue Mission Street Outreach, and assisted with special kitchen and office projects.
"I'm very pleased that Dan received the unanimous support of the Board of Directors for this important position. I believe that he will succeed well in addressing the increasingly diverse number of homeless persons who receive a variety of services . He has been outstanding in recognizing the increasing number of homeless opioid users as well as the number of LGBT youth thrown out of their homes. His philosophical approach to the homeless has been to accept all without judgement," says Alejandro Garcia, the Jocelyn Falk Endowed Professor of Social Work and a member of the Rescue Mission's Board of Directors.
Prior to his work at the Rescue Mission, Sieburg worked as a pastor at a local church as well as at several local human service organizations. He holds an undergraduate degree from SUNY Cortland and a master social work from Syracuse University, where he serves as an adjunct faculty member in social work. He has spoken nationally regarding the issues people experiencing homelessness face, as well as the most effective solutions needed to assist them. He also collaborates with local homelessness task forces and boards.
"Dan Sieburg is an individual who wholeheartedly embraces the cardinal value of social justice. Since I have known him as a student in our graduate program and now in his current role, Dan has always worked on behalf of vulnerable populations. He is a community change agent without a doubt. In his unassuming way, he actively pursues opportunities to build-up and advocate for those who are oppressed. I am pleased that he is now the new Director of the Rescue Mission. He is most qualified for this job and will do well in it. We, here at his alma mater, Syracuse University School of Social Work, are proud and wish him all the best," adds director of the School of Social Work, Professor Keith A. Alford.