Students gain advanced data skills for in-demand careers with sports teams, leagues, and companies connected to sports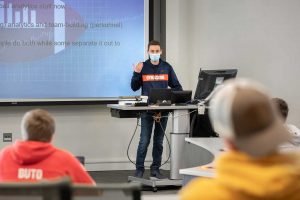 Falk College will introduce an online Certificate of Advanced Study (CAS) in sport analytics to its academic degree offerings in Spring 2022. Sport analytics focuses on data science applications to sports teams and businesses. The new 12-credit CAS program explores different types of statistics used for analysis of player and team performance, and business performance across different sports and leagues. Upon graduation, students are proficient in visualizing and analyzing sport data and well-prepared prepared to meet increasing demand for analytics professionals in the growing, international world of sports.
"Popularized by the book and film Moneyball, sport analytics uses statistics, mathematical modeling, coding, and insights into both the on-field and business aspects of sport to communicate important insights to decision-makers such as coaches and general managers," says Rodney Paul, professor in the Department of Sport Management and director of its sport analytics program. "Our program combines aspects of mathematics, computer coding, and business theory coupled with research and insights into how analytics are used in various aspects of sport to prepare students for positions in this growing field."
The U.S. Bureau of Labor Statistics projects above-average employment growth in several of the top occupations related to sports analytics. As the analytics revolution continues to expand across sports, both domestic and around the world, so do career opportunities for professionals who can code, understand, and model complex mathematical relationships, and communicate these findings effectively.
Falk College's CAS in sport analytics prepares students for successful sport analytics careers with sports teams and leagues as well as businesses connected to sports, such as media networks, advertisers, and sponsors, both nationally and internationally. Coursework includes specific focus areas in sport analytics statistics and methods, including visualization tools, programming in R and Python, linear regression and econometric techniques, and machine learning.
The certificate offers a pathway to sport analytics careers for new college graduates and current professionals in related fields such as sport management, economics, statistics, and computer science. The asynchronous online program allows students anywhere in the world to take advantage of a Syracuse University education, and a powerful Syracuse alumni network in the sport industry.
"Sport analytics is a rapidly expanding professional field, with growing career opportunities for well-trained professionals," says Diane Lyden Murphy, dean of Falk College. "Falk College's new CAS in sport analytics allows students and professionals in various related fields to build upon their existing education and work experience to build a successful sport analytics career. Equipped with a specialized academic credential from Syracuse University, and an influential network of Syracuse alumni in sport, graduates of the sport analytics CAS program can seize new professional opportunities and advance their careers."
The CAS in sport analytics is housed within the Department of Sport Management, which launched one of the nation's first bachelor's degrees in sport analytics in 2017. Syracuse sport analytics students have received high honors at analytics competitions around the country such as the NBA Hackathon and NFL Big Data Bowl, as well as leading global academic research conferences at the Academy of Economics and Finance and MIT/Sloan, in addition to earning peer-reviewed academic publications of their original research in the Journal of Economics and Finance, Academy of Economics and Finance Journal, Athletic Business Journal and others.
The program is now accepting student admissions applications. For more information about the new CAS in sport analytics, and other degree programs in Falk College, please visit the Falk College website.