Nearly 100 years ago, Syracuse University became one of the first universities in the nation to open its doors wide to "non-traditional" students. That night, 18 evening courses met in downtown Syracuse, which marked the beginning of University College. These classes attracted hundreds of students who wanted to earn a bachelor's degree but who—unlike traditional undergraduates—had to work all day or could not afford to pay full-time tuition.
According to Chancellor Kent Syverud when referencing the many successes of University College notes, "the college is further widening the pathways for those some call 'non-traditional' students, but who I think of as a great Syracuse tradition." In the 99 years since, University College has stayed true to that original mission while growing to encompass many areas of study in courses offered with all of the University's schools and colleges, including Falk College.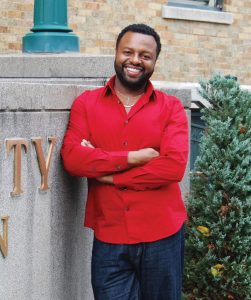 Timothy Bryant
is a 2016 graduate of the Falk College Public Health program. Timothy enjoyed school as a child growing up in a tough New Jersey neighborhood, but, at age 9, he was the victim of a violent crime and was crippled with raging Post Traumatic Stress Disorder (PTSD) that hindered his ability to finish school. After eventually completing his GED, Timothy became a licensed massage therapist, and assumed that this path would be his life's journey. Until Falk College Professor of Public Health, Sandy Lane walked into the Syracuse spa where Bryant was working, helping him realize his potential and encouraging him to go back to College. Timothy received the Arthur O. Eve Higher Education Opportunity Program (HEOP) from University College. He made the Dean's list every semester, and received one of SU's highest student honors—the Chancellor's Award for Public and Community Service. National recognition came from the University Professional and Continuing Education Association (UPCEA) in 2016, which named Bryant the Outstanding Continuing Education Student of the Year. Last year, Bryant learned that his bachelor's degree would not be the end of his educational journey. He was admitted to SU's Ph.D. program in Sociology, with four years of funding.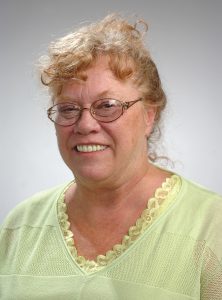 Elaine Sartwell
is a 2017 graduate of the Falk College Social Work program. As a young widow with six children, Elaine Sartwell found it necessary to "recreate" the future she had envisioned before her husband died. "I had always wanted to go to school, but let that dream fall by the wayside as I raised my children," Sartwell says. Years later, after working in the human services field, Sartwell says she felt "trapped at the front line without a qualifying degree to apply for higher positions." So, she enrolled at community college, earned an impressive GPA, and was invited to transfer to Syracuse University. "I wasn't sure if SU was out of my league, but was delighted to find out I was accepted into the Social Work program with an Achiever Scholarship from University College." Sartwell quickly discovered that she was right where she belonged. Not only has she made the Dean's List every semester, she received one of Syracuse University's highest honors recently when she was named a 2016-17 Remembrance Scholar.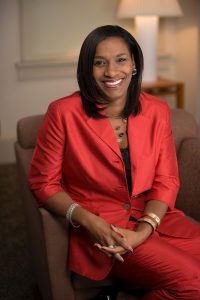 Monica Brown
, spent 20 years working in the field of social work, but it was only when she earned her degree (B.S. in Social Work) from Falk College that she felt she became a marketable professional. "Most employers want more than just experience, and having a college degree is essential in today's workplace," she asserts. "It was shortly after I graduated from SU through University College that my CEO approached me with a proposal for a promotion." Monica discovered that almost every day, she applies something she learned as a part-time student to her work as a marketing representative at Tully Hill Chemical Dependency Treatment Center. "I could be meeting with potential patients, therapists, doctors, nurses, human resources personnel . . . I'm always applying skills without even meaning to. It's a natural part of what I do," she says.