A nutrition major draws on personal experience and her Syracuse education to positively impact the lives of others.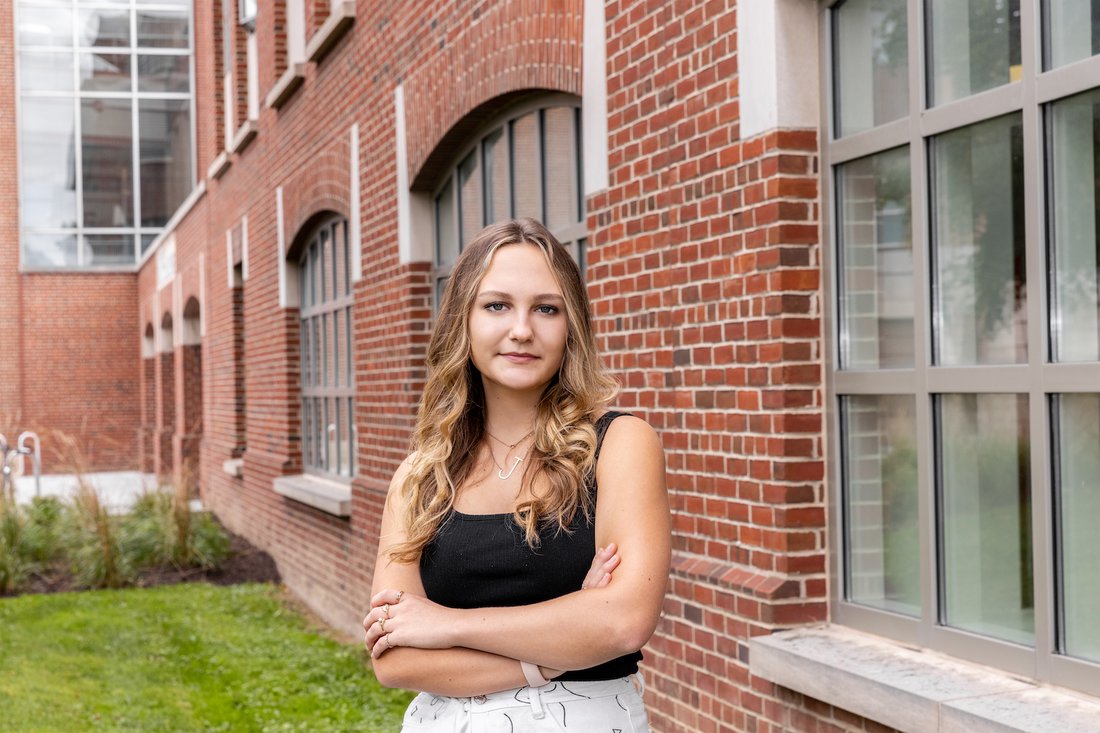 Julia Fickenscher '22 was a teenage ballet dancer when she first became concerned about her body image. "For a while, I was entrapped by it, staring at myself in the mirror all day," admits the Syracuse University senior, who also struggled with disordered eating habits. "I eventually got help and, in the process, learned how proper nutrition can support physical and mental health."
The experience inspired the California native to choreograph a new life plan. Swapping her toe shoes for textbooks, she began reading up on food and nutrition. "Everyone has a relationship with food, and it's usually complicated," continues Fickenscher, a senior majoring in nutrition in Falk College. "Eating should be a fun, intuitive process."
For the past year, Fickenscher has interned part time at Kelly's Choice, a nutritional company in Skaneateles, New York, catering to individuals, employers, schools and sports teams. The job enables her to draw on her twin interests in nutrition education and media design to create content for the firm's online platforms. "I'm especially intrigued by our workplace wellness programs," says Fickenscher, who also is a member of the Renée Crown University Honors Program. "I love shadowing a registered dietitian and seeing how they engage with clients. I wouldn't be doing this if I hadn't applied to Syracuse."
Embracing Realness
Growing up in the classic beach town of Ventura, Fickenscher seemed destined for the spotlight. She started dancing at age three and, for the next 15 years, shone at classical ballet, jazz, tap and hip-hop. "There's a culture of thinness in dance, caused by the need for control and perfectionism," Fickenscher explains. "As a result, many dancers—me included—deal with disordered eating that is wrapped up in body image and self-esteem issues."
In high school, Fickenscher threw herself into journalism and student government, serving as senior class president. The award-winning honors student also was a devout foodie. The kitchen became a laboratory of sorts, enabling her to probe the art of cooking and the science of baking.
When anxiety about food followed her to Syracuse University, Fickenscher sought out help from the Barnes Center at The Arch. There, she was introduced to the concept of intuitive eating—the idea that all food is created equal. A dietitian on staff taught her to listen to her body's internal cues and honor what she craved.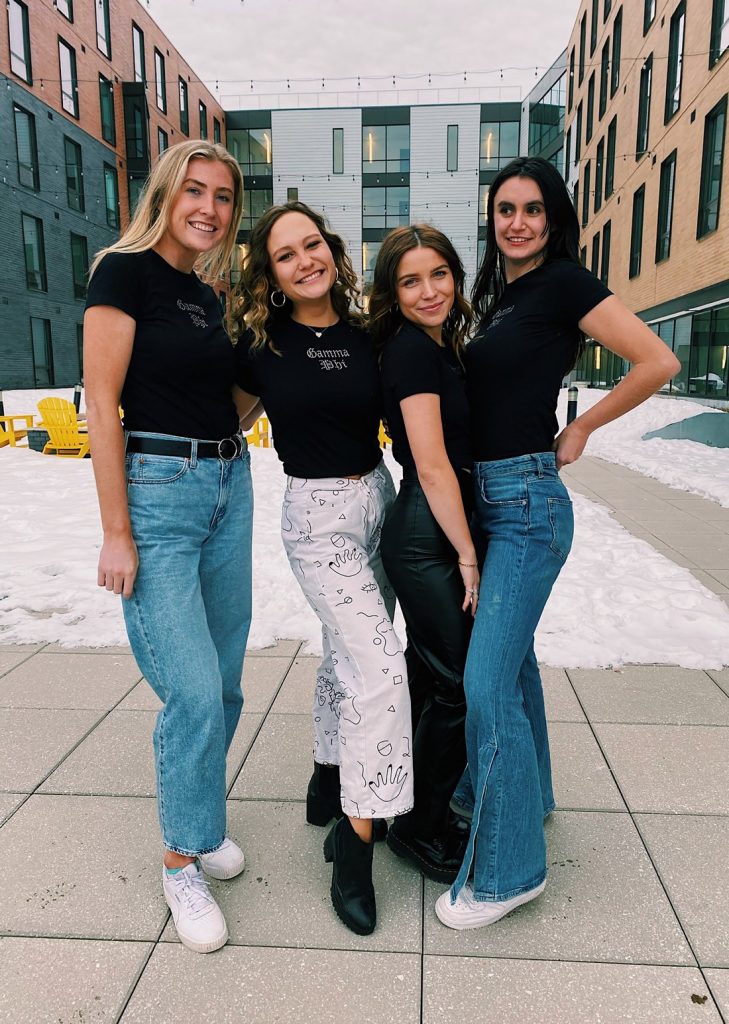 Fickenscher has since prospered at Falk, where she is training to become a registered dietitian nutritionist (RDN). After graduation, she will embark on a yearlong internship at a hospital or healthcare organization. "I'll do all the things an RDN does—clinical practice, food service, community nutrition—before taking my credentialing exam," says Fickenscher, who hopes to rack up 1,200 hours of work experience in 2022-23. "Afterward, I want to land a job in a private practice setting."
In addition to interning at Kelly's Choice, Fickenscher blogs for the University's award-winning student-run food magazine, Baked, and manages social media for Falk's Nutrition Education and Promotion Association, which sponsors visits by such renowned nutritionists as Nancy Clark and Cynthia Sass '92, G'95. Fickenscher also has interned for Jamie Lopez Nutrition and Wellness in New York City while working on and off for the Original Grain and Jamba Juice franchises in Syracuse.
The Falk College ambassador is particularly proud of her 14-month stint as chair of Gamma Phi Beta's REAL Wellness program, which supports a positive body image through physical, spiritual and mental development. "Diet culture can be a huge part of Greek life. I help people return to their authentic selves, to embrace their realness," says Fickenscher smiling.
Frankie Sailer '21, who mentored Fickenscher at Gamma Phi Beta, considers REAL Wellness an unmitigated success. "As chair, Jules went above and beyond, serving as a resource for more than 200 women at any time of day, under any circumstance," Sailer remembers. "She's knowledgeable, hardworking and, most of all, innately caring."
Doing the Work
Although Fickenscher is some 2,700 miles from home, she considers the University a large, extended family. The mere mention of professors like Chaya Lee Charles '04, G'14 brings a smile to her face. More than an Honors advisor, Charles has taught most of Fickenscher's courses on nutrition and intuitive eating. "Chaya is a huge inspiration to me because she has a really cool approach to nutrition," says Fickenscher, alluding to her professor's research into vegetarianism and disordered eating behaviors. "Knowing what she has accomplished and that her morals align with mine make it a pleasure to work with her."
Likewise, Maria Erdman G'09 enjoys having Fickenscher as a student. Erdman recalls Fickenscher being the only junior in her senior-level course Nutrition Counseling. "Despite her younger age, she had an air of maturity. Julia was especially good at a counseling skill called motivational interviewing, in which she exhibited empathetic and reflective listening with classmates, roommates and practice clients." Fickenscher rounded out the experience with an experiential counseling course. "There was quite a bit of introspection and self-evaluation, but Julia did the work. She added a lot to the class."
A recurring theme in Fickenscher's journey is her willingness to take risks. Whether gathering information for her Honors thesis on intuitive eating, conducting a physical examination on a patient simulator or designing online curricula for Kelly's Choice, she is a study in confidence and poise. "Julia holds strong values and applies them to her inclusive-minded philosophies on nutrition. I expect her to excel in her nutrition career," Charles declares.
Sailer recalls the first time she met Fickenscher, who then was a freshman teaching assistant in a class full of student athletes. "I laugh every time I think about little Jules next to all those huge football players. She has a way of empathizing with others, making them the center of her world."
Fickenscher credits the University for giving her the recipe for success: "Syracuse has helped me overcome my personal challenges, so that I can use my wisdom and knowledge to positively impact the lives of others."
Adapted from an SU Story by Rob Enslin originally published on September 29, 2021.