Falk Students Participate in High-Altitude Health Study on Mount Everest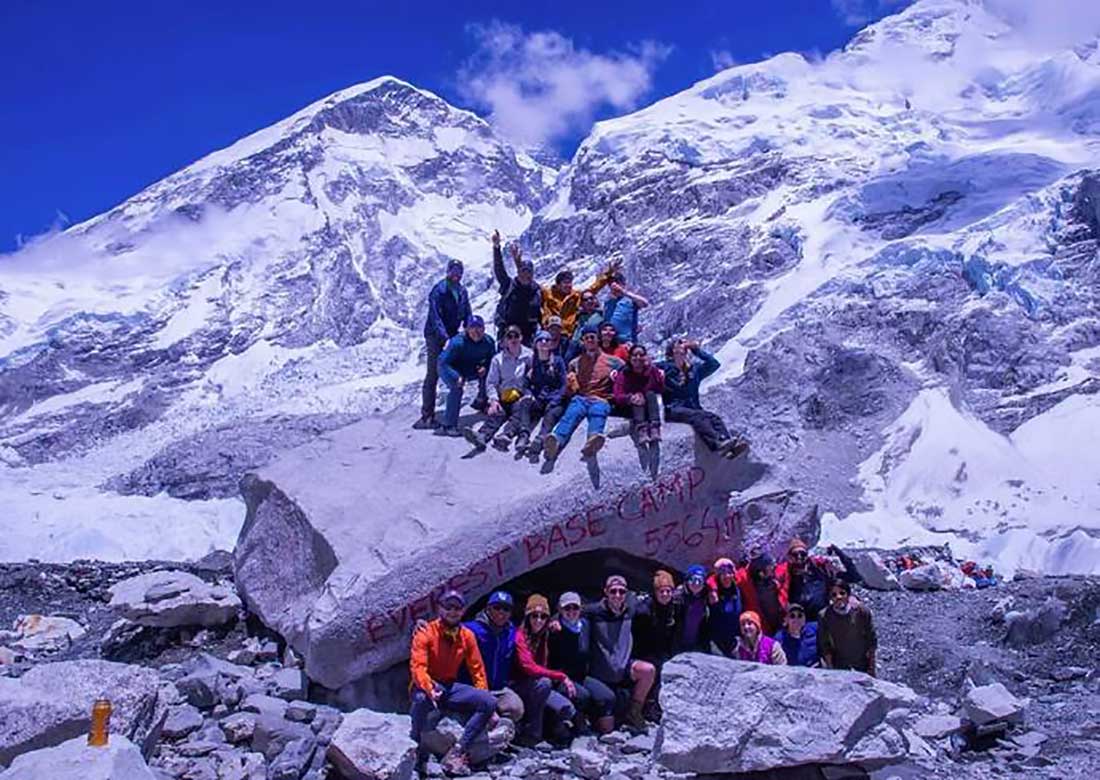 A group photo at the Mount Everest base camp, which is marked as the official destination point. Fun fact: That point changes every year as base camp is built on a moving glacier.
Of all the exceptional Syracuse University Study Abroad courses, there is one that towers above the others–about 18,000 feet above.
Mount Everest Base Camp Trek: The Human Response to High Altitude is a three-week, three-credit course and international research expedition in Nepal led by exercise science professor Tom Brutsaert, chair and graduate director of Falk College's Department of Exercise Science. To teach students how the human body adapts to extreme high-altitude environments, the course interlaces full immersion classroom instruction with cutting-edge research led by faculty and advanced graduate student experts in physiology.
Various physiological and altitude performance measurements of the students, faculty, researchers, and Sherpa volunteer guides continued all the way to the Mount Everest base camp at almost 18,000 feet (roughly 3.5 miles) above sea level.
"The trip is immersive, and physically and emotionally challenging, but the payoff to students is close faculty contact, incredible experiential learning opportunities, and adventure," Brutsaert says. "For the faculty and researchers involved, our student-focused 'incremental ascent to high altitude' research model has also proven to be very productive in terms of data generation and grant funding.
"For me," Brutsaert adds, "it has been the pleasure of my career to lead two of these expeditions, one 2018 and again this year."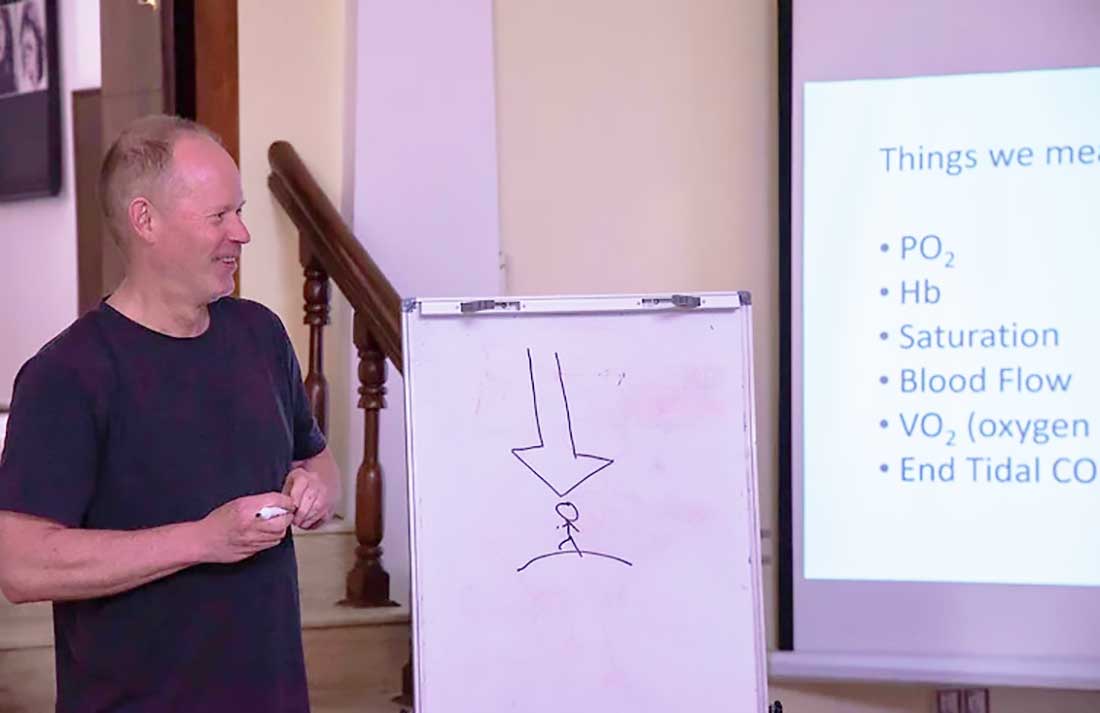 Before leading the trek to Mount Everest base camp, Exercise Science professor Tom Brutsaert and other professors and physiology experts directed five days of classes in the Nepal capital of Kathmandu.
Designed for undergraduate and graduate students interested in human environmental physiology, mountaineering and adventure, the course brought the Syracuse contingent together with high-altitude experts, researchers, and students from Mount Royal University in Canada, Iowa State University, and the University of California, Los Angeles (UCLA).
The Syracuse students included health and exercise science majors Sofie Confalonieri, Alaina Hauber, Michael Jodlowski, Nathan McCarthy, and Lydia Van Boxtel; Benjamin Dennison (chemistry), Emily Shuman (human development and family science), and Anthony Watt (bioengineering); and Taylor Harman, a Ph.D. student who received her M.S. in exercise science and is currently working on her Ph.D. in anthropology.
Including research participants and Sherpa guides (Sherpa is one of the Tibetan ethnic groups native to the most mountainous regions of Nepal), the group featured "an extended family of about 45 people all united toward a common goal," Brutsaert says.
The 2023 trip was funded through a three-year grant from the National Science Foundation that was awarded to principal investigator Brutsaert and co-investigators from Mount Royal and UCLA. The grant supported the students, four faculty members, four post-doctoral students, and several other trainees. It also paid for the direct costs of research on Sherpa volunteers – work that had not been done on the previous trip in 2018.
This year's trip ran from May 15-June 6, starting with five days of classes in the Nepal capital of Kathmandu and pre-departure testing that measured hypoxia-sensitivity, hematology, and exercise performance. The trek to Everest base camp and back covered about two weeks and 130 kilometers (81 miles) of strenuous hiking. On the way up, the schedule included rest days at increasing altitudes to allow for acclimatization and safe ascent.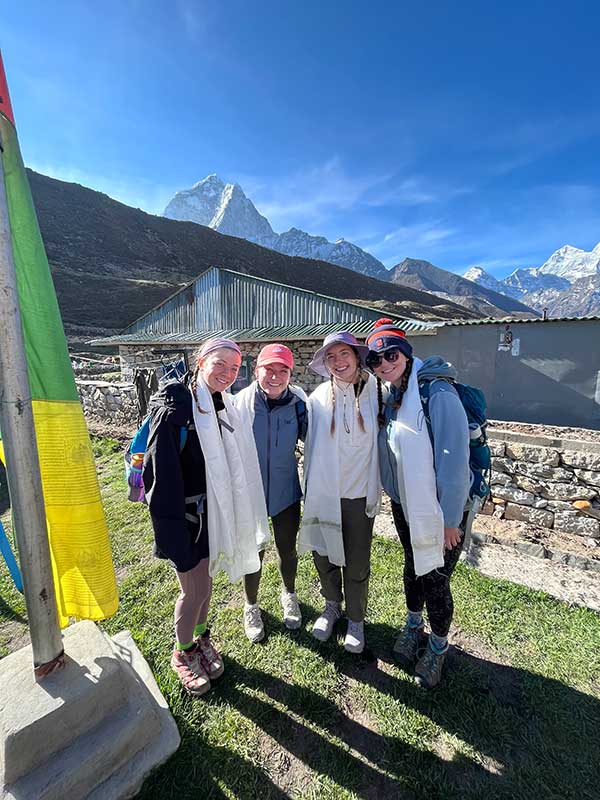 To get a firsthand view of this unique experience, we asked Emily Shuman, a human development and family science major from Falk who's minoring in biology, to describe it for us. Here's what she wrote:
"Looking back on my three weeks trekking through Nepal, there are so many moments that stick out to me. The memories that first come to mind when I reflect on my trip include waking up each morning face-to-face with Ama Dablam (a mountain in the eastern Himalayan range of Koshi Province, Nepal), visiting active monasteries, participating in global research, meeting Sherpa who have summited Mount Everest, and becoming friends with researchers and undergraduates from around the world.
"Traveling to Nepal and having the opportunity to trek up to the base camp of Mount Everest was by far one of the most amazing things I have ever done, but it was also among the most grueling and emotional. Sixteen days of intense hiking, altitude sickness, food sensitivity, weather difficulties, and lack of sleep made the trek even more difficult.
"Don't get me wrong, it was the most life-changing experience of my life, and I wouldn't trade it for anything, but it's not the trip that everyone dreams of when they think of 'vacation getaways.' Despite the struggles that we as a group endured throughout our several weeks in the mountains, it was all worth it in the end. After all, how many people can say they've trekked through the Himalayas and seen Mount Everest up close and personal, while also participating in major research projects?
"Those 16 days spent in the Himalayas–and the days in Kathmandu before and after the trek–taught me more about myself and the world than a classroom ever could. Not only was I learning about the effects of high altitude on the body, but I was experiencing it firsthand. We spent hours learning about how the different parts of your body react to the lack of oxygen in the air, and then we went out and experienced it for ourselves, allowing us to connect with not only the material but our physiology in a way that would otherwise be strictly hypothetical.
"We watched movies and documentaries about the mountaineering industry and the amazing group of people who lead trips to the summit of Mount Everest, and then we were able to talk about it with the Sherpa in the room. Guest lecturers taught us about their world-renowned research one night and we woke up and participated in it the next morning. Everything that we did in Nepal taught me something different about the world of research, the world of mountaineering, or the world of physiology.
"To anyone considering going on this trip in the future, I cannot recommend it enough! Is it a lot of hiking in one day? Yes. Will you get sick from the altitude? Probably. But does it leave you with a sense of accomplishment and awareness (for not only yourself but also the world) that can't be found anywhere else? YES! Since returning from Nepal I have spent hours talking to my friends and family about the trip, and to all of them I say the same thing: It was the toughest thing I have ever done, both physically and emotionally, but it was also the one thing that has taught me the most about who I am, and what I can be a part of, in this life."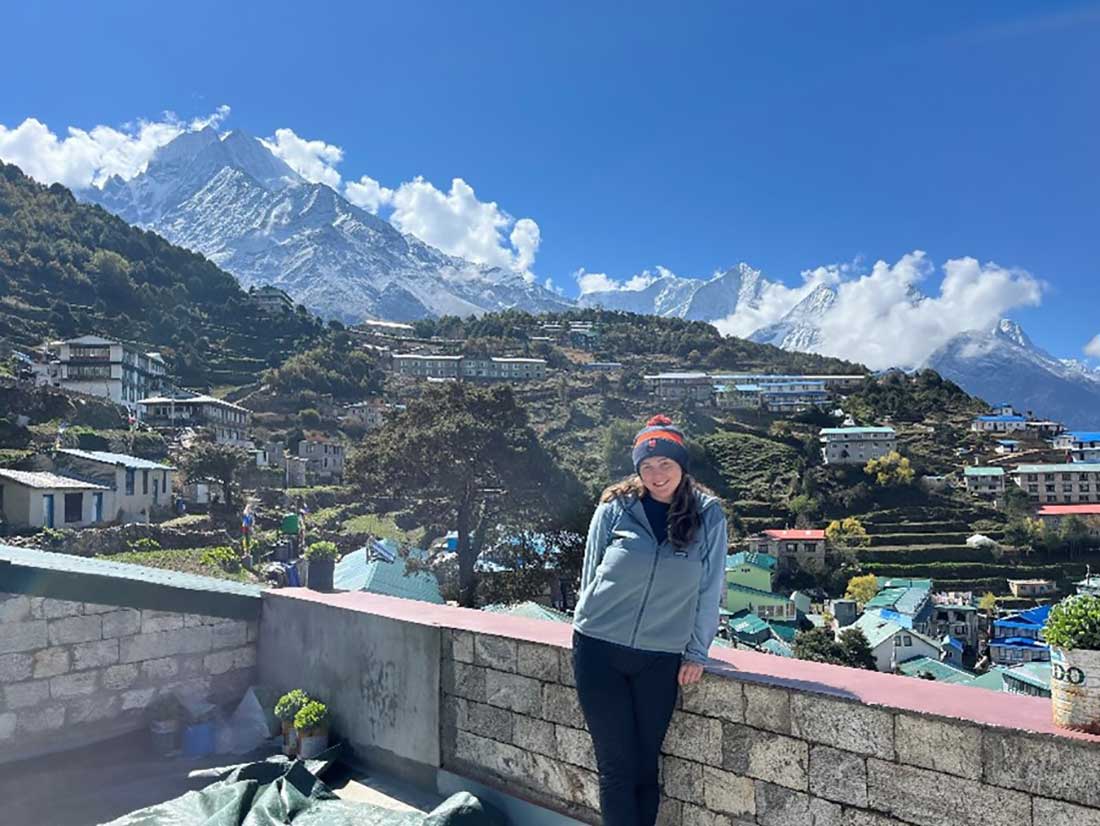 Emily Shuman
Throughout their adventure, the participants posted a daily blog (Shuman's blog entry is Day 16 on May 31). For a peek at what you'll read in the blog, here's an excerpt from Wesley Lefferts (Days 17-19 June 1-3), a cardiovascular exercise physiologist and an assistant professor at Iowa State University who received his M.S. in exercise science and Ph.D. in science education from Syracuse University:
"We survived. Survived AMS, sleep apnea, finger-stick blood draws, VO2max tests, upset stomachs, headaches, restless nights of sleep, smelly socks, and dodging yaks and zoes (zo's, I have no idea how to spell it exactly, but they are basically lower altitude cows that replace yaks which don't do well in the warmer temperature)."
(Editor's note: A dzo is a hybrid between the yak and domestic cattle.)
Lefferts also created a video of the trip that you can watch here.
To learn more about the academic programs, experiential learning, and research opportunities available in Falk College's Department of Exercise Science, visit the department website.