Nutrition Science Students Examining Impact of Father's Obesity on His Children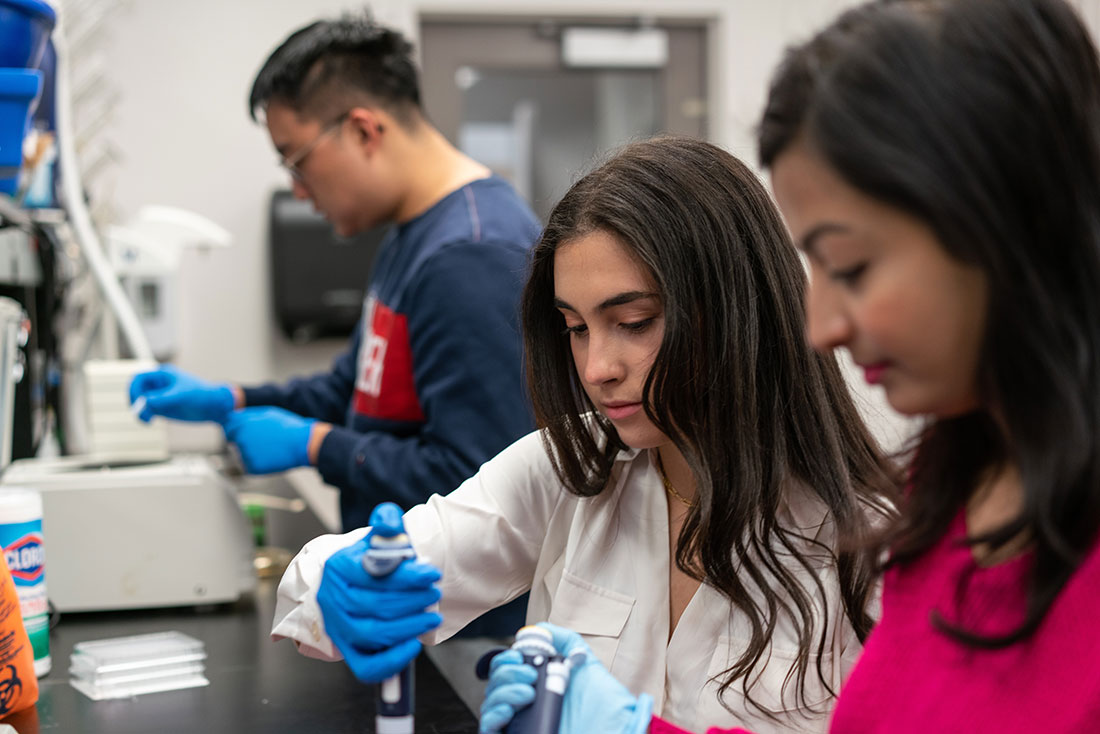 Childhood obesity is a serious problem in the United States, where 1 in 5 children and adolescents are affected, according to the Centers for Disease Control and Prevention.
While obesity in mothers has been the primary focus of early life nutrition and children's health, obesity in fathers has been overlooked. According to the CDC, about 2 in 3 males of reproductive age in the United States are either overweight or suffer from obesity.
Latha Ramalingam, Ph.D., an assistant professor of Nutrition and Food Studies in the Falk College, has spent the last two years working with students on research involving parental obesity and how a diet modification–specifically the consumption of fish oil–can potentially reduce a father's or mother's obesity and its adverse effect on children.
After studying effects of fish oil in maternal obesity last year, Ramalingam and Nutrition Science students Junhui "Carol" Yang '23 and Mariana Pérez Lugo '24 are currently examining obesity in male mice to explore the idea that a healthier father will produce a healthier child.
"If (human) fathers are obese, it increases the risk of obesity by 10 to12 times in their children," Ramalingam says. "My research will hopefully establish that fathers need to pay attention to what they eat during the pre-pregnancy period to help reduce obesity in their children."
Yang, a double major in Nutrition Science at Falk and Psychology in the College of Arts and Sciences, is investigating the role of fish oil in reducing non-alcoholic fatty liver disease and obesity in males, and examining if healthier fathers are producing healthier female offspring.
Pérez Lugo is studying the role of fish oil in reducing obesity in male offspring by analyzing the adipose tissue (i.e., body fat) of obese male mice who are fed fish oil and their offspring.
The American Heart Association is funding this year's research and funded last year's research, which was spearheaded by Akriti Shrestha G'22, a research assistant in the Nutrition Science department. Last year, Shrestha focused on the male offspring liver tissue.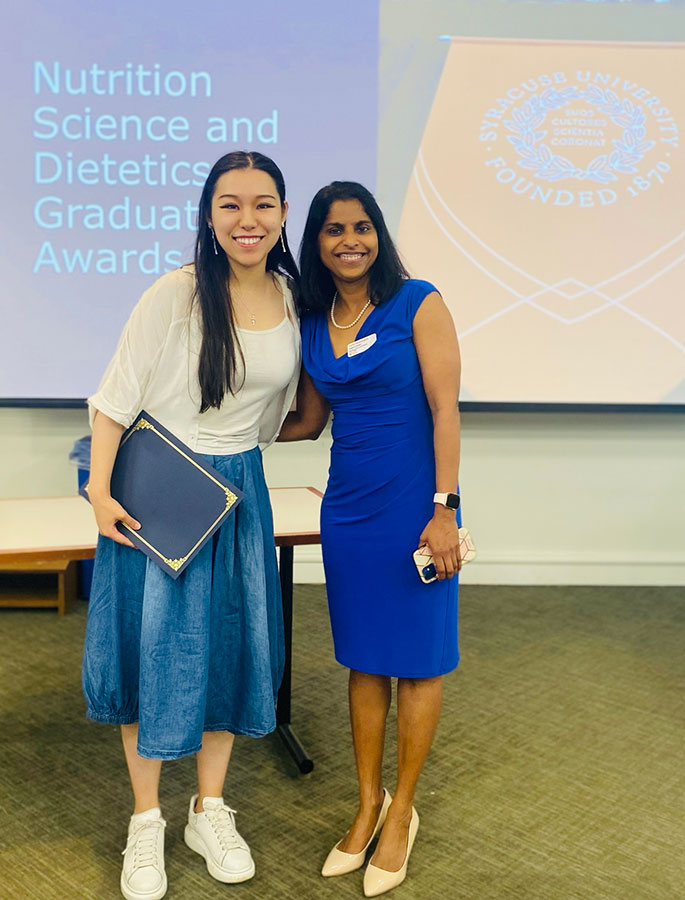 In a previous study, Ramalingam had examined the benefits of fish oil for pregnant female mice and their offspring. Shrestha's research and the ongoing research with Yang and Pérez Lugo is connected to Ramalingam's earlier study, with the ultimate goal to determine if fish oil consumption in both females and males will lead to healthier offspring. Ramalingam's ongoing research was recently highlighted in this story from Syracuse Woman Magazine.
"The rates of obesity are increasing and leads to other diseases, including diabetes and heart diseases," Ramalingam says. "I have a genetic risk of heart disease and hence my interest in reducing obesity and associated heart diseases. What better way than to reduce it using diet or bio actives."
Ramalingam says this study is important for Yang and Pérez Lugo, who are both interested in attending medical school. The research training in nutrition will help them recognize the importance of nutrition in the prevention of chronic diseases.
To get a better understanding of the impact of this research on their current studies and future careers, we asked Yang and Pérez Lugo about their work with Ramalingam. Here's that conversation:
Q: Why is this research important to you?
Yang: This research is valuable because it allows me to see my potential and interest in doing research; Dr. Ramalingam has given me patient and professional guidance on my graduate thesis for the Renée Crown University Honors Program; and with her support and encouragement, I have received several research-related grants and awards for my study, which has built my confidence and made me more proactive.
I am impressed by how much financial and resource support Syracuse University provides to undergraduate researchers. Through doing presentations at research fairs, I have met and built connections with several outstanding professors and researchers.
Pérez Lugo: This research is important to me because we aim to find a very easy and realistic intervention that will lead to healthier children. Fish oil can be taken as a supplement but can also be found in certain foods. A good example is adding a fatty fish such as salmon to our diet.
Q: For prospective students who want to come to Syracuse University and conduct research, can you give us an idea of the time commitment for this research and how you have fit it into your schedules?
Pérez Lugo: The time commitment has varied depending on the stage of the study we were in. You can spend anywhere from two to 10 hours in the lab each week. It comes down to communicating with your research mentor and setting clear expectations and goals.
I am lucky that Dr. Ramalingam is very flexible and considerate of my class schedule, so it has never been difficult to make time for research. If time commitment is a concern, set a specific time each week dedicated to research and look at it as you would a class or any other commitment where you are expected to attend.
Yang: The first semester of your sophomore year is a good time to go research fairs because the students and professors of various laboratories will introduce their current projects and research topics. The students can target several laboratories based on their interests and leave their contact information to the lab members. Later, they will receive emails from the targeted labs. They can ask more detailed questions, including the schedule.
When the decision is made, students receive related lab training and start lab work during the second semester of your sophomore year. However, if the student already feels overwhelmed by courses or anything else in their sophomore year, junior year is also a good time to commit to a lab. In my situation, I efficiently took most of the required courses for my double majors in my first two years, so I only needed to take 15 credits of courses per semester in the following two academic years while committing to research. Another smart way to save time is using your research project to apply for an independent study to fulfill 3 credits of major electives.
Q: How valuable has it been/will it be for your career goals to have conducted this research and worked with Dr. Ramalingam on this project?
Yang: This enjoyable working experience in Dr. Ramalingam's lab helps me see the charm of finding potential solutions to clinical diseases through research. I have changed my career goal from being a physician to a clinical trial researcher for epidemiology.
Now, obtaining an M.D.-Ph.D. degree will be my new academic goal for the coming years. Meanwhile, I have gained good skills in using experimental instruments, including but not limited to RNA isolation, cDNA synthesis, and gene expression. This has enabled me to build a good skill foundation to start more research studies in the future, even in different science fields.
Pérez Lugo: I joined Dr. Ramalingam's lab my first semester of freshman year, so I have been part of this study for a long time and am very proud of everything I've learned and accomplished. It has taught me so much not only in the lab, but in areas such as writing, teamwork, and problem solving.
This has been a valuable opportunity because it has given me research experience that will be beneficial in my career in medicine. Additionally, as data analysis continues, we are also writing our research paper on this study with intent to publish that will also serve as my senior year honors thesis.
Q: Is there anything else about your experience that you'd like to share?
Yang: Dr. Ramalingam is very generous and thoughtful. We had a high school student doing a summer research project in our lab, and I had a wonderful working and mentoring experience with her. During the project, whenever we encountered questions, Dr. Ramalingam gave timely help and guidance. Before the student left, Dr. Ramalingam took us out to celebrate. This semester, Dr. Ramalingam organized a team meal for us and praised our efforts!
Pérez Lugo: Being in a research lab has been a major part of my undergraduate career and I am very grateful that Dr. Ramalingam gave me a chance my freshman year. To any student interested in research but doesn't have a lab yet, my advice would be to reach out and stay in touch with professors whose research interests you. They may not have an open spot now, but they might next semester!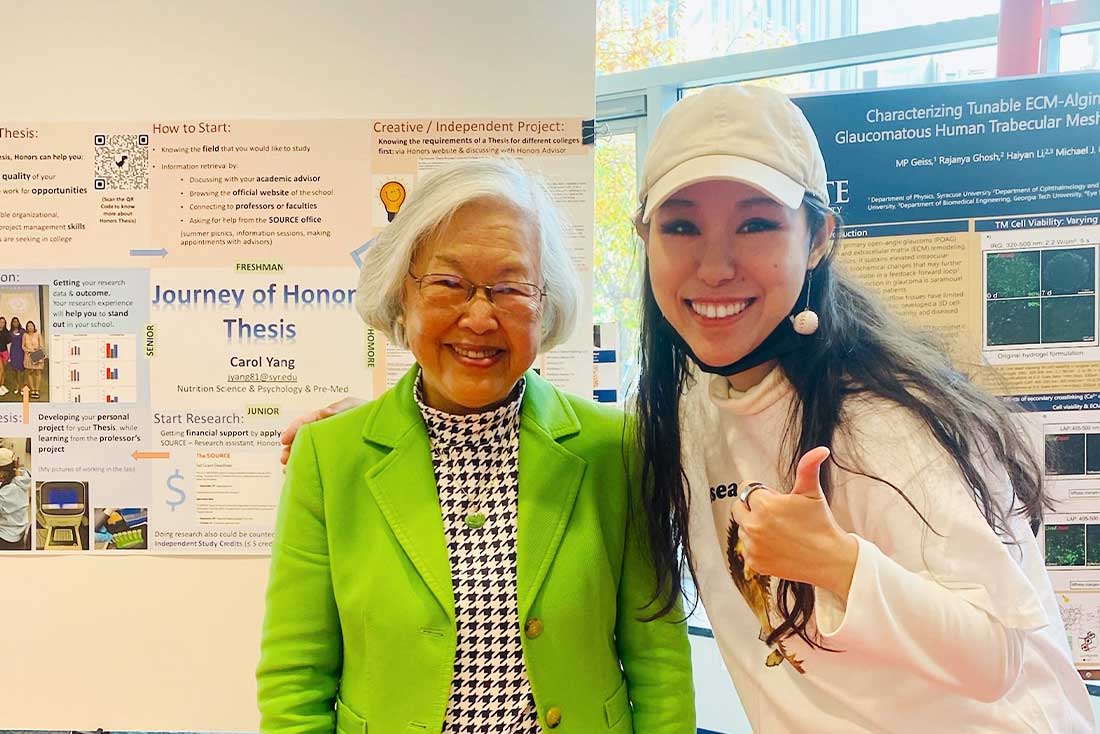 Junhui "Carol" Yang
A native of China, Yang is a member of the Renée Crown University Honors Program advisory board and the American Society for Nutrition, and this past fall she was nominated by Falk faculty as a candidate for a Syracuse University and Falk College Scholar Award. She received the Ruth Tolley Award from the Women of the University Community in Spring 2022, and she has received funding/scholarship awards from several Syracuse University programs, including SOURCE, the University Honors Program, International Student Success, and Invest in Success.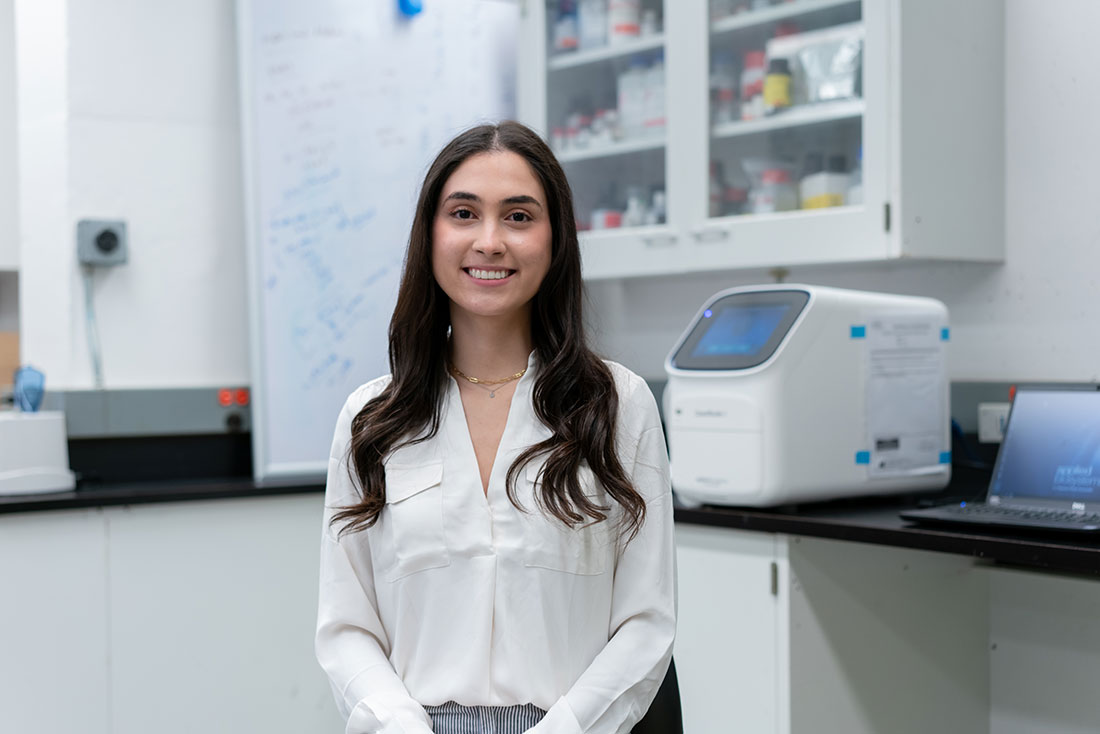 Mariana Pérez Lugo
A native of Puerto Rico, Pérez Lugo is president of the Catholic Student Association and an EMT for Syracuse University Ambulance and was an orientation leader. She is a Renée Crown University Honors Program student, and received the Nutrition Science and Dietetics Research Award-Undergraduate and the Emili Gere Coon nutrition student award. She has received scholarships/funding for her research as a McNair Scholar, WiSE Undergraduate Research Scholar, and SOURCE grant recipient. She is in Spain this semester with the Syracuse Abroad program.
Mariana Pérez Lugo says her research work in Falk College has provided valuable experience that will benefit her future career in medicine.