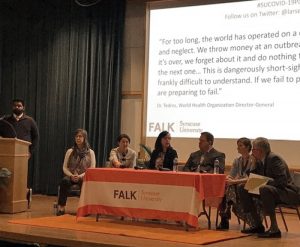 When Syracuse University announced on March 10 that its academic residential programs would move to online course delivery in response to the coronavirus global crisis (COVID-19), graduate students in a Falk College applied epidemiology class were finalizing details for an already-planned public forum that evening.
The idea for the Department of Public Health-sponsored coronavirus forum came out of an impromptu conversation two weeks before in HTW 668—Applied Epidemiology, taught by Professor David Larsen who specializes in the control and epidemiology of the infectious disease in lower-income countries. Many students in the class are enrolled in Falk College's master of public health (MPH) program.
According to public health graduate student, Tim Bryant, it was during the start of a recent class that Professor Larsen asked if students had questions regarding the virus. "It proceeded to be a 20-minute question and answer session," says Bryant. "I made a statement that if we as public health students had so many questions, I'm sure the rest of the student body did as well. And, wasn't it our responsibility and obligation as public health professionals to inform and educate our campus community?" adds Bryant. When he asked Professor Larsen if there was a planned teach-in or open forum, Larsen said, "no, let's make it happen!" The students scheduled the event on March 10, purposefully before Spring Break, to reach the student community.
The day after the forum was held, the World Health Organization (WHO) declared the coronavirus as a pandemic.
The forum was moderated by public health graduate student Pruthvi Kilaru, and began with an overview on the coronavirus presented by Professor Brittany Kmush in the Department of Public Health who specializes in infectious and global disease epidemiology. Professor David Larsen, also from Falk College's Department of Public Health, presented on the current U.S. coronavirus situation and important next steps. Dr. Kathryn Anderson, an internal medicine physician and assistant professor in the Department of Medicine at Upstate Medical University where she also serves as Director of the Center for International Research in the Institute for Global Health and Translational Services, addressed the clinical aspects of COVID-19.
The three experts then joined a panel discussion with Professor Peter Bell, Syracuse University College of Law who teaches a seminar in public health law; Professor Tracey Marchese, a licensed clinical social worker who teaches in Falk College's School of Social Work and is a clinical professor at Upstate Medical University, and; Dr. Karen Nardella, a family physician who serves as medical director for Syracuse University Health Services. Michelle Mignano, Deputy Commissioner, Onondaga County Health Department, also provided updates and information from the health department. The audience was encouraged to ask questions, including livestream users who could use the hashtag #SUCOVID-19PANEL on Twitter.
"I think I speak for many of my peers when I say that we all have a deep and abiding passion for the field we study. Being able to take concepts out of the classroom and apply them in a meaningful way highlights that," says Bryant. "We wanted to get this done before students traveled for spring break to help protect themselves and their loved ones, their communities, and to gain and advance accurate information."