Building Connections, Supporting Students, Faculty, Staff in Their Goals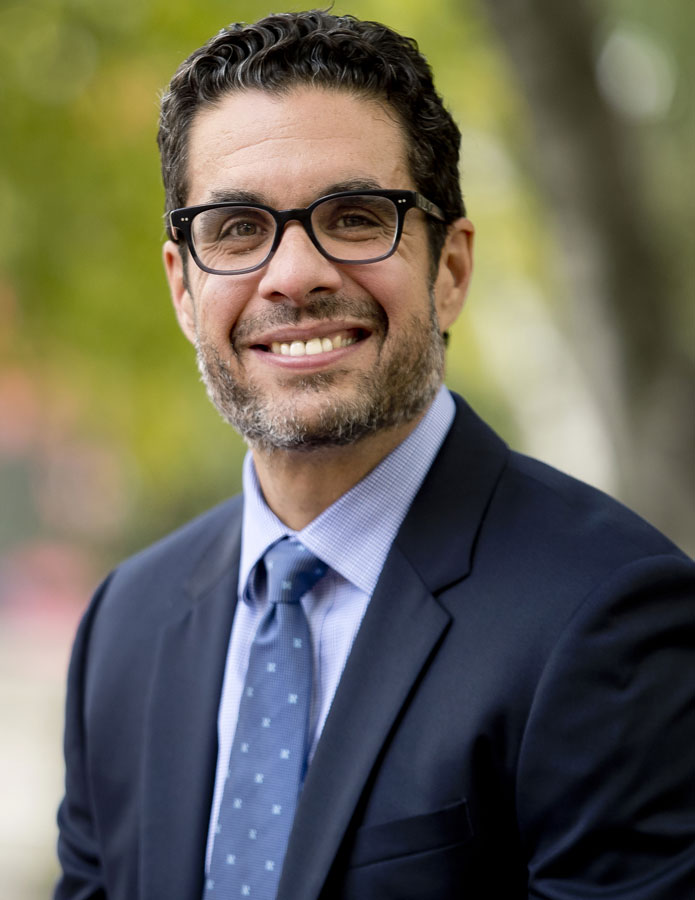 Jeremy S. Jordan, new dean of the David B. Falk College of Sport and Human Dynamics, was inspired to become an academic leader to be of service to others in pursuit of their aspirations.
"I enjoy creating processes and building structures that help others achieve their professional goals. My role as dean is to help our students, faculty and staff in Falk by removing barriers that can prevent individuals from accomplishing their goals," says Jordan, who was most recently vice provost for faculty affairs at Temple University in Philadelphia. "Additionally, I enjoy the ability to work across campus and form interdisciplinary partnerships that are mutually beneficial for all parties."
In this Q&A with Syracuse University News, Jordan, who started in his new role Sept. 1, discusses the academic journey that brought him to Syracuse, shares the opportunities ahead for the Falk College and reveals something unexpected that keeps him going the distance.
Tell us about the academic and professional journey that brought you to this point.
After I completed my Ph.D. at The Ohio State University, I served as a faculty member in sport management at the University of Memphis, Mississippi State University, University of Miami and, for the past 15 years, at Temple University. My different roles at Temple included professor of sport management; director of the Sport Industry Research Center; senior associate dean in the School of Sport, Tourism and Hospitality Management; NCAA Faculty Athletics Representative; and, this past year, vice provost for faculty affairs. My time in administration these past six years prompted me to pursue additional leadership roles, which is how I ended up as the dean of the Falk College. I am thrilled to join the team at Falk and become a member of the Syracuse community.
What sparked your interest in pursuing a leadership position at Syracuse?
This is a world-class institution with a proud tradition of academic excellence; I am inspired to be part of this community. Additionally, Syracuse has demonstrated a strong commitment to diversity, equity, inclusion and accessibility (DEIA); student success; and social justice. All these areas align with my professional and personal interests. I view Syracuse as a place where I can continue to grow both personally and professionally by working with some very talented colleagues.
As you begin in your new post, what are you most excited about?
Learning more about the traditions at Syracuse and enjoying living in Central New York. I am also excited about the opportunity to advance the Falk College by working with all the different stakeholder groups that comprise the overall community.
Looking at academic priorities specific to your college, what are the greatest opportunities ahead?
Complete the Academic Strategic Plan for Falk so that we understand our priorities and how we plan to achieve our established goals. Invest in areas of the college that provide the greatest opportunities for academic excellence and future growth.
In five years, what do you hope to have achieved as dean of the college?
Elevate the research profile of the Falk College by providing the necessary resources and support for our students and faculty.
Increase the percentage of Falk students who study abroad and away.
Build stronger connections with industry partners, alumni and donors.
Be viewed as a leader in DEIA programming and practices.
Achieve a level of financial stability that provides opportunity for continued growth and support for students, faculty and staff at Falk.
What advice do you have for our incoming students, both undergraduate and graduate?
Be an active learner. Take ownership of your education and professional development.
Meet as many new people as you can. Expand your personal and professional networks.
Plan to study abroad or away; these are life-changing experiences.
Use your time and talents to improve the lives of those around you, especially those who have not been provided as much opportunity.
Attend a play, art exhibition, sport event, lecture, concert or some other new experience. Give yourself the opportunity to grow and learn new things.
Utilize all the resources available at Syracuse that will help you achieve your academic and professional goals.
Enjoy your time at Syracuse; it will go by much too quickly.
Quick questions
Kindle/e-reader or old-school books? Old-school books.
Movies or series? Series—I never seem to have time to watch a full movie unless I am on a plane.
Take out or dine in? Favorite cuisine? Dine in. I love all food but really enjoy a good taco.
Museums or theater? Theater.
Ocean, lake or mountains? Domestic or abroad? R&R or adventure? Ocean, abroad, active relaxation.
Night owl or early riser? Early riser—definitely not a night owl.
Favorite season? All of them except for winter. I realize I might be in trouble moving to Syracuse.
Something about you no one would expect? I have run 12 full marathons and over 20 half marathons. I will never be fast enough to win but I enjoy the experience, most of the time.
View original story on Syracuse University News.