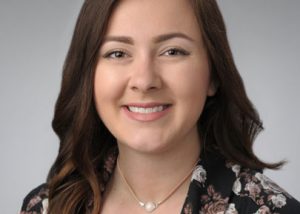 There are few things more difficult than walking a loved one through illness. For the caregiver, the challenges can magnify their strength to love, to advocate, and to serve. In the process, some discover a new calling both unexpected and beautiful: the desire to extend their hearts and hands to others in similar circumstances by entering the field of medicine. That is how Kelsey Montondo '18 found herself studying public health at Syracuse University's Falk College.
Montondo grew up in a single-parent home with her mother and sister. "Although our father had left when I was young, there was never a lack of love or feeling of family. My grandparents acted as second parents, and my grandfather was the father figure every girl needed growing up." When Montondo was still very young, her grandfather was diagnosed with Parkinson's disease, a nervous system disorder that affects motor skills. She recalls feelings of helplessness and sorrow, accompanied by a desire to understand the condition. Throughout his treatment, she witnessed the best—and the worst—in healthcare: providers with intense compassion, others who seemed to lack empathy. Both of whom inspired her. "Each of these experiences solidified my passions and helped me make the decision to pursue a career in medicine. Being on both sides, patient and caregiver, I hope to relate my experiences, both good and bad, to my future in medicine."
In 2014, she came to Syracuse University. "I visited a plethora of colleges during my search but none of them gave me the same first impression that SU did." A large university is something she always wanted to experience, she says, and she is grateful for the campus' diverse population and the people she has met here. "The sense of community, not only among the students, but also to members of the Syracuse area, who all have a similar bond and love for the Orange, is something that definitely drew me to SU," she adds. Plus, it was close enough to easily visit family in her hometown of Buffalo, New York.
At Falk College, she majors in public health to study disease prevention and the promotion of people's long life and overall good health. "I often get asked the question 'what is public health?' and I normally give the sarcastic answer of 'public health is everything and everywhere,' which in fact I find to be very true. It is difficult to find something that does not relate to public health in some way," Montondo explains. She minors in nutrition, a Falk College program which celebrated its 100th anniversary earlier this year. "So many of the courses taught in Falk College overlap, and often times, one cannot be discussed without the other." She believes Falk programs are inherently interdisciplinary, and in her four years, she has noticed increasing opportunities for students in subjects like the environment and policy.
It was October 2016, the start of her junior year, when Montondo's grandfather passed away. "Losing the man that raised me, that I looked up to, that I learned from, that pushed me to be the best person I could each and every day was a very hard loss. However, from this loss I also found clarity. I was reassured about my passions and my dreams and to never settle for anything less than what I know I am capable of."
And Montondo did not settle. This fall, in a competitive selection process, she was given the great honor of being named one of 35 Syracuse University students in the 2017-18 Remembrance Scholar cohort, which, she says, is "without a doubt one of my most proud accomplishments." These scholarships were established as a way to honor the 35 Syracuse University students who, alongside 235 others, tragically lost their lives in the 1988 bombing of Pan Am Flight 103 over Lockerbie, Scotland. "Being given the honor and responsibilities that come along with being a Remembrance Scholar is something I will carry with me, not just for this year but for a lifetime," says Montondo. The Remembrance Scholars will lead a number of events during Remembrance Week on October 22-28, 2017 to "Look Back, Act Forward."
At Syracuse, Montondo is actively involved in a number of research projects, including the Syracuse Lead Study led by Brooks Gump, Ph.D., M.P.H., Graduate Director and Falk Family Endowed Professor of Public Health. Montondo says she has gained new skills from the study and, by working directly with individuals from the Syracuse community, has also discovered a new passion for eliminating health disparities in underprivileged communities.
Montondo also works as a Certified NYS Emergency Medical Technician for Syracuse University Ambulance and Syracuse University Health Services. She serves as president of Phi Delta Epsilon Medical Fraternity and volunteers her time at Camp Kesem, a summer camp for children of parents with cancer.
Long-term, her goal is to become a clinical healthcare provider. She plans to use her public health knowledge to apply preventative medicine to her practice. "All of my experiences thus far at Syracuse have only reinforced in myself that medicine is what I want to do for the rest of my life," says Montondo.