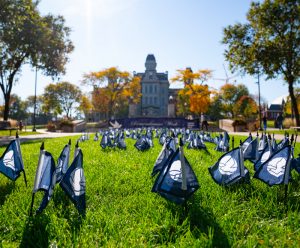 This year marks the 31st anniversary of the bombing of Pan Am 103 over Lockerbie, Scotland on Dec. 21, 1988 and the 30th cohorts of Remembrance and Lockerbie Scholars on the Syracuse University campus.
The scholarships were founded as a tribute to—and means of remembering—the 35 students who were killed in the Dec. 21, 1988, bombing of Pan Am Flight 103 over Lockerbie, Scotland. Those students, who were returning from a semester of study in London and Florence, were among the 270 people who perished in the bombing. The scholarships are funded through an endowment supported by gifts from alumni, friends, parents and corporations.
Remembrance Week, the annual weeklong series of events planned by the Remembrance and Lockerbie Scholars, was held Sunday, Oct. 20 through Saturday, Oct. 26. The 2019-20 Remembrance and Lockerbie Scholars planned events and activities—from exhibitions to panel discussions to a candlelight vigil—to honor the 270 people, including 35 students studying abroad through Syracuse University, who lost their lives in the tragedy. Remembrance Week events are meant to honor the victims and further educate the campus community about terrorism.
2019-20 Remembrance Scholars from Falk College include:
Cleo Hamilton of Syracuse, a sport management major;
Alizée Mclorg, of San Diego, California, a neuroscience major in the College of Arts and Sciences, a public health major in Falk College and a member of the Renée Crown University Honors Program;
Molly Murphy of Rochdale, Massachusetts, a social work major.
For more information, visit remembrance.syr.edu.