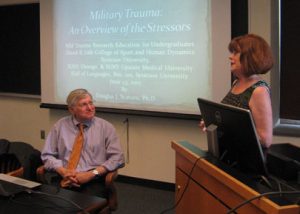 To educate the local community about issues related to Posttraumatic Stress Disorder (PTSD), Syracuse University's Falk College is offering a discussion series during the month of June, which is designated as National PTSD Awareness Month to raise public awareness of PTSD and its effective treatments. PTSD is a psychiatric disorder that can occur following the experience or witnessing of life-threatening events, such as military combat, natural disasters, terrorist incidents, serious accidents, or physical or sexual assault.
The discussion series, which is free and open to the public, will take place in conjunction with the Trauma Research Education for Undergraduates (REU) program, a joint effort by Syracuse University, SUNY Upstate Medical University and SUNY Oswego to improve access to research experiences for groups typically underrepresented in research.
The project, "REU Site: Training Diverse Undergraduate Teams of Veterans and Non-Veterans to Conduct Trauma Research with Veterans: Collaborative Research," is directed by Brooks B. Gump, Falk Family Endowed Professor of Public Health and co-directed by professor Karen Wolford, who also coordinates the interdisciplinary graduate certificate program in trauma studies at SUNY Oswego.
The discussion series includes:
Monday, June 5 at 1:30 pm, Falk Complex 101
Douglas Scaturo, retired clinical psychologist, Syracuse Vet Center, "Combat Trauma and Treatment: A Historical Perspective"
Tuesday, June 13 at 1:30 pm, Falk Complex 101
Kyle Possemato, clinical research psychologist, Syracuse VA Center for Integrated Healthcare, "Clinical Research with Military Veterans with PTSD and Substance Abuse"
Monday, June 19 at 1:30 pm, Falk Complex 101
Emily Bovier, assistant professor of psychology, SUNY Oswego, "Secondary Symptoms of Concussion or Mild Traumatic Brain Injury"
Supported by the grant "National Science Foundation Research Education for Undergraduates NSF REU Site: Training diverse teams of Veterans and non-Veterans to study trauma in Veterans," the REU program spans one year, including an intensive four-week summer program in June. This program provides research training to increase skills in conducting trauma research while increasing a student's ability to gain admission to competitive graduate programs.
"Through a competitive national review process, we have selected a group of Veteran and non-Veteran students to complete this research training this summer," says Wolford. "The students will be paired on teams with mentors to research PTSD and will later present their research at national conferences.
"As part of this research training, we invite guest speakers who have expertise in the area of PTSD to inform our research trainees on cutting edge developments on traumatic stress research. We open these expert talks to the community as part of the June Posttraumatic Stress awareness month, which is an ongoing national effort to educate about PTSD," Wolford adds.
For more information about the speakers or REU program, contact Ivan Castro at iecastro@syr.edu or visit traumaresearch.syr.edu.