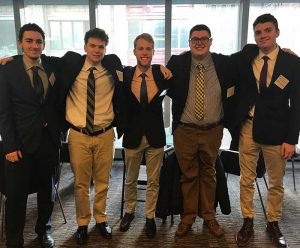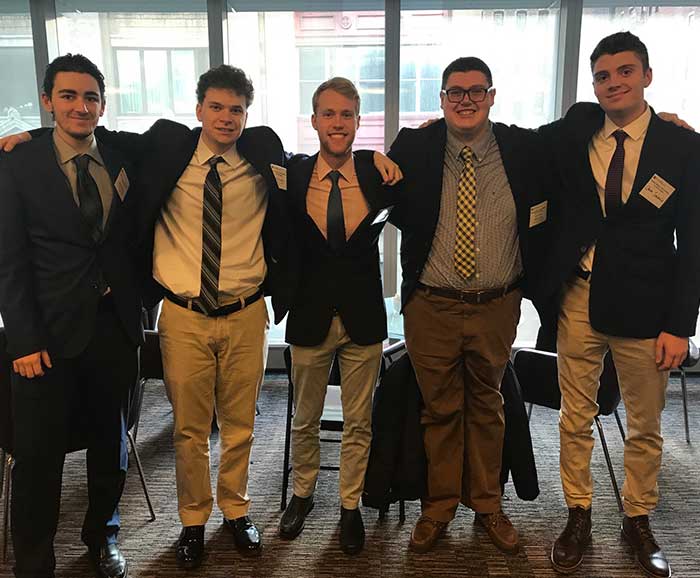 The Syracuse University Baseball Statistics and Sabermetrics Club sent four teams to the SABR Diamond Dollars Case Competition at NYU on November 15, 2019.
The competition is for undergraduate students from universities across the country to compete against each other by preparing an analysis and presentation of a baseball operations decision. Presentations were made to a panel of judges consisting of Major League Baseball executives. Teams were given six days to collect data, make projections, and prepare a 30-minute presentation for the competition in New York City.
This year, the teams were asked to project performances for Major League Baseball players Aaron Judge and Pete Alonso, or Luis Severino and Noah Syndergaard, over the next five seasons. Students also had to predict the likelihood that one player will outperform the other.
"For most of us, this was our first time competing at NYU," said Sport Analytics major Ben Ayers '22. "We learned a lot, and with the growth of our major over the past two years, I am excited to see what our experienced teams will be able to do next year."
Twenty Sport Analytics students competed in the competition: Dan Goetz '20, Joey Sabel '20, Bailie Brown '21, Steven DiMaria '21, Brendan McKeown '21, Cameron Mitchell '21, Ben Ayers '22, Zach Crowe '22, Drake Mills '22, Wes Schatten '22, Cooper Shawver '22, Aaron Patashnik '22, Daniel Beim '23, Eli Buto '23, Shane Halpin '23, Gabe Herz '23, Mackenzie Mangos '23, Connor Meissner '23, Chase Seibold '23, and Ben Wachtel '23.
"It was an amazing opportunity for everyone, from freshmen to seniors, to compete at this conference" Sabel said. "The underclassmen gained confidence in their presentation skills, and the seniors now have research to add to their resumes as they look for jobs in the coming months."
The Sport Analytics students competed against teams from Columbia, Tufts, and NYU, among others. Judges included Cameron Barwick (MLB) and Marc Appleman (MLB). The judges picked a winning presentation at the conclusion of the competition and offered suggestions on how the presentations could be improved.
"Having our students continually be able to present research at national competitions is vital to their education and expands upon what we teach them in the classroom," said Dr. Rodney Paul, director of the Sport Analytics program at SU.