InclusiveU Student Finds Recipe for Success in Food Studies Classes, Campus Activities and Advocacy Work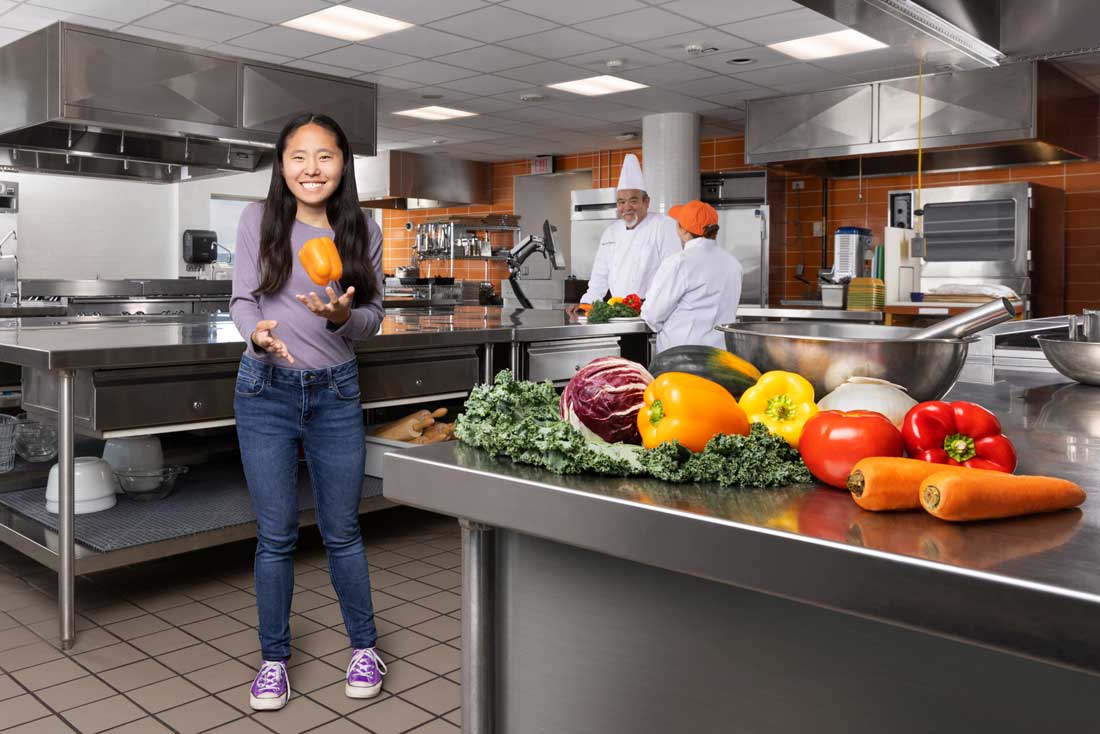 It's a blustery day in late November and Mackenzie Gleason '24 makes sure she has a recipe safely tucked away in a pocket as she walks across campus to Syracuse University's Falk College. She's headed to the Susan R. Klenk Learning Café and Kitchens and is looking forward to baking a batch of maple-glazed apple crisp cookies. "Tonight is self-cook night because it's so close to Thanksgiving," she says of the cooking lab for Farm to Fork, a course she's taking. "These only take 28 minutes total, so that's not too bad."
Gleason is a food studies major and sports the credentials of a foodie, for sure. In conversation, she talks about her food studies classes, cooking, favorite dishes, a friend's peanut allergy and the exotic flavors of a Japanese soda with a marble in the bottle to preserve carbonation. She also speaks about being a fan of celebrity chef Guy Fieri's Food Network shows and several local restaurants, including ones Fieri has visited. "I love cooking," she says.
For Gleason, the opportunity to pursue her passion is important, and she's doing it through InclusiveU, an initiative of the School of Education's Lawrence B. Taishoff Center for Inclusive Higher Education that welcomes students with intellectual and developmental disabilities to experience college life in a fully inclusive setting. Gleason, who identifies as autistic, is a commuter student who hopes to live on campus next year.
Working toward a certificate in food studies, Gleason also took the course Nutrition in Health in the fall semester. In addition, she is gaining valuable experience working at a Wegman's grocery store where she does food prep and packaging. Along with those responsibilities, she's attentive to customer questions and providing support. "I can help with orders, depending on what they are," she says. "I'm trained on the deep fryer, and I can do egg rolls."
Mary Kiernan, associate teaching professor in the Department of Nutrition and Food Studies, enjoyed having Gleason in her Farm to Fork course. "Mackenzie has been a treat to have in the kitchens," Kiernan says. "She is a super student—always prepared before, during and after class. She has worked well in any group she has been assigned. She not only learns from group mates but also teaches them. She understands how to communicate with both peers and instructors. Her enthusiasm for life—and culinary—is contagious!"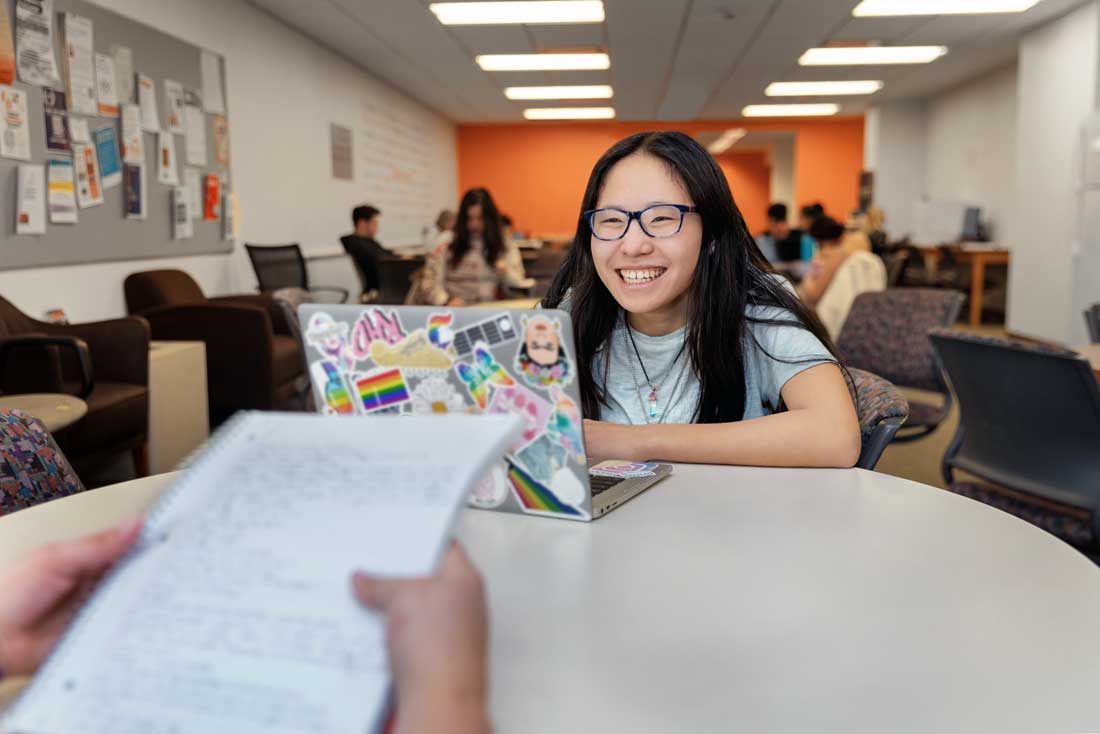 Discovering a Path to College
When Gleason first learned about InclusiveU from her mom, she was excited because she wanted to be a college student. With a longtime affinity for Syracuse University, she likes that it's close to her home in Phoenix, New York, and notes that her dad went to SUNY College of Environmental Science and Forestry. "I love it at Syracuse University," she says. "It's fun. It's a big campus, and there's a lot of stuff to do."
Gleason has made friends on campus and enjoys a range of activities. She is an Orange sports fan who has attended football and soccer games and followed the men's soccer team on its run to the national title. She is involved in LGBTQ+ student organizations and is also a paid peer trainer for InclusiveU's Peer2Peer program, which pairs students together for social activities. In the fall, she helped lead classmates on outings to Paint Night at Dave & Buster's restaurant and a showing of Black Panther: Wakanda Forever. "I basically meet people here and take them to events," she says. "I make sure they have tickets, bring what they need and make sure they know how to get back."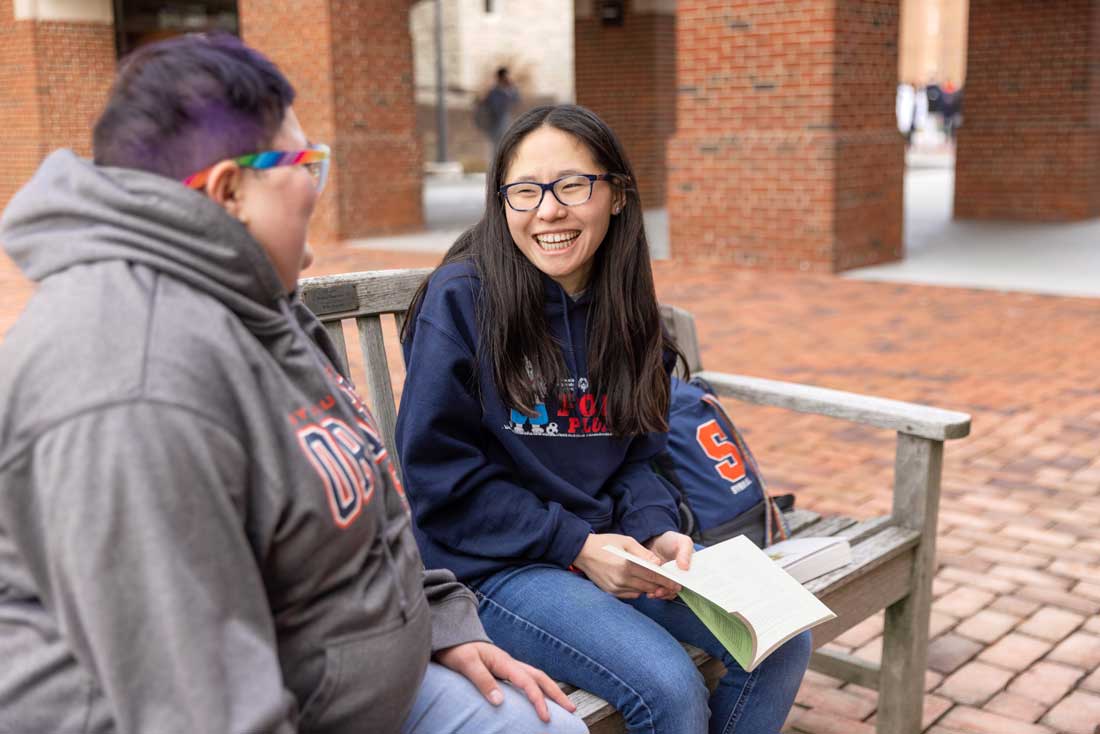 Embracing Self-Advocacy
One of Gleason's most important efforts centers on advocacy, learning how to champion for her rights and others with disabilities. Last summer, she virtually attended the Autism Campus Inclusion Leadership Academy, a project of the Autistic Self Advocacy Network that is designed to help students learn how to improve their campuses for people with disabilities. "It was awesome," she says. "I help all my friends and like to help them be organized."
Last semester, as part of her coursework, Gleason participated in InclusiveU's Advocacy in Inclusive Higher Education, a seminar that introduces students to advocacy work focusing on making inclusive higher education more accessible for those interested in attending college and enhancing inclusivity for current students. As part of the seminar, she joined classmates in working on a letter to the Student Association, which was seeking suggestions for creating change on campus. She also attended the Taishoff Center's State of the Art Student Leadership Conference, which brought students from programs across the country together to connect, learn how to successfully transition to college and serve as advocates. The conference featured presentations on academics, health, internships and employment, relationships and social life. In a video from the conference, Gleason offers this advice to future students: "Get to know everybody and your way around campus," she says.
Gleason is familiar with campus now and looks forward to the days she's on the Hill, so she can explore and also meet friends for lunch. For the spring semester, she has volunteered to serve on the board of the new Disability Student Union and is taking Introduction to Jewelry and Metals, Beginning Yoga and Drawing I Observation.
Away from school, Gleason describes herself as a "boarder"—adept at skateboards, longboards, hoverboards and especially snowboards, which she's hit the slopes with at local ski resorts as well as ones in Vermont. One day, Gleason hopes to run her own restaurant. As she continues her work and education, she's inspired to make new connections and learn more about the culinary world and its endless offerings.
~ An SU Story by Jay Cox originally published on March 1, 2023.