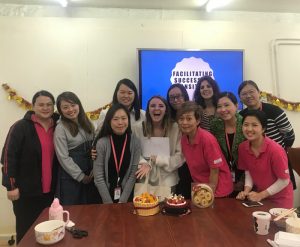 Tyler Ashley Smith '20 thought Syracuse University was the perfect fit—but not for the reasons she was expecting. "When I was applying to colleges, I wanted to be close to a big city and figured that Syracuse University would be close to New York City," says Smith. "When I finally visited campus, I discovered two things: One, it was definitely not close to the big city. And two, the spirit on campus was completely infectious and I knew I wanted to spend my four years here."
She enrolled, certain that she wanted to become a writer—that is, until she heard about Falk College's human development and family science program. "I switched my major and began a new and exciting journey that little did I know, would shape my passions and intentions for after school."
During her time in Falk College as a human development and family science major, Smith has explored new interests, learning about herself and others through applied learning experiences, from her hometown to Hong Kong.
As a junior, Smith traveled to Hong Kong for a semester and interned at Mother's Choice, a non-profit that works with pregnant teens and children without families. "While I was there, I engaged in and produced some of the most meaningful work I have done in my life," says Smith. "I conducted observation-based research and built a new culturally-aware, developmentally-sound Early Intervention Model that addresses the quality of transition from Hong Kong to Western homes for Mother's Choice to use in their future adoptions with Western families."
"My biggest takeaway was that although there was a major language barrier at times, the power of matched passion overcame any difficulty of understanding each other's words," she adds.
In Summer 2019, Smith took an opportunity closer to home: a three-month Teaching Fellowship with Generation Teach in Denver, Colorado, her hometown. "I applied on a whim and got an offer to teach seventh-grade reading and improv acting," she said. "To describe my experience in a few words: unexpectedly challenging, tirelessly engaging, and utterly rewarding."
Much like she stumbled across a new major at Syracuse University, Smith says this fellowship opened her eyes to a new career passion she didn't know she had. "I knew I wanted to work with kids but was unsure about the medium in which I would do so. From the three short months I fellowed with Generation Teach, I developed a sound passion for leading a classroom and connecting with students."
Smith's time with Generation Teach opened doors to new opportunities after graduation, she says, including a K-5 full-time teaching position at a public charter school in Denver. "I am ecstatic to lean in and grow even more in the field of education," she says. "I am beyond thankful for the connections and resources that Syracuse University and Falk College have introduced to me. I simply could not have experienced the internships, fellowships, and more without this program."
Learn more information about Human Development and Family Science.