Social Work Students Ethan Smith and Alexander Nelson Make Impact at Local Teen Center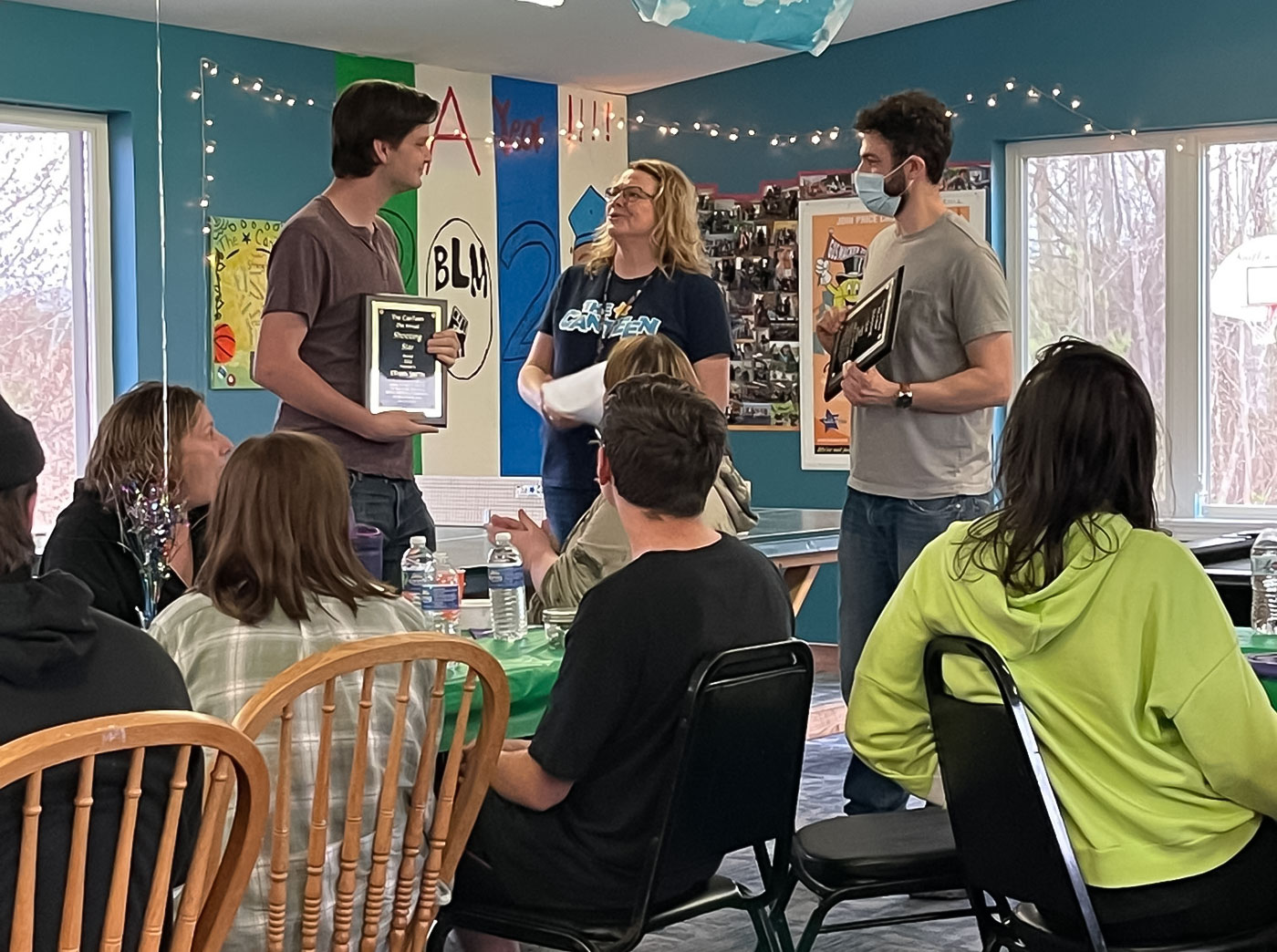 Near the end of each school year, the junior high and high school students who hang out at The CanTeen in Cicero, New York, select one adult volunteer for its STAR Award.
But this year, the students had trouble picking between the two School of Social work interns from Syracuse University's Falk College: Ethan Smith or Alexander Nelson?
"The teens couldn't decide on one of them, and they didn't want to leave one out," says Amy Crowley, the CanTeen's Youth Services Director.
So, with the encouragement and approval of Crowley and Assistant Youth Services Director Wes Sweetman, the teens selected Smith and Nelson–the first co-winners in the award's 21-year history and the first time a college student intern had received the award that goes to a safe adult role model.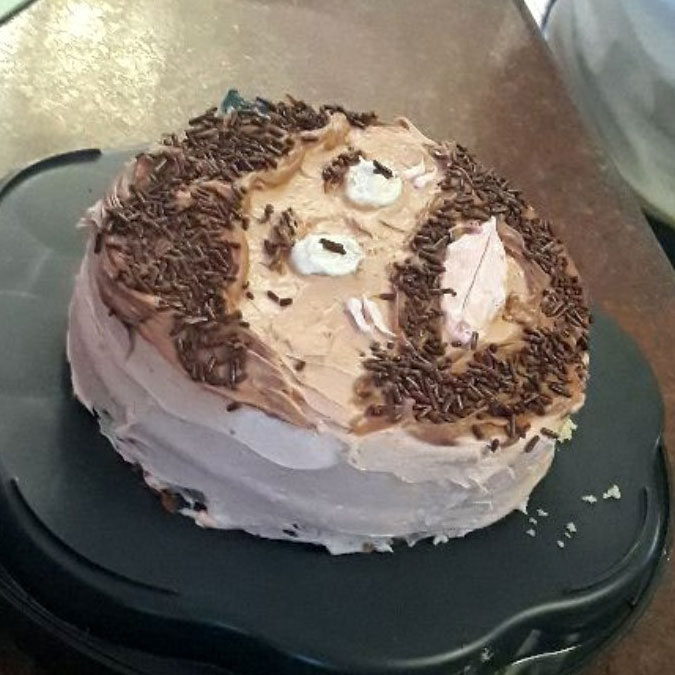 The thought and care that the teens put into the award process showed the impression that Smith and Nelson left on the teens this school year.
"Ethan and Alex came in with open minds and open hearts and the willingness to learn from (the teens)," says Melanie Beacham G '16, The CanTeen's social work field site instructor and a member of the Friends of the CanTeen fundraising board. "Ethan and Alex were there for the teens when they were needed in an unconditional way that the teens could feel, and it was palpable how much (Smith and Nelson) cared about them."
For Smith and Nelson, the awards culminated a year of learning and growth and realizing the impact they can have on young lives.
"My reaction was pretty emotional," Nelson says about receiving the award. "I felt as though it was a final piece of affirmation at the end of an already affirming process of development. I felt like I belonged in that space and that social work really is my path."
Smith says he'll never forget his last day at The CanTeen as the teens pleaded with him to stay and asked that he come back and visit them in the fall.
"Those statements showed they're going to legitimately miss having me around," Smith says. "They prove to me that I made an impact on their lives and they will remember me for how I have helped them and that means a lot."
'Opened the Doors'
The CanTeen is an after-school, drop-in teen center that offers free supports, services and opportunities to eighth- through 12th-grade students from the North Syracuse Central School District. Located next to Cicero-North Syracuse High School, The CanTeen provides food and snacks; activities such as pool, ping pong and video games; and field trips and camping experiences.
Crowley says The Canteen previously had interns from Syracuse University and other local colleges, but this was the first time it hosted interns from the School of Social Work. Heather Mauro, the School of Social Work's internship coordinator, worked with The CanTeen to place Smith, a second-year master's of social work student who graduated May 15, and Nelson, a first-year master's of social work student who will graduate in 2023. Specifically, it was a concentration-level internship for Smith and a foundation-level internship for Nelson.
Smith and Nelson were both required to spend 500 hours at the center. Beacham says they "hit the ground running" and soon developed activities for the teens that led to more meaningful discussions with them.
"Those structured activities that both Ethan and Alex were able to plan and run opened the doors to building those initial relationships, which is the basis for building a supportive relationship as a social worker," says Beacham, a supervising therapist who works for Liberty Resources in Syracuse. "The activities allowed for that initial rapport with the teens and helped them feel more comfortable around Ethan and Alex."
Smith started group sessions called "Eating with Ethan," where up to 15 teens would gather to snack on food they normally wouldn't have at the CanTeen (ice cream, baked goods) and talk about serious topics such as anxiety, healthy relationships and grief.
"It was an opportunity for the kids to be themselves without the stress and worries of the world and where they could create a trusted relationship with an adult who wasn't their parent, which is really important," Smith says. "It's just talking to kids and seeing what's up with them and helping them work through any issues they might have."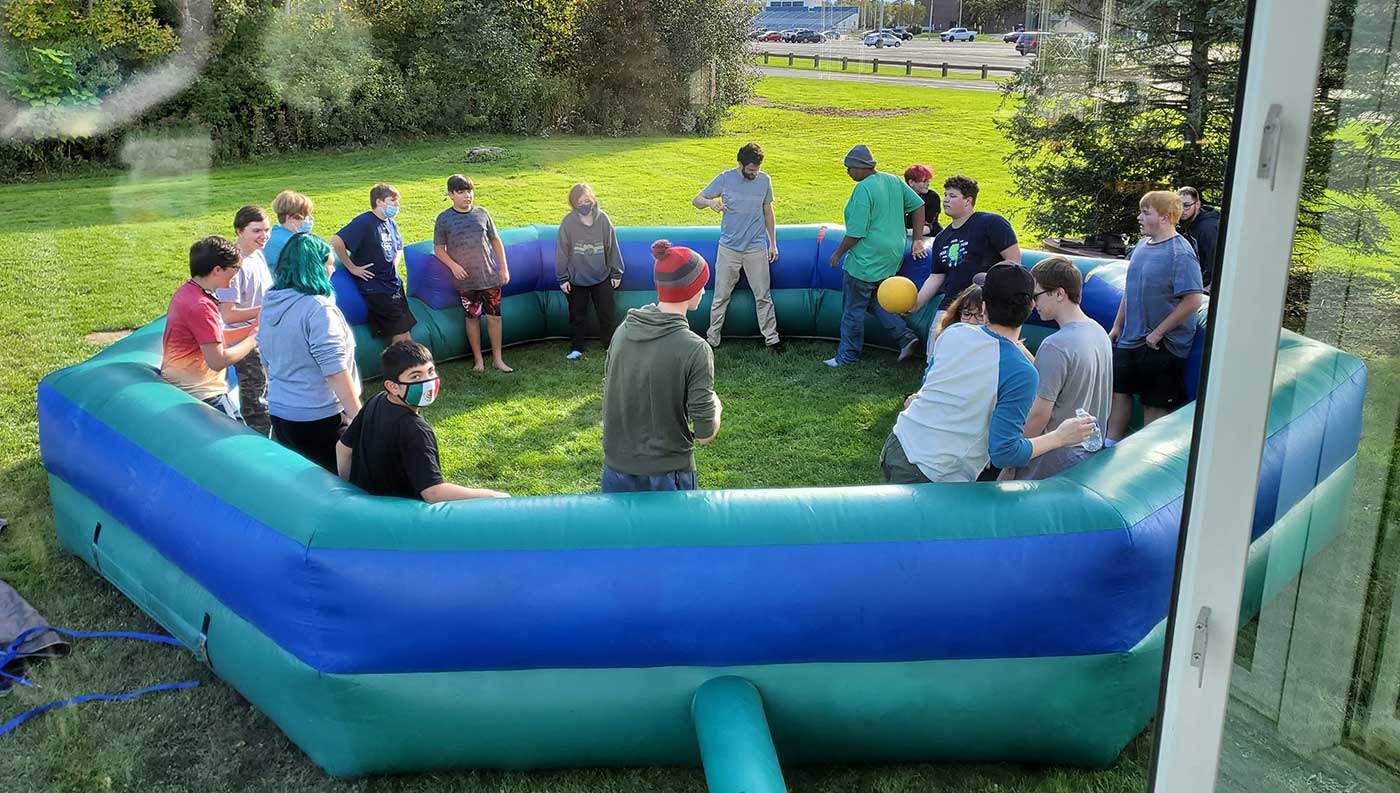 In the fall, when the weather cooperated and the teens could be outside, Nelson played the game four square with them. In the winter, he coordinated several pool tournaments and the winners faced off in a grand tournament for donated prizes that Nelson solicited from area businesses.
The tournaments and other activities helped Nelson become more comfortable with the teens and in turn helped them feel more comfortable confiding in Nelson.
"The most rewarding aspect of the internship was seeing that it's possible to make a positive impact in their lives," Nelson says. "Whenever they told me that I was important to them and helping them I found it incredibly affirming of my life path and journey into social work."
'An Incredible Experience'
Of course, the hours Smith and Nelson spent at The CanTeen were not all fun and games. Oftentimes the conversations ran deep, and the teens leaned on Smith and Nelson for support and advice during difficult times.
"This experience gave them a lot of time to understand what it's like to work with young people and the issues they're facing, especially coming out of the pandemic," Crowley says.
Crowley says one of the turning points for Smith's relationships with the teens came during an overnight "lock-in," where they felt comfortable sharing personal information about serious topics. In one case, Smith's initial conversations with a struggling teen helped the teen open up about a situation that required intervention and services.
"Building these relationships is a process, it's not instantaneous," Smith says. "But once it's built, it's the most incredible experience because these kids want to be around you, learn from you, and learn with you. I loved doing it."
Nelson says he started to realize his influence on the teens during a monthly teen council meeting, where teen leaders would meet with the staff, Nelson and Smith to discuss programming at the CanTeen.
"One of the kids started talking about a sensitive subject that was very likely something they wouldn't speak about in the presence of someone they didn't trust," Nelson says. "It also represented them opening up in a way that I hadn't seen up until that point. It dawned on me in the moment that I had made it into a more inner circle of trust for them and that felt very good for me."
Nelson, a Syracuse native who received his undergraduate degree in social work from Syracuse University, says he'll want to complete his foundation-level internship next year before deciding his career path. Smith, who's from Frederick, Maryland, is moving to New York City, where he has accepted a job working with children of all ages through the Central Synagogue.
As Smith and Nelson establish their careers, The CanTeen staff is confident they will remain STARs to the people they counsel.
"Placements like ours (at The CanTeen) and in general allow interns to build those skills and become ready to go into the field," Beacham says. "As a social worker myself, I'm more than excited to have Ethan and Alex join the field and be able to call themselves social workers."
Interested in a career in social work? Visit the School of Social Work website to learn more about its academic programs, experiential learning, and career opportunities. Visit The Canteen website to learn more its programs and how to support its mission.