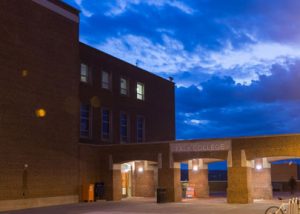 Social Work alumna Melissa Mendez '16, G'17 was recently highlighted by the Syracuse City School District, where she is currently employed as a social worker at the Institute of Technology at Syracuse Central. Mendez worked as a hairstylist before realizing her vision to become a social worker for the SCDS. Today, she gives high school students the mentorship and encouragement she wished she had received when she was a SCSD student. "I knew I wanted to make an impact," Mendez tells the SCSD. "This [the Syracuse city schools] is where I come from. Now, I feel like I get to make a difference."
At the SCSD, Mendez meets with students to help them flesh out and plan for their long-term goals. Mendez tells SCSD that honesty and planning are her two focus areas when advising students, helping them envision the pathway to achieving their goals. "Everyone's path can be different. They don't have to be in a box to be successful… they can be who they are," Mendez says in the SDCD highlight. In addition to advising, she also organizes group activities where students meet together and share their personal experiences, build relationships and grow.
"I may be older, but I'm still relatable to them," Mendez tells the SCSD. "I look like some of them. I grew up where they did and in similar circumstances. Sometimes, students will say, 'You don't understand me.' I rattle off ten stories about how I really do. I want them to know that there's nothing wrong from coming from this – from Syracuse and the city schools. They're all powerful and they can get through whatever they're going through!"
Read Mendez's SCSD highlight on the district's website.