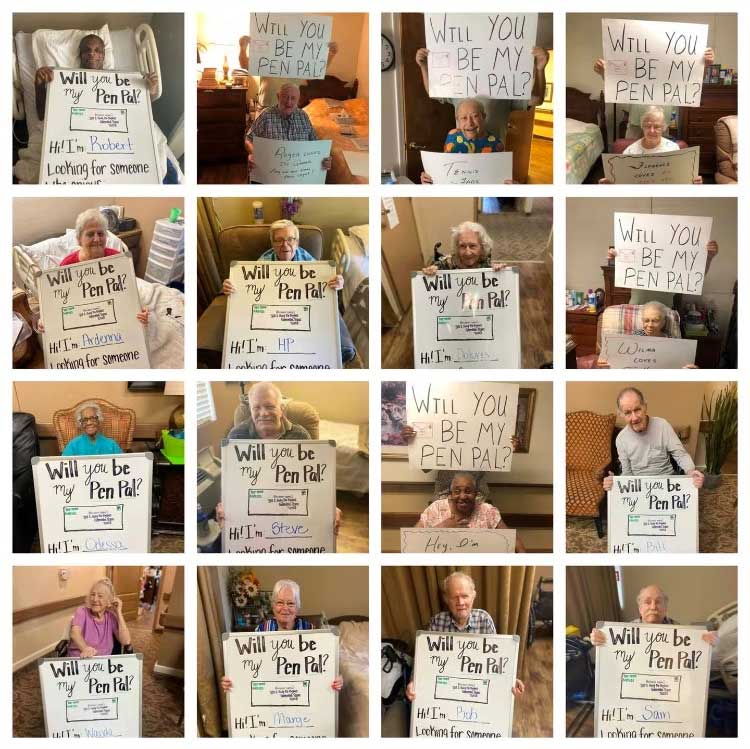 Social Workers United, a graduate student organization in Falk College's School of Social Work, recently introduced its members to a pen pal program with senior citizens. Many social work students engage with the elderly during field placements and volunteer activities and continue to serve this population after graduation.
The pen pal program launch, which is open to the University community, coincides with National Professional Social Work Month. Recognized each March at Syracuse University, this month-long commemoration honors one of the largest professions in the country. This year's theme is "Social Workers are Essential."
"Social workers have been advocating and caring for others across the country as our nation has experienced an incomparable pandemic, racial unrest, and economic uncertainty," says Jennifer C. Genovese, the master of social work (MSW) program director and a faculty member of the School of Social Work, as well as an alumna of the program. "We are so proud of our students who truly reflect the values of social work. Their ongoing commitment to caring for others symbolizes that social workers are essential."
Handwritten letters offer a meaningful way to stay in touch with loved ones, especially for the elderly. "Everyone needs connection right now," says Ben Phelps, a second-year MSW student and the president of Social Workers United. "People don't write letters anymore. Younger generations are not used to doing it. But for many senior citizens, writing and receiving letters is what they do and what they love."
This past fall, Social Workers United also sponsored its annual food drive for the Syracuse community that yielded almost $1,000 in donations for the Rescue Mission. The drive combined virtual and contactless donations. Says Phelps, "I knew about 25 percent of the people sending me money through Venmo, which was rolling in constantly from classmates and their families."
Seeing the community need-and the community response to helping-the students wanted to do more. When Phelps saw a social media post aimed at connecting pen pals with senior citizens, he and his peers decided to take action.
As participants in the Ready to Care Program, Social Workers United is directing those interested in reaching out to senior citizens to an online system that collects and distributes the letters. The process is easy, allowing users to upload a handwritten letter and image or complete an online form that places content into an appealing visual format. The letter writer simply hits the send button and letters are matched with a recipient who receives a printed letter by mail. Letter writers can share their email or mailing address to stay in touch although it is not required. For more information about the pen pal program, please email bephelps@syr.edu.
"By their actions, Social Workers United members, led by president Ben Phelps and vice-president Laura Buys, have demonstrated the core values of our profession: service, social justice, dignity and worth of the person, importance of human relationships, integrity, and competence. Even during a year of uncertainty and remote learning, these MSW students have found ways to contribute to the local and national community," notes Genovese.
Social work is one of the fastest-growing professions in the United States according to the U.S. Bureau of Labor statistics. Social workers serve in many capacities across the life continuum, helping individuals and families from infancy through the senior years. "The recent events in our society have promoted renewed interest in having social work skills applied in a variety of ways to ensure that social justice is at the center of our response to need on every level," says Professor Carrie Jefferson Smith, director, School of Social Work."
Thousands of professional social workers have been trained at Syracuse University's School of Social Work for more than 60 years. Many have chosen to remain and practice in the Central New York area.