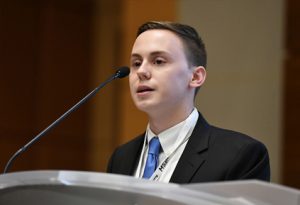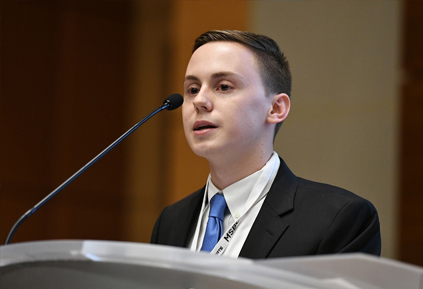 Sport Management senior Chris Henderson '18 was named Valedictorian of the "Big Initiative" for the 2017 Michigan Sport Business Conference (MSBC) at the University of Michigan's Stephen M. Ross School of Business.
The event was held Oct. 6 and featured guest speakers and industry professionals such as David Levy (president, Turner), Arn Tellem (vice chairman, Palace Sports & Entertainment), Abraham Madkour (executive editor, Sports Business Journal), and Laura Froelich (global head of sports partnerships, Twitter). A select group of students each year are selected for the "Big Initiative" and to receive extra networking time with the guest speakers.
The Big Initiative Award, presented by the MSBC, is described as "the nation's premier award that recognizes outstanding undergraduate student leaders who have achieved an exceptional level of success in the sport business industry. Those receiving the honor are selected on the basis of demonstrated entrepreneurship, creativity, innovation and leadership."
At the conference, Henderson gave a speech detailing his experiences and how having the opportunity to meet leaders in sport, as well as dedicated sport management students from all around the country, will help continue to grow his career.
"Being a part of the Big Initiative class was very special," Henderson said. "Having the chance to meet the other award winners gave me insight to what others are doing to succeed in the industry. Getting to know past winners and learn what their experience has been like since graduating college, was extremely valuable. Hearing what they like most about their jobs and what they wish they did differently will allow me to make more informed decisions as I go forward."
As Valedictorian, Henderson attended a lecture by Michigan head basketball coach John Beilein, and met past Big Initiative winners.
"Hearing from leaders such as David Levy and Arn Tellem allowed me to learn where the leaders of the industry think the biggest changes will occur over the next few years and allowed me to think about how I will make an impact," he said.