Syracuse University senior
Bailie Brown
will be the first female to earn a bachelor's degree in sport analytics from Falk College when she completes her coursework in May 2021. She is grateful for connections made with women in sports through events, assignments, and participation in student organizations.
"Seeing there is a community of really amazing women in the industry, no matter how small, is proof I can succeed there as well. This has been a real inspiration for me, and I imagine it will be for other women," says Brown, who is a member of the Baseball Statistics and Sabermetrics Club and the newly formed Sport Analytics Women (SAW) Club, where she serves as vice president.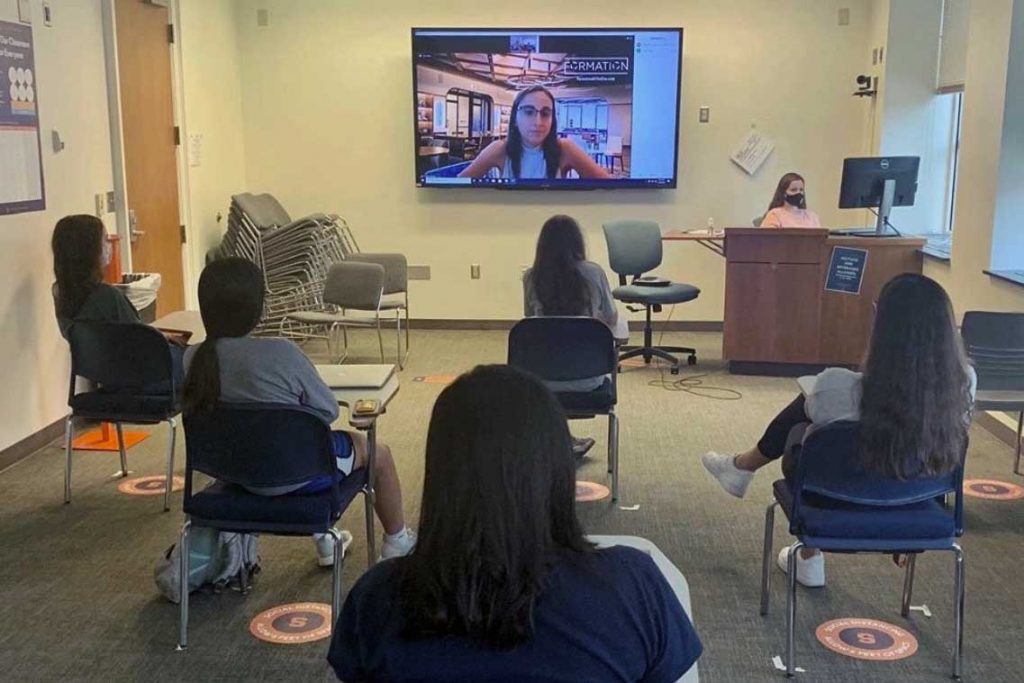 For women in Syracuse University's sport analytics program that admitted its fifth class this Fall, networking with female role models in sports is essential as they enter a traditionally male-dominated field. With ongoing national efforts to encourage more young women to pursue science, technology, engineering and math, or STEM fields, female students in Falk's sport analytics program are inspiring a new generation to follow in their footsteps.
"Our female sport analytics majors are truly trailblazers, jumping in headfirst to apply their skills and knowledge to this important aspect of sports business," says Rodney Paul, professor of sport management and founding director of the sport analytics program. "They recognize they are role models and genuinely value, respect, and honor that role. They are leading the way for young women who love both sports and STEM programs in middle school and high school to careers in sports."
The U.S. Bureau of Labor Statistics estimates that through 2024, mathematical science occupations, such as data analysts and statisticians, are expected to grow at rates higher than average. From analyzing player performance to evaluating the effectiveness of sponsorships and advertising, organizations rely more than ever on trained professionals to process and analyze data.
Brown grew up watching her brother play sports, spending her free time studying baseball. She credits her calculus and studio art teachers for the skills and confidence to pursue a career in sport analytics and feels that inspiration is important to pass on. In addition to serving as a peer advisor and teaching assistant for first-year students, Brown also mentored high school students during Falk College's Summer 2020 Berlin Sport Analytics Academy to enhance their analytical problem-solving and presentational skills. The Academy is made possible through generous support from Syracuse University Trustee and alumnus, Andrew T. Berlin '83.
Like Brown, having siblings on travel sports teams that took her family across the country fueled Alison Gilmore's passion for sports. "I was pretty good at writing but loved math, and I wanted to combine my passion for math with sports," says Gilmore, a first-year sport analytics major.
During her sophomore year of high school, her father mentioned Syracuse University's new program in sport analytics he'd heard about at work. She researched the program that night.
"It was exactly what I wanted. There was nothing else like it. And if I went anywhere but here, it would not have been the same. I am just very grateful for this opportunity."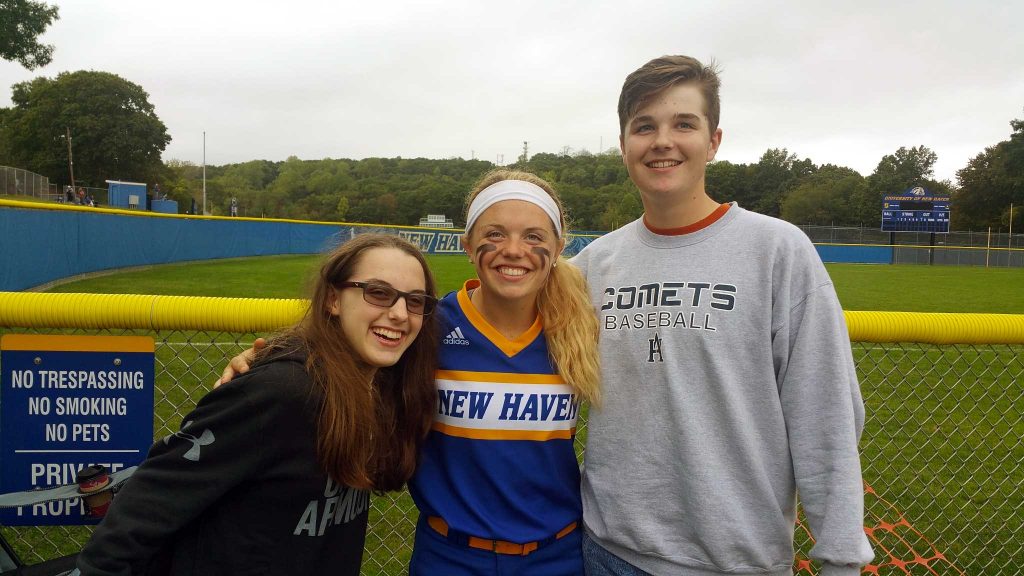 Gilmore is also a member of the Baseball Statistics and Sabermetrics Club and Sport Analytics Women Club. "Our program is very networking-oriented from the beginning. It is amazing and gratifying so early to have access to these professionals. It sets us up to succeed because we see what skills are needed to get to their levels," says Gilmore.
Referencing professional broadcasters Holly Rowe and Maria Taylor, as well as San Francisco Giants coach Alyssa Nakken as role models for aspiring female sport professionals, Gilmore says, "given the roles these women are in, younger girls see these are attainable goals and gain confidence."
Second-year sport analytics student Mackenzie Mangos has minors in economics and information management and technology, and plans to graduate in three years. As a high school student-athlete who captained her teams in soccer, basketball, softball and volleyball, Mangos always loved math, envisioning her major to follow that path. "The sport analytics major bridges two things I love: sports and math," says Mangos, who plans to finish her degree in 2022.
Leadership qualities she fostered throughout high school continued when she arrived at Syracuse University, participating in the prestigious SABR Diamond Dollars Analytics Competition at New York University as a first-year student. It was a natural transition for her to start the Sport Analytics Women Club at Syracuse this fall.
"I felt that this club would be a place for women to feel welcome as soon as they get on campus or even before arriving," says Mangos. The club's membership, currently at 13 and growing, welcomes students from all across campus. The group hosted three guest speakers virtually this semester, including Olivia Stasiuk, a marketing analytics manager with the Dallas Cowboys; Dafna Aaronson, a performance and people analytics specialist for the Los Angeles Kings; and Bria Grant, senior manager of business intelligence with the Brooklyn Nets.
The group is focused on research projecting how women's college basketball players will perform in the WNBA and plans to host tutorials on programs like R, Tableau and SQL.
Mangos believes seeing the success of other females in a predominantly male field will inspire more females to enter the industry. "Females are a minority in sport analytics, but there is so much opportunity for us," says Mangos. "I hope our successes will encourage more women to pursue this career and want to enroll in this major here at Syracuse University."
To learn more about Falk College's programs in sport analytics, contact Professor Paul at rpaul01@syr.edu.
Read a related news story from AP News: First woman completing sport analytics degree at Syracuse U.