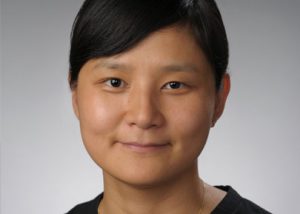 With final preparations underway for the 2018 Winter Olympics scheduled to begin February 9 in PyeongChang, South Korea, Falk College assistant professor of sport management, Jamie Jeeyoon Kim, is researching the negotiation of motivation and constraints in young people's decision-making for tuning into the Winter Olympics. More importantly, her research investigates how watching the Winter Olympics affects the decision-making process for sport participation. Dr. Kim was awarded $18,000 as part of the International Olympic Committee's advanced Olympic research grant for her project, "Building a Sport Participation Legacy Through the 2018 Winter Olympic Games." She also received a Falk College Seed Grant for $7,500 grant for the project, "Building Korea's Brand Personality and Equity with the Olympic Brand and the 2018 PyeongChang Winter Olympics."
Sport participation legacy among younger generations is of primary interest to South Korea and any countries hosting Olympic Games, as well as those invested in the Olympic movement. With a large youth population and a strong strategic position in Asia, PyeongChang hopes the 2018 Games will enable a legacy of new growth and new potential. The PyeongChang 2018 Organizing Committee's 'New Horizons' vision aims to expand winter sports in Asia, and transform the local Gangwon province into a new winter sports and tourism destination. The Asian market is described by some in the sports industry as the youngest and fastest-growing winter sports market in the world with the largest aggregate youth population.
Through the project, Dr. Kim aims to understand and derive strategies to stimulate young people's interest in watching the Winter Olympics, and to effectively transfer that interest to sport participation. With Korean and Chinese youth selected as the target population, the findings will help deliver a better sport participation legacy of the 2018 PyeongChang Winter Olympics in the host country as well as across Asia. With 2022 Winter Olympics scheduled for Beijing, China, the research will provide valuable insights for the next host of Winter Olympics.
Dr. Kim joined the Department of Sport Management in August 2016 after earning her Ph.D. from Florida State University. Her research agenda is anchored on the impact of sport events on local communities and event consumers. Prior to this role, she served with the Korean Olympic Committee. For over five years, she worked for the International Games, International Relations and 2018 PyeongChang Olympics Task Force Teams. She will present her research at the 2018 International Sports Business Symposium in Chuncheon/Pyeongchang.