Senior Capstone Experiences
Drina Domic, SPM '19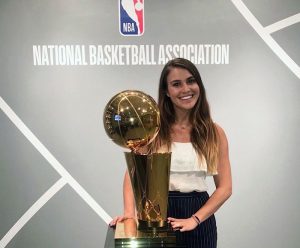 During the Spring 2019 semester, I completed my Senior Capstone in New York City at the National Basketball Association (NBA) League Office in the Team Marketing & Business Operations Department (TMBO).
TMBO works as an in-house consulting group for the NBA, G-League, WNBA, and NBA2K. Within TMBO, I worked with the Strategy and Analytics group as a Business Intelligence Analyst. My group was focused on assisting all facets of the industry, from marketing to ticket sales through data-driven decision making.
My specific role was to bring league reporting into the 21st Century, to transition away from static PDF reports to more dynamic, real-time dashboards. Having data in real-time with filtering capabilities will enable teams and other groups within TMBO to more easily identify trends and best practices in a more convenient manner. Through this process, I learned how to streamline data and create automated processes. The beauty of TMBO is touching different aspects of the business in a variety of settings.
It was a great learning opportunity to see how markets operate, whether big or small, winning or losing, as well as the strengths and weaknesses of the teams. I consulted with each organization's Strategy and Analytics team about their needs.
The most rewarding part of working with the NBA's TMBO was learning from experts in all areas of sport who come from diverse backgrounds. I am proud to say I have been offered a full-time job with TMBO's Strategy and Analytics group, effective Summer 2019.
---
Brianna Cooper, SPM '19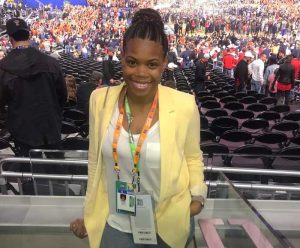 During the Spring 2019 semester, I completed my senior Capstone at Turner Sports with the Advertising Sales and Marketing Department in New York City. This team is responsible for selling and executing all digital, on-air, and on-site sponsorships for all its sports properties.
As an ad sales intern, I was fortunate to start my Capstone during the peak of March Madness planning. I assisted the NCAA team to complete competitive tracking reports, prospect new clients, and create sales materials. I attended weekly meetings with CBS teams and the annual NCAA, Turner, and CBS meeting, where we developed sponsorship ideas and introduced new clients.
The title March Madness stood true to its name because during the tournament, I spent long nights at the CBS Broadcast Center tracking in-game sponsorships, capturing digital ad content, and drafting social content for the NCAA's Final Four Music Series and Fan Fest. By April, I achieved a bucket-list goal by joining Turner's Final Four team in Minneapolis for six days, running the NCAA social media accounts, and witnessing Virginia's first-ever championship.
My internship at Turner gave me a greater appreciation for the business of sports and provided an amazing experience that helped me identify Corporate Partnerships as my career path. It taught me that the importance of sports is in the experiences you provide because even if fans forget the outcome of a game, they'll never forget how you made them feel.
Since graduating from Syracuse University in May 2019, I have been interviewing for positions with teams and media companies with the hope to join a corporate partnerships team.
---
Josh Katz, SPM '19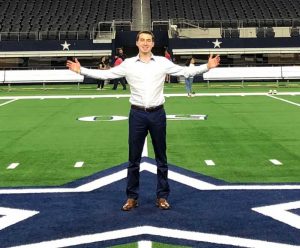 In the Fall 2018 semester, I completed my senior Capstone with the Dallas Cowboys as a Business Analytics and Insights intern at the team's headquarters, The Star, in Frisco, Texas.
The primary responsibility of the Cowboys' Business Analytics team is to provide analytical business insights for the sales, marketing, sponsorship, merchandise, and media departments. I focused on building dashboards for the sales team to monitor campaigns, collecting market research for the sponsorship team in preparation for pitch meetings, and monitoring the team's CRM data warehouse.
Learning from such a prolific franchise was an incredible experience. I honed and improved my technical skills in Tableau, R, SQL, and CRM practices, and took the lead on key projects throughout the semester. I was lucky to have three great supervisors who taught me best practices in the sport analytics industry and showed me the importance of creative problem-solving.
It was such an honor to learn from industry professionals at an NFL franchise during the season. I loved being in the fast-paced and highly competitive environment of the NFL. Also, getting to work from AT&T Stadium on gamedays was an added perk.
Overall, my senior Capstone was an incredible experience. I met so many top-notch people throughout the organization, and the skills and lessons I learned with the Cowboys helped me land a full-time position as a Business Analyst with the NFL's Baltimore Ravens.
---
Sean Onwualu, SPM '19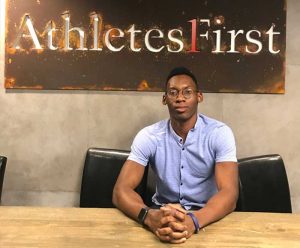 During the 2018 Spring semester, I was honored to intern at Athletes First, a full-service sport agency in Laguna Hills, CA.
Athletes First primarily focuses on football, representing more than 150 NFL players and coaches. Interns help the organization throughout the NFL season and off-season, including assisting with the rookie program, Super Bowl, NFL Combine, NFL Free Agency and NFL Draft. I helped secure items and work for Athletes First's yearly Charity Auction to raise money for the Orangewood Foundation, which aims to provide foster children with a better life.
Highlights from my senior Capstone include working on the Charity Auction, Free Agency and the NFL Draft. I felt I truly made an impact on these events. For the auction, each intern was tasked with finding a high-profile item worth auctioning. My contribution was four tickets to a Monster Jam rally. During NFL Free Agency, I compiled statistics and information for New York Giants wide receiver Sterling Shepard's agent, who helped land Shepard a four-year $41 million extension this past off-season. The NFL Draft was exciting as I got to see athletes I helped and worked for during the semester have their lifelong dreams fulfilled.
I learned a lot about the agency side of football and how important agents are to players. They work hard behind the scenes in order to be successful. I will take all of the real-world lessons I learned at Athletes First and apply them as I begin my career in the sport industry, preferably in sponsorships or marketing.
---
Destiny Castro, SPM '18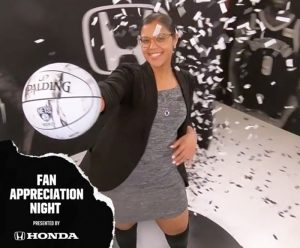 Completing my senior Capstone in the community relations department with the Brooklyn Nets during the spring 2018 semester allowed me to combine my passion for sports, children, and education, as well as give back to my hometown of Brooklyn. This community has played a vital role in shaping me into the woman I am today. The internship has been a blessing, and working in the community was one of the most fulfilling aspects of the experience.
During the Capstone, I participated in countless events, including Brooklyn Nets games, community events, and basketball academy clinics. These events included current players such as D'Angelo Russell and Spencer Dinwiddie, and Nets' legend Albert King. My favorite events were the basketball clinics we hosted at local community centers and schools.
My experience with the Brooklyn Nets taught me that I must take on a career path that will allow me to positively make an impact on other's lives. It showed me there are countless ways to do this, and no impact is too small. I was fortunate to sit in on planning sessions, take the lead on projects, and was even asked to assist post-Capstone with summer events/initiatives.
I am proud to say that I have accepted a full-time position with the New York Mets' Inside Sales Department. I will still assist the Brooklyn Nets when time allows, and have submitted a proposal of an event the Nets' organization is working toward activating next season.
---
Bryan Kilmeade, SPM '18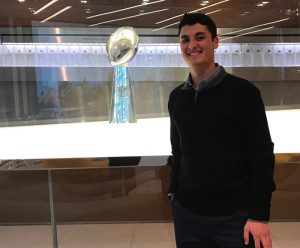 During the Spring 2018 semester, I completed my senior Capstone at the National Football League with the Management Council in New York City. The Management Council directly deals with the Collective Bargaining Agreement on the league's behalf. It handles everything from managing the league's salary cap to regulating the amount of time players are allowed at the team facility in the offseason. I was lucky to complete my Capstone in the Spring, where I was able to see the department operate in different phases: the playoffs and Super Bowl, the start of free agency, and the draft.
My area of focus was in Labor Operations and Salary Cap Management, where I learned a tremendous amount about the salary cap and the CBA. My main responsibilities were to edit the daily waiver wire and create contract grids from the previous day and send it to the player's union, approve contracts submitted by teams, assist with the daily reconciliation of the salary cap, and be available to complete tasks and projects as needed.
Working in the Management Council gave me an incredible opportunity to learn about the salary cap and Collective Bargaining Agreement from some of the most knowledgeable people on the subject and have access to information I could not have gotten anywhere else. I was lucky to see the department function and evolve from in-season to off-season.
Upon graduating from Syracuse University, I have been interviewing for positions with two teams with the potential to rejoin the NFL in a similar capacity. I look forward to pursuing a career in football on the team or league side.
---
Reid McGrory, SPM '18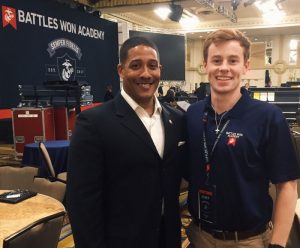 In Fall 2017, I completed my senior Capstone as a sponsorship intern for Intersport, a sport marketing and production agency headquartered in Chicago. Since Intersport's birth 32 years ago, they have grown from a production company to an agency with seven practices: production, sponsorship, experiential, properties, content marketing, hospitality, and customer engagement.
As a sponsorship intern, I worked on accounts for Heineken USA and Quicken Loans. Heineken USA, which includes Dos Equis, sponsors MLS, the Champions League, College Football Playoff and more. Quicken Loans has the naming rights for the Cleveland Cavaliers' arena, sponsors PGA pro Rickie Fowler and activates in the college space with Rocket Mortgage Madness.
Throughout my Capstone, I was responsible for managing Heineken's MLS ticket allocation, creating an unforgettable hospitality experience for Dos Equis' guests at the College Football Playoff, and assisting in an on-site activation tour during college football season for Rocket Mortgage Madness. I also worked on accounts for Enterprise, creating a Point of View on a soccer opportunity; Nathans, where I helped coordinate their nationwide tour; and the Marines, where I worked on-site at the Semper Fidelis Battles Won Academy. I am shown above with Gunnery Sargent Verice Bennett (left) at the event.
SU's Sport Management program provided me with knowledge and my Capstone provided me with experience on sponsorship fulfilment, client relationships, and agency life, which both allowed me to secure a job as an account coordinator for The Marketing Arm working on AT&T's sport sponsorship portfolio.
---
Paulina Rubin, SPM '18
I interned at LeadDog Marketing Group in New York City for my senior Capstone in Spring 2018. I worked within the Account Management Department, where I gained valuable hands-on experience in the world of sport marketing.
LeadDog Marketing Group is a sports and entertainment agency that specializes in experiential marketing. They are among the top sport marketing agencies in the country and pride themselves in using their CEO's 6 P's (partners, people, potential, perspective, principles, and passion) to produce a memorable event that exceeds client expectations.
I worked on two main accounts: World Wrestling Entertainment (WWE) and National Basketball Players Association (NBPA). I helped with the planning and ideation of the NBPA's player/fan event that took place in early February during NBA All-Star weekend. For WWE, I assisted with the planning, ideation, organization and execution of a fan event that took place during WrestleMania in New Orleans. I joined the team in New Orleans for eight days to help in the production office as well as run talent stages with WWE superstars such as the Bella twins and Randy Orton.
The fun, yet professional, environment at LeadDog allowed me to thrive. I formed strong professional and personal relationships with coordinators and senior vice presidents. I ventured out of my department to help other departments and accounts, allowing me to experience all facets of the sport industry.
Upon graduating from Syracuse University in May 2018, I returned to LeadDog as a full-time Account Coordinator. LeadDog's fast-paced environment will allow me to pursue my passion in sports and provide me with knowledge and experience to take with me throughout my professional career.
---
Marcos Luna, SPM '17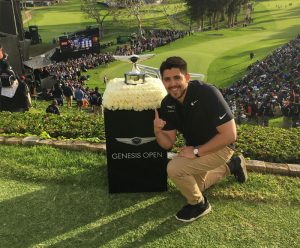 During the Spring of 2017, I had the privilege of completing my Senior Capstone with the Tiger Woods Foundation as a special event and volunteer intern. I worked mostly on the foundation's PGA tournament, the Genesis Open, in Los Angeles, Calif. I was the main contact for more than 900 volunteers and helped coordinate special events we hosted during the tournament, including a collegiate tournament, a professional-amateur tournament, and an event for underserved youth within the Los Angeles area called Tee Off for Youth.
My favorite event was the professional-amateur tournament. Many of the amateurs were celebrities, including Johnny Manziel, Don Cheadle, and Niall Horan. I also met Tiger Woods, Dustin Johnson, and Bubba Watson. I acted as the liaison between golfers and scorekeepers, and was in constant communication with the celebrities and professionals throughout the events.
I also enjoyed coordinating the Tee Off for Youth initiative. We worked with youth groups within the Los Angeles area to bring more than 1,000 kids to the Genesis Open, where they were each given a private golf lesson, a private viewing area, as well as souvenirs from the foundation.
My experience with the Tiger Woods Foundation has taught me how intricate and complex the world of events can be. There are many moving parts and nothing truly goes as planned, so you have to adjust and work under pressure to succeed. The internship has prepared me for a career in the sport industry and I am grateful to the Tiger Woods Foundation for the experience.
---
Zach McDonald, SPM '17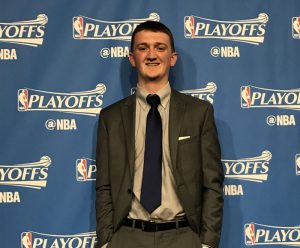 During the Spring 2017 semester, I had the privilege of completing my Capstone with the Boston Celtics as their community engagement intern. Aside from their success on the basketball court, the Celtics are active in the community and I was lucky to be a part of their work.
My responsibilities revolved around community programs, donations and fundraising for the Boston Celtics Shamrock Foundation. The lifeblood of the department was community programming, which benefitted several causes, including veterans, health and wellness, youth, and education. Working with 10 to 15 different programs, we ran more than 50 community events in my four months with the organization. I was fortunate to work alongside Celtics' players Isaiah Thomas, Avery Bradley, and Marcus Smart.
The biggest takeaway from working at these events is the impact it had on the underprivileged and disadvantaged groups. Working closely with the programs gave me a sense of purpose as I knew my work provided tremendous value to the community.
My experience with the Boston Celtics changed my whole perspective on the sports industry. It showed me that community work is my true passion. As I step into the real world, I hope to use sports as a platform to help others and make a difference in the community.
---
Rebecca Pongetti, SPM '17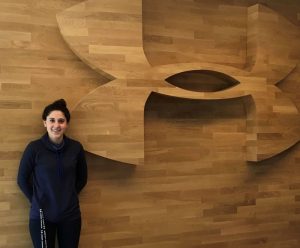 During the Spring 2017 semester, I had the privilege of completing my Senior Capstone at Under Armour Canada in Toronto. Under Armour is the originator of performance apparel, footwear and equipment. With an underdog mentality, Under Armour has risen to one of the most prestigious sporting brands across the globe.
My area of focus was in brand marketing while also working on retail marketing, sports marketing and events. I assisted with events, execution of the 2017 marketing category plans and calendars, execution of paid media buys, activation for in-flight campaigns, assisting the Global Football category toward increasing its footprint and athlete roster in Canada, and developing the Canadian Influencer Program.
The organizational culture within Under Armour is passionate, community oriented, and empowering. The positive and cohesive environment within the company gave me the tools and confidence to take the lead in multiple tasks and projects.
Being involved in the fast-paced environment of the sports industry makes each day unpredictable and exciting. I experienced all facets of the sport industry within Under Armour, which has allowed me to grow as a professional and individual. I am extremely lucky to have completed my Capstone at such a fantastic organization.
Upon graduating from Syracuse University, I returned to Under Armour Canada to continue my role in the Marketing Department with a focus in brand marketing and events. I believe this is the perfect organization to begin my professional career in the sports industry as it has allowed me to take my passion for sport off the field.
---
Jordan Rice, SPM '17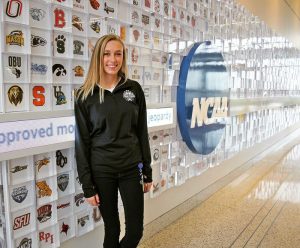 I completed my Senior Capstone with the National Collegiate Athletic Association (NCAA) in Indianapolis, Ind., as the championships extern for women's basketball.
While working out of the NCAA's national offices, I completed marketing roles and had the honor of leading two new initiatives that were facilitated onsite at the 2017 Division I Women's Final Four in Dallas.
One initiative, The Rewards Program, gave fans the opportunity to earn points for VIP experiences at the Women's Final Four. I acted as the point person for the creation of the program as well as the facilitation onside. I also had the privilege of working on the Kay Yow Cancer Fund series of mini-basketball games that took place during Women's Final Four weekend, to help raise money and awareness for the fund.
While my whole experience was more rewarding than imaginable, the best feeling was taking what I created in the office onsite to the Final Four. I learned from some of the top executives in college athletics and truly saw what it takes to put on an event of that caliber.
I have always dreamed about having a career in sports, and thanks to the Sport Management program's opportunities and having faculty and staff dedicated to students' success, I am on the right path to obtaining that dream. The NCAA allowed me to find my place in sports and build connections to help me achieve the next goal in my career. I am proud to say I have accepted a position as a championships assistant at the Big East Conference.
If someone ever asks you to go across the country to work with leaders in sports – I say go for it!
---
Anthony Mejia, SPM '16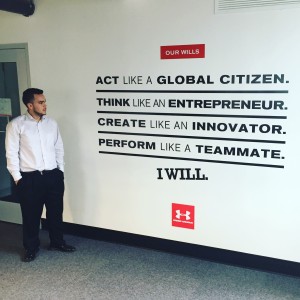 During the Spring 2016 semester, I completed my Senior Capstone at Under Armour on the Collegiate Sports Marketing team at the company's headquarters in Baltimore, Maryland.
I assisted the 10-person team, including the director, Syracuse University graduate Nick Carparelli Jr. I assisted managers and directors with daily tasks associated with servicing Under Armour's 16 Tier-1 college programs.
My Capstone allowed me to make connections and gain knowledge about a wide variety of roles in departments such as marketing, product development, data entry, and creative design. The networking opportunities at Under Armour ultimately led to me being offered a full-time position as the Associate Product Line Manager of Licensed League Product. In this position, I help create the products and assortments for Under Armour's collegiate and professional licensees, including Major League Baseball, National Football League and National Basketball Association.
I could not imagine a better Capstone opportunity. Not only was I able to network and gain invaluable experience, but also begin my career in a position I love and am passionate about."
---
Hannah Howe-Lubowich, SPM '16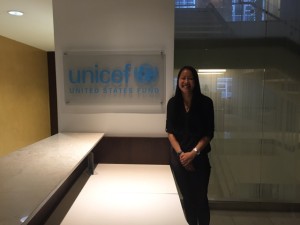 I had the honor and privilege of interning at the U.S. Fund for UNICEF during the Spring 2016 semester. This non-profit organization supports the global UNICEF mission of protecting the world's most vulnerable children.
At the New York City headquarters, I immersed myself in the work of two departments: Sports Partnerships and Kid Power. Having the opportunity to see the inner workings of these departments allowed me to learn about multiple sides of the non-profit, sport for development world. UNICEF Kid Power is an initiative that gives kids the power to save lives.
This program encourages kids to become physically active, which unlocks points that convert to funding for therapeutic food packets for malnourished children throughout the world. I visited schools in New York City, Boston and Syracuse, participated in Kid Power donor school events, and volunteered at the 2016 Annual Meeting. My greatest accomplishment at the U.S. Fund for UNICEF was finding my sense of purpose in the field of sport for development.
My years as a Sport Management major, culminating with my incredible Capstone experience, unlocked doors that I never knew existed. As I embark on the next chapter of my life, I hope to find ways to inspire and help others through the power of sports.
---
Kathryn Petkevich, SPM '16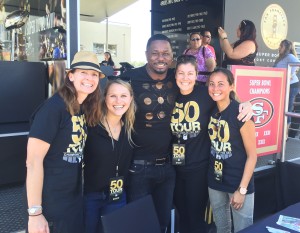 I had the privilege of working for the San Francisco Bay Area Super Bowl 50 Host Committee as a Hospitality Associate in the Hospitality and Events department from June 2015 to February 2016.
My main focus was celebrity and talent engagement and VIP gifting. I booked and managed over 65 current and former NFL players for game week lead-up events, game-week and game-day events, as well as managed gifting orders for our VIP clients.
I was fortunate to have so much responsibility. I did not know what to expect when I secured a Capstone opportunity 3,000 miles from the Syracuse University campus. I never expected to be leading a call with our biggest partner or working with budgets. One of the best parts was that big-name players like Steve Young, Matt Hasselbeck and Lynn Swann listened to me, a 22-year-old associate, and trusted what I was doing.
This opportunity was truly once in a lifetime. It is incredible how much work goes into one event. We had sleepless nights and stressful days, but it was all incredibly worth it. I had the chance to learn from the best in the industry and the friendships I made will last a lifetime.
---
Dean Hirschberg, SPM '16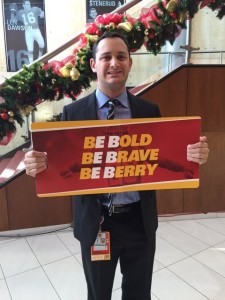 During the 2015 fall semester, I was fortunate to complete my Senior Capstone with the Kansas City Chiefs as a community outreach intern in Kansas City, Missouri.
My responsibilities included managing initiatives to raise funds and awareness for multiple charities throughout the Kansas City area and coordinating with current and former players on weekly events and player appearances. A memorable event was the Super Bowl I and IV Reunion/Alumni Weekend, where I met Jan Stenerud, Len Dawson, Bobby Bell and Will Shields.
I also worked as the lead person on the Chiefs' Punt, Pass and Kick Initiative, which is part of the NFL Play60 campaign. Following the success of this initiative, I was awarded November's Intern of the Month.
My Capstone experience taught me the impact that community outreach has on a city, regardless the size. I watched how the involvement of players in local events brought people together throughout the entire season.
The Kansas City Chiefs organization embodies its mission by demonstrating strong character throughout, uniting the community through events and sponsors, inspiring fans and honoring practices and traditions.
---
Alyssa Wood, SPM '15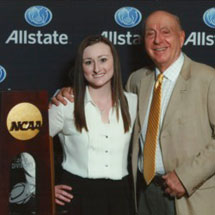 As a member of the Sport Sponsorship team, I worked primarily on Allstate's NCAA Men's Final Four sponsorship property. I traveled to the 2015 Men's Final Four in Indianapolis to see all of the projects I worked on come to life, including the on-site activations at Final Four Fan Fest, a hospitality program that hosted over 100 Allstate agents; as well as the television and online advertising efforts around the NCAA Tournament. I also worked with basketball personalities and celebrities Dick Vitale, Grant Hill, and Bill Raftery, who participated in Allstate hospitality efforts throughout the weekend.
My experience with Allstate helped me to realize my passion for sponsorships and brand activations at large-scale events. The real-world experience I gained at Allstate led to a full-time job in sponsorship marketing at Team Epic. I could not be happier with my experience at Allstate and I am looking forward to continuing down this career path.
---
Dan Gorman, SPM '15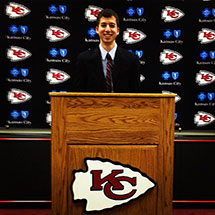 My primary responsibilities focused on the business development of corporate partnerships for the Kansas City Chiefs, though I gained experience in brainstorming sessions to develop a keen understanding of the entire process.
My direct responsibilities included assisting in the creation of new business leads; supporting sales managers and coordinators throughout the sales cycle, including meeting prep; researching the sports industry for sales and promotional trends and new partnership opportunities; and stadium and facility meeting set-ups.
My four months with the Kansas City Chiefs enabled me to see myself working in partnership strategy and business development as a career. Learning about different industries is truly exciting, and makes every partnership unique.
---
Meghan Baumer, SPM '15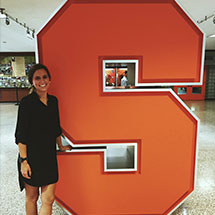 I served as the assistant media coordinator for the 2015 NCAA Men's Basketball East Regional, and the assistant editor for the 2015 Syracuse football media guide, Additionally, I worked on projects involving statistics, photos, and archival information.
With Syracuse hosting the 2015 NCAA Men's East Regional, I received invaluable first-hand knowledge from my supervisor and media coordinator for the tournament, Sue Edson. I gained exceptional experience in dealing with the media, and had numerous opportunities to showcase my written communications and design skills.
I was fortunate to work with a staff that mentored me and led to many opportunities to grow and learn in the field of sports information and public relations. I am proud to say that my Senior Capstone ultimately led to a full-time job as an athletic communications assistant with the Syracuse Athletic Communications Department.
---
Austin Stevenson, SPM '15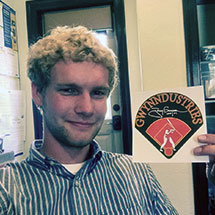 I was exposed to the variety of business ventures with which the Gwynn family is involved, including a beer partnership (.394 Pale Ale), Camp 19 Baseball, a series of Gwynn BBQ sauces and seasonings, and the Gwynn Gourmet Food Truck.
These ventures had never been combined to cross promote each other. Identifying this opportunity led to me developing a new, central brand and an integrated marketing system. From this, I created Gwynndustries, Inc., as the parent company and brand through which all Gwynn-related business activities will operate. I am now working as the CEO of Gwynndustries.
I would not trade my experience with the Tony & Alicia Gwynn Foundation and Gwynndustries, Inc., for any other. I am proud to have had my vision of this company come to fruition, and have the opportunity to continue working for Gwynndustries, Inc., to grow its brand and market outreach.
---
Mari Lee, SPM '14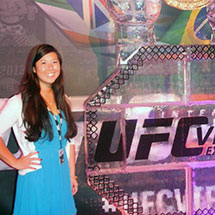 While it was difficult to be away from campus and all of my friends back in Syracuse, I learned more than I ever could have imagined during my Capstone at Ultimate Fighting Championship (UFC). I learned about the sport industry as well as myself.
I was able to take on the same responsibilities as full-time employees, which made this experience so different from any other internship I've had. Because of this amazing opportunity I had with the UFC, I realized that my dream career would be with the UFC.
I put in the hard work and dedication and was ultimately offered a full-time position as the Event Development Coordinator for the UFC.
---
Jack Wentzell, SPM '14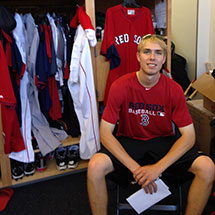 I completed my Capstone with the Boston Red Sox in the team's Florida Business Operations department as an operations intern at JetBlue Park, the spring training home and year-round training facility for the team. As someone who grew up within 35 miles of Boston, working for this organization was a dream come true.
I played a significant role in ensuring the facility's cleanliness and overall presentation were top-notch for all events. I also learned to live on my own in an unfamiliar location.
I'll never forget introducing myself to Hall of Famer Jim Rice or exchanging head nods with 2013 World Series MVP David Ortiz. Special moments such as these were commonplace during the seven weeks of spring training, and it was an opportunity I'll always cherish.
---