SPM Club
Sport Management Club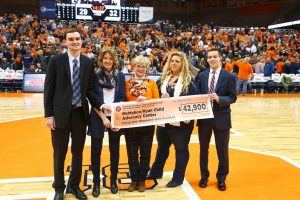 The Sport Management Club is a student-run organization of the David B. Falk College of Sport and Human Dynamics's Department of Sport Management. Since its founding in 2005, the Club has raised over a quarter of a million dollars for local charities. Beneficiaries of the Club's annual charity auction have included the Boys & Girls Clubs, American Diabetes Association, Golisano Children's Hospital at Upstate, the Ronald McDonald House Charities of CNY, the Central New York SPCA, the Upstate Cancer Center, Special Olympics New York, Food Bank of CNY, McMahon/Ryan Child Advocacy Center, and the Salvation Army.
The Club raised $42,900 for The McMahon/Ryan Child Advocacy Center as a result of its 12th Annual Charity Sports Auction in December 2016. During the SU men's basketball game on December 10, supporters placed bids on hundreds of items, including sports memorabilia, electronics and tickets to major sporting events. In conjunction with the live event, Steiner Sports also hosted an online auction, which showcased a number of premium items up for bid. McMahon/Ryan is a 501(c)(3) non-profit organization dedicated to ending child abuse through intervention and education. In 2015, the Club raised $40,470 for the Salvation Army, and in 2014, the Club raised $59,185 for Make-A-Wish® of Central New York. Find out more about the annual Charity Auction.
The beneficiary of the 2017 auction will be Meals on Wheels of Syracuse, with the auction taking place on Saturday, December 9 at the Carrier Dome.
During the academic year, the Club is involved in many on-campus and off-campus activities in addition to the Charity Auction.
The Sport Management Club meets at 7 p.m. Tuesdays during the academic year in Falk 200. For more information, contact SPM Club president Elijah Newsome at eenewsom@syr.edu.  Officers are Vice President Danny O'Connor; Vice President of Programming Steve Marciello; Vice President of Community Service Christina Meyers; Vice President of Membership Taitum Kurasz; and Vice President of Administration Sara Stanley. Falk College events manager Kate Veley serves as the Club's co-advisor. Email her at koveley@syr.edu.
WISE
Women in Sports and Events (WISE)

Women in Sports and Events (WISE) is a nationally recognized group whose goal is to be a leading voice and resource for women who currently work in, or aspire to be a part of, the professional field of sports and events. In 2009, Syracuse University was voted in as the first collegiate chapter of WISE's national organization.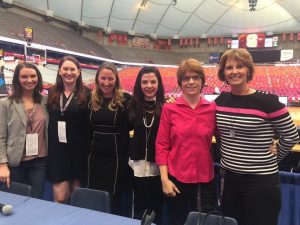 Students in SU's WISE chapter are involved with several events and activities during the  academic year. In the past, the Club has participated in a dress-for-success event, a WISE flash sale, and several tabling activities to recruit members and showcase their activities.
WISE hosted "Shoot for Success: WISE Women in Sports," a pre-game panel discussion on February 19, 2017 at the Carrier Dome. Organized in collaboration with Syracuse University Athletics, the panel discussion took place before the SU women's basketball against Notre Dame. Designed for women interested in pursuing professional careers in sports and events, the event featured how-to guidance and personal experiences from panelists on leading a successful career in sports. Guest panelists included Boston Celtics Group Ticket Sales Manager, Chrissy Cronin; Boston Celtics Director of Marketing, Kara Hutchinson; ESPN Women's College Basketball Analyst, Gail Goestenkors; ESPN Coordinating Producer, Kate Jackson; ESPN Play-by-Play Announcer, Pam Ward; and NCAA Director of Business Operations for Women's Basketball, Tracie Hitz.
Read more about Shoot for Success here: shoot-for-success-wise-women-in-sport-panel (PDF)
During the academic year, the Club hosts guest speakers, including Patti Fallick, director of broadcast operations for the MLB Network and a member of the Sport Management advisory board, who spoke to the club about her work, responsibilities, work-place challenges, and opportunities for women in professional sport.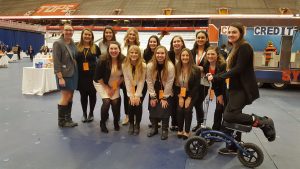 During the 2014-15 academic year, WISE members volunteered at the Insane Inflatable 5K race, and Spinathon for On Point for College, held at Urban Life Athletics in Syracuse, which raised more than $1,000 and generated five baskets of college supplies for needy students. Members also participated in a professional etiquette dinner.
Sport Management instructor Dr. Terry MacDonald and Sport Management internship placement coordinator Nicole Imbrogno are the club's co-advisors. The club officers for 2017-18 are Christina Myers (clmyers@syr.edu), president; Sara Stanley, vice president; Marielle McLoughlin, vice president of recruitment and promotions; Taitum Kurasz, vice president of programming; and Sydney Gauzza, treasurer/secretary.
Keep up with SU's WISE Club on Social Media: Twitter: @WISE_SU; Instagram: WISE_Cuse; and Facebook: Women in Sports and Events at Syracuse University, "@wisecuse".
The SU Women In Sports and Events club meets at 6 p.m. Tuesdays during the academic year in Falk College, 400 MacNaughton Hall. For more information, call 315-443-9881 or email Nicole Imbrogno at nfimbrog@syr.edu.
Baseball Statistics & Sabermetrics
Baseball Statistics and Sabermetrics Club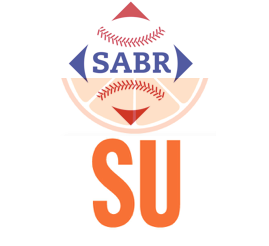 Sabermetrics is the study of advanced baseball statistics. And who better to study that than Sport Management students? The student-led club formed during the Spring 2013 semester with Sport Management professor Dr. Rodney Paul as its faculty advisor.
The club conducts in-depth discussions about baseball statistics and sabermetrics and members take part in a fantasy baseball league. Guest speakers are brought in on a variety of topics throughout the year, and the club takes part in a trip each semester.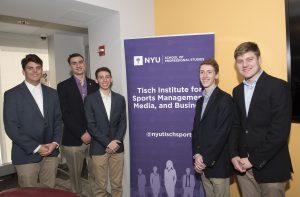 In November 2017, a team representing the Syracuse University Sport Management Baseball Statistics and Sabermetrics Club won the SABR Diamond Dollars Case Competition at NYU. Sport Analytics majors Justin Perline ('19), CB Garrett ('19), Luke Scheetz ('21), Trevor Olofson ('21), and Zak Koeppel ('21) won the competition against other universities such as Villanova, NYU and Fordham.
The teams were tasked with creating a model to determine a player's BABIP (Batting Average on Balls In Play), both for hitters, as well as the BABIP that pitchers allow. They were then asked to use this to determine the players who are going to see the biggest increases and decreases in their BABIP next season. The teams were given five days to collect data, create a model, and prepare a 30-minute presentation on the topic to be given in New York City on Nov. 17.
Judges for the competition included Ben Jedlovec (Baseball Info Solutions), Chris Pang (New York Mets), Tom Tippett (consultant, formerly of the Boston Red Sox), and Cameron Barwick (MLB).
"I'm very proud of the students who competed in the Diamond Dollars Case Competition," said Sport Analytics professor Dr. Rodney Paul. "The new Analytics program has accumulated very talented students and I look forward to their continued interaction with each other, their progress through the curriculum, and their present and future successes in the field. Our students are a genuine pleasure to teach and I look forward to future classes following in their footsteps."
In March 2017, members of the Sabermetrics Club participated in the Diamond Dollars Case Competition in Phoenix, Arizona. Jaeseung Kim, Steve Simons, Justin Perline, CB Garrett, Evan Weiss, Pat Winton and Mike Cavalier attended the annual Society of American Baseball Research Analytics Conference, of which the competition is a part, for four days and attended various panels, discussions and Spring Training games. As part of the competition, the SU representatives were tasked with researching "pitch tunneling" and presented their findings in front of representatives from multiple MLB teams. The Club also participated in the competition in 2016 and 2015.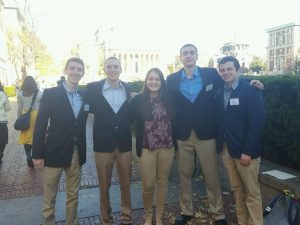 In spring 2014, the Club saw its research published in ESPN The Magazine. Dr. Paul and SPM students Matt Filippi '15, Greg Ackerman '15, and Zack Albright '15 also co-authored a research paper that was presented at the 2014 MIT Sloan Sports Analytics Conference in Boston. Their paper, "The Effects of Atmospheric Conditions on Pitchers," studied the impact of air density on pitch selection and pitcher performance. It was one of 16 papers selected from more than 300 submissions worldwide.
"Having a Sabermetrics club at Syracuse is important as it allows for students to study in-depth advanced baseball statistics to create a better understanding of the game and of player value," Paul said. "Students will learn the origins and uses of the current crop of sabermetric statistics and we will discuss and debate their usage. The goal of the club is to inform and encourage the use of advanced baseball statistics for a variety of uses in the industry. In the future, we look forward to developing and implementing the use of our own statistical measures to fill potential gaps in the current statistics used in baseball."
For more information on the Sabermetrics Club, contact the Department of Sport Management at 315-443-9881, club president Pat Winton at  pdwinton@syr.edu, or club advisor Dr. Rodney Paul at rpaul01@syr.edu. The club meets weekly during the academic year on Wednesdays at 6:30 p.m. in Falk 400. The club is open to any SU student.
Check out the video by NCC (Newhouse Communications Center) News featuring the SPM Sabermetrics club on how Sabermetrics club brings passion for baseball statistics to SU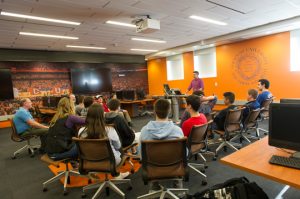 In addition to the Baseball Statistics and Sabermetrics Club, Dr. Paul also mentors students studying hockey statistics and analytics. Sport Management seniors Colby Conetta '17 and Joey Weinberg '17 participated in the Rochester Institute of Technology Hockey Analytics Conference on September 10, 2016. At the conference, hockey analytics experts made presentations about their research and findings. Information presented included video analysis, statistics, and data visualization techniques. A coaches panel included two Division I men's ice hockey coaches and three Division III coaches, who talked about their uses of analytics in coaching and player evaluation. Weinberg and Conetta's research was titled "Estimating the Impact of Ice Conditions on Scoring, Shots, and Shot Attempts in the NHL." The students, who are members of Sport Management's Sabermetrics Club, worked on the research project under the guidance of Dr. Paul.
Basketball Analytics
Basketball Analytics Club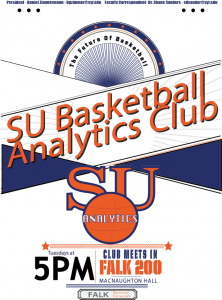 Interested in basketball and/or analytics? From NBA to college hoops, we study it all! The club meets 5 p.m. Tuesdays in Falk 201. The club will recap its projects from last year, introduce new members, and start voting and working on a new project. Bring your friends who are interested in analytics, or just basketball in general. All are welcome! Come and learn about the next wave of the sports industry. For more information, email sophomore Dan Zimmerman at dpzimmer@syr.edu or SPM associate professor Dr. Shane Sanders at sdsander@syr.edu.
Sport Professionals of Color
Sport Professionals of Color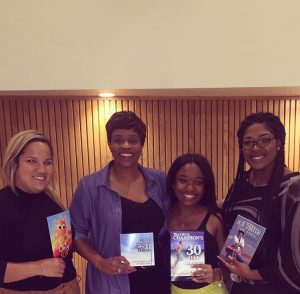 The Sport Professionals of Color group was formed during the 2014-15 academic year with a purpose of helping to guide young professionals, those who identify as people of color, in their pursuit of success and career establishment in the sport industry. The club strives to sharpen members' professional skills, host speakers, foster networking growth, and expose experiential opportunities to its members.
During the 2016-17 academic year, the club volunteered at the Syracuse Boys and Girls Club and invited SU women's basketball alum Vera Jones to campus to speak on her journey in the sports industry and talk about her book "Play Through the Foul."
During the 2015-16 academic year, club members co-hosted a panel discussion on women in sports titled "Competing to Win" with Phi Beta Sigma Fraternity, Inc., as well as hosted a Madison Square Garden internship panel. ESPN Information Specialist Francisco Ramos came to campus as a guest lecturer.
The officers for 2016-17 were president Morgan Telesford '18, vice president Edward Nwaba '18, treasurer Tawny Francis '18, and public relations chair Dearba Walker '18.
The club has welcomed guest speakers Arnold Malloy of the Syracuse Chiefs, Kevin Cooper of the Houston Texans, and Davina Sutton of ESPN, CNN Atlanta/London, and Turner Sports.
The club, which meets at 6:30 p.m. Mondays in Falk College, Room 411 during the academic year, is open to all Syracuse University students. They are looking for new members and officers. For more information, call 315-443-9881.
Sales Club
Sales Club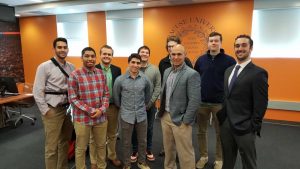 The Sport Management Sales Club was established in September 2015 to act as a medium for earning members hands-on experience in the sport sales industry. In a job market with increasing demands for preliminary experience, students can add practical sales experience under their belts and, in turn, onto their resumes. All SU students are invited to attend.
Since its 2015 establishment, the club has formed a relationship with SU Athletics. Members underwent sales training in preparation for the Fall of 2016, in which the club was invited to join the SU Athletics sales staff selling tickets to SU football, women's basketball, and men's basketball games.
One of the many highlights of the Sales Club's success was helping to break the all-time women's basketball attendance record for a single game when the SU women played Notre Dame on February 19, 2017 at the Carrier Dome.
The club has put in countless hours volunteering in the ticket office to help grow the attendance at sporting events through cold-calling and group prospecting. Members are looking to broaden their knowledge by continuing to grow in size, and also to work outside of Syracuse athletics.
Adam Vogel, director of inside sales with the New York Mets, along with AJ Arem, regional director of IMG Learfield, met with the club to lend their knowledge and experience. The club also met with Chelsea Fenstermacher, the director of inside sales for the Philadelphia 76ers, who gave her insight on the ticket sales industry when she visited campus in the fall.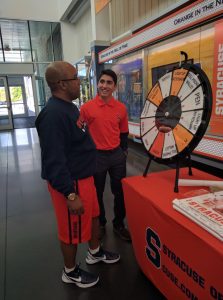 During the 2015-16 academic year, Syracuse University Associate Athletic Director for Business Development Anthony DiFino worked with the Club to acquire skills necessary for real-world applications and conducted in-depth sales training sessions. Other guest speakers included Sport Management Director Michael Veley, SU's Director of Trademark Licensing Marc Donabella, and SPM adjunct sales professor David Meluni.
Club officers for 2017-18 are Lucas D'Aversa, president; Marc Eckenrod, vice president; Jake Narracci, director of programming; Eric Winikoff, director of community service; Maggie Zackiewicz, secretary; and Craig Bernacki, sergeant-at-arms.
For more information, contact D'Aversa at lrdavers@syr.edu, Eckenrod at mreckenr@syr.edu or Sport Management instructor Pat Ryan at paryan@syr.edu. The Sport Management Sales Club meets at 6:30 p.m. Thursdays during the academic year in Falk 400. All Syracuse University students are welcome to attend.
Club Events Calendar
There are no upcoming events to display at this time.