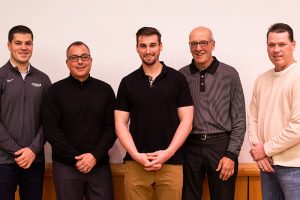 On November 11, 2019, Syracuse University's Department of
Sport Management
hosted a panel discussion titled "The State of Business 2020." Students heard from Arizona Diamondbacks outfielder
Tim Locastro
, 27, who is originally from nearby Auburn, NY. Locastro, who has been named the "fastest player in Major League Baseball," is the only player to ever steal at least 20 bases in the Majors without being caught.
Locastro headlined a panel of industry professionals, including:
New York Yankees Scout Marc DelPiano, who previously served as a Special Assistant to the General Manager for the Pittsburgh Pirates from 2008-2015. He then became the Vice President of Player Development for the Miami Marlins through September 2017. DelPiano also played two seasons of minor league baseball.
Cayuga Community College Head Baseball Coach TJ Gamba, who is a former Miami Marlins minor league coach.
Ithaca College Head Baseball Coach David Valesente, who has also coached at Wells College and Saint Joseph's University.
American Baseball Coaches Association Hall of Famer and 41-year Ithaca College Head Baseball Coach George Valesente, who retired in 2019.
The panelists discussed the game as it evolves, from college to the minor leagues and ultimately the major leagues. They spoke about opportunities in professional baseball operations, scouting, front office administration, and analytics.
Sport Management assistant teaching professor Dave Meluni organized the event and moderated the discussion.
"It was enlightening for our students to hear from a wide range of baseball professionals who are knowledgeable in all aspects of the game," said Meluni, who teaches sport marketing, sales, sponsorship and promotion at Syracuse University. "With technology playing an ever-changing role in baseball, there are countless opportunities for our students to break into this industry."
DelPiano echoed that analytics and technology now important aspects of the game, and only as good as the voice communicating this data to the players, coaches and front office.