Syracuse alum stays true to Orange roots while leading Scottish professional rugby team to success.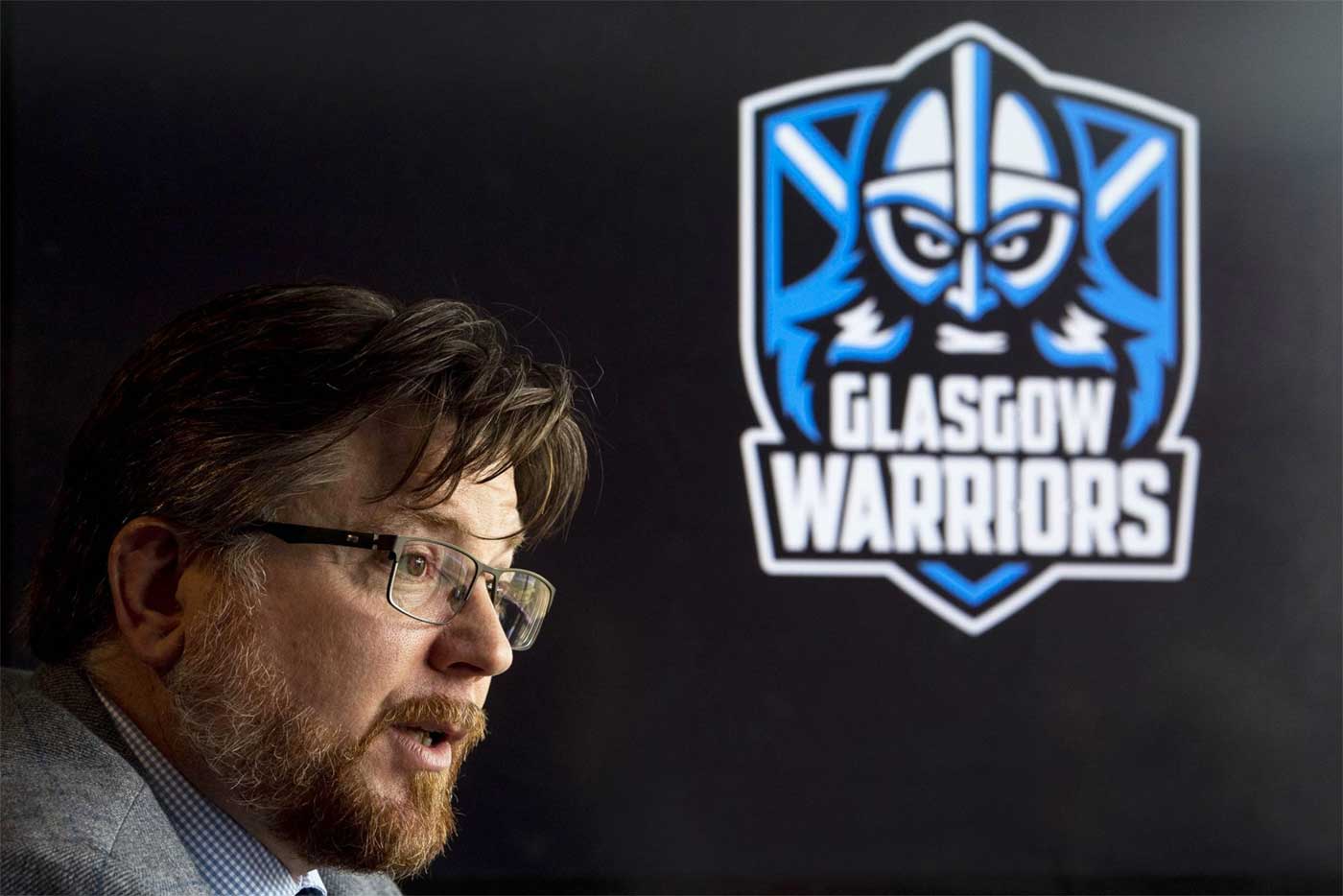 As a member of the Syracuse University Rugby Football Club Hammerheads, Nathan Bombrys '97 discovered he loved the sport so much that he headed to England to play after graduating. He arrived with a backpack, a couple hundred dollars and a phone number he hoped might lead to a job. "I thought I'd go to the U.K. and learn how to play the game properly," he says. "That really appealed to me."
While Bombrys' playing days have passed, his commitment to the game has never been stronger than it is today. He is, after all, enjoying his 10th year as the managing director of the Glasgow Warriors—and the only American who holds a leadership position in the European professional leagues. "I'm responsible for all aspects of the club—raising the money, spending the money, making sure the books balance for the owners," he says. "I'm accountable for the playing side as well, so I support the head coach with all the player recruitments and development."
Under Bombrys' guidance, Glasgow has risen from the lower ranks and evolved into a steady contender—advancing to the semifinals of the league's playoffs seven times, appearing in three finals and winning the championship in 2015. "We've been consistently successful—right there as one of the top teams in the competition every year," he says. "So that's been really rewarding, where it was unthinkable a decade ago."
Supporting Syracuse
Throughout his career, Bombrys has maintained his connections with Syracuse University, providing opportunities for students and supporting its rugby club. In 2015, he established a full-time, semester-long internship for sport management majors from Falk College. He's welcomed two Falk students so far and looks forward to hosting more as circumstances allow. "When we can make it work, we're all for it," says Francesco Riverso G'05, a program manager and academic advisor with Falk's Department of Sport Management. "It provides a unique twist on things for our students, and Nathan's really involved."
Bombrys wants the students to be fully immersed in the Warriors' world. "We're high profile and a professional sport, but on the business side, we're like a medium-sized business, so they get exposure to things they'd never get in most other sporting situations—logistics and team operations, marketing and PR, and sponsorship," he says. "If the students show that they want to do more, then I let them."
In addition to the internship he created, he has helped organize international tours for the Hammerheads in England and Scotland, including one that featured a visit to Lockerbie and its memorials honoring the Syracuse students and others lost in the 1988 terrorist bombing of Pan Am Flight 103 over the Scottish town. Bombrys also hosted groups of students from the Syracuse Abroad London Center when he was with the Sale Sharks in Manchester, sharing tours, talks about rugby and game tickets. "I'd try to give them a good experience," he says. "I really enjoyed it, and it kept that connection with SU for me."
As one of Bombrys' enduring friends, Bob Wilson G'72, notes, the Syracuse University Rugby Football Club represents an international experience—whether it's American and international students playing together or alumni, like Bombrys, who head overseas to compete. "One thing we say to players coming into our club is that we've had graduates go on to play in a number of countries abroad—South Africa, Australia, England, Hong Kong—so we're involved in the international experience of students and graduates," Wilson says. "Nathan exemplifies that in terms of making a very successful career from living abroad and playing abroad."
Wilson, a British native, has served as the Hammerhead's coach and faculty advisor since 1983. "Because rugby is robust and challenging, you tend to develop strong relationships and contacts through participation," says Wilson, who recently retired as director of student support services.
Bombrys also takes great pride in the club's alumni association and its support of both the men's and women's teams. For him, it all goes back to those days on SU's Hookway Fields—home of the Syracuse University Rugby Football Club—where he discovered a rough-and-tumble sport that's filled with friendships and stays true to its traditions—an experience that sent him on a remarkable and rewarding journey. "It's a sport about camaraderie," he says. "There's no other sport that I've been involved in that brings people together the way rugby brings people together."
Finding a Home on Hookway Fields
So how did someone who'd never locked up in a scrum until college end up being called the "most influential American in European rugby" in a BBC Sport website article several years ago? Quite simply, he followed his passion, which was sparked on Hookway Fields. Bombrys grew up in Mendon, Michigan, where both of his parents were teachers and coaches. He played basketball and baseball, ran track, and was an all-conference football player who was recruited by several NCAA Division II and III colleges. Looking for a new experience in college, he decided to study filmmaking, which led him to major in film at Syracuse University's College of Visual and Performing Arts.
Call it happenstance, serendipity or fate, but Bombrys' life was forever changed when he went to sign up for a walk-on tryout with the Orange football team. As he was preparing to put his name down, someone in a Syracuse rugby jacket tapped him on the shoulder and said, "Don't do it, Rudy…"—referencing a popular movie about a walk-on football player at Notre Dame—and invited him to give rugby a try that afternoon instead. "It was obviously a tried-and-tested recruitment technique," says Bombrys, who accepted the offer. "I got the physicality from the contact aspect of tackling and hitting rucks, but I got to run with the ball, pass it and kick it, so that was me. I fell in love with the game right then and there."
Bombrys became a dedicated member of the Hammerheads, serving as captain and president. Along with escalating his love for the game, he forged friendships and valued the team's international nature, noting that he had teammates from South Korea and Kenya. "It gave me such a fabulous experience, and I really enjoyed the camaraderie," he says. "Playing rugby exposed me to people who otherwise I'd probably never have been exposed to, and I built some lifelong friendships from those experiences over four years at Syracuse."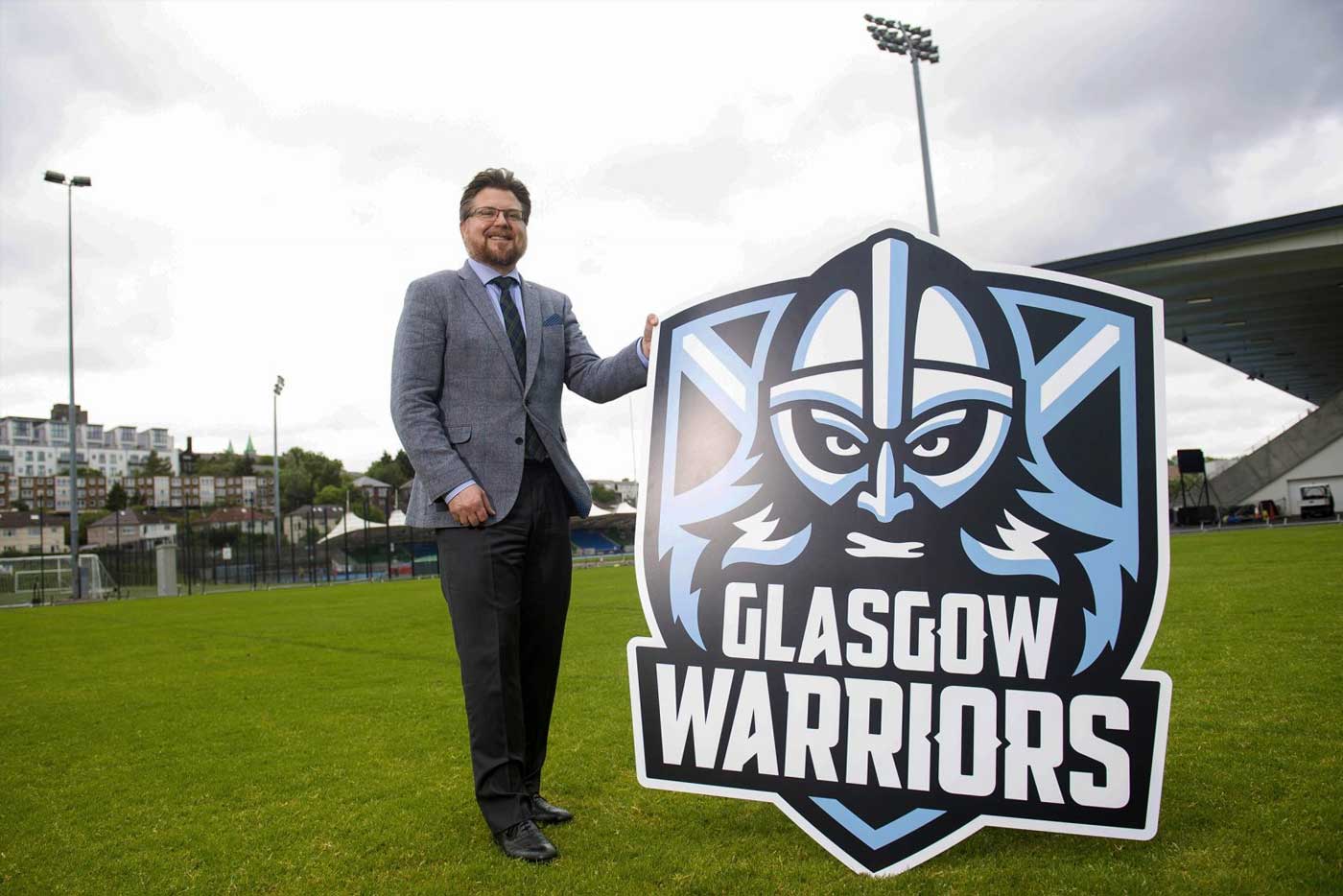 The Professional Journey
When Bombrys decided to forgo a career in the film industry in favor of venturing to England, Wilson tapped into his network and gave Bombrys the number of a friend who was a team owner in the British Basketball League. In turn, he connected Bombrys with Rick Taylor, an American who was the managing director of the league's London Towers. Along with competing on the rugby pitch, Bombrys worked hard under Taylor's mentorship, gaining marketing skills and learning the ins and outs of operating a professional sports franchise. "We had some success—I filled Wembley Arena for a British basketball game, which I don't think has been done since," he says. "I was lucky, because Rick was probably the best salesman I've ever met, particularly in sport. I learned from him how to sell sponsorship and sell sport."
After three years as head of marketing under Taylor, Bombrys began marketing and sponsorship consulting in Glasgow. Two years later, he entered the world of top-shelf professional rugby, signing on with the Sale Sharks of the Premiership League, England's top division, where he served as the commercial and marketing director for nine years.
He returned to Scotland in 2011 to lead the commercial department for the Scottish Rugby Union, the nation's governing body for the sport and the owner of the Warriors and Edinburgh Rugby. "The game is uniquely structured," he explains. "The professional clubs contract the players, but then must release them to their national governing bodies to play for their countries. In certain territories, those clubs are privately owned and in others, like here in Scotland, they're owned by the governing bodies." As Bombrys points out, international rugby is the pinnacle of the sport, so the national organization relies on the professional club teams to develop talent for the Scottish national team.
Within a year of joining the rugby union, Bombrys was named managing director of the Warriors. Since then, he has worked to secure and develop talented players, build the fan base, and rebrand the team, which included creating a new logo. He's also collaborating with city officials to redevelop the Warriors' home, Scotstoun Stadium, which regularly sells out its 7,350 seats. While that's comparatively small to American stadiums—"I played high school football in front of crowds that big," he says—the Warriors' games are routinely one of the largest sporting events in Scotland. "We have really passionate fans and the best traveling support all over Europe," he says. "They absolutely love the club, and we've needed a bigger stadium for a few years now."
Since the pandemic outbreak, fans have mainly been relegated to cheering in front of their televisions. After completing an abbreviated 2019-20 season, the league launched its 2020-21 season in October, and "all games are behind closed doors," says Bombrys, who's guided the team through lockdowns, COVID-19 eruptions, postponements and schedule shuffling.
Amid his success, Bombrys has remained true to Syracuse University and his rugby roots. "We're obviously proud that someone from Syracuse rugby has gone on to play in England and then be a top administrator in Scotland and Europe," Wilson says. "Nathan is an excellent example of the talented students that Syracuse admits, and he is also doing what he can to continue his support of Syracuse University."
~ Adapted from a Syracuse University Story by Jay Cox originally published on February 18, 2021.