Corcoran High School graduates head to Syracuse University full of hope for their future and love for their hometown.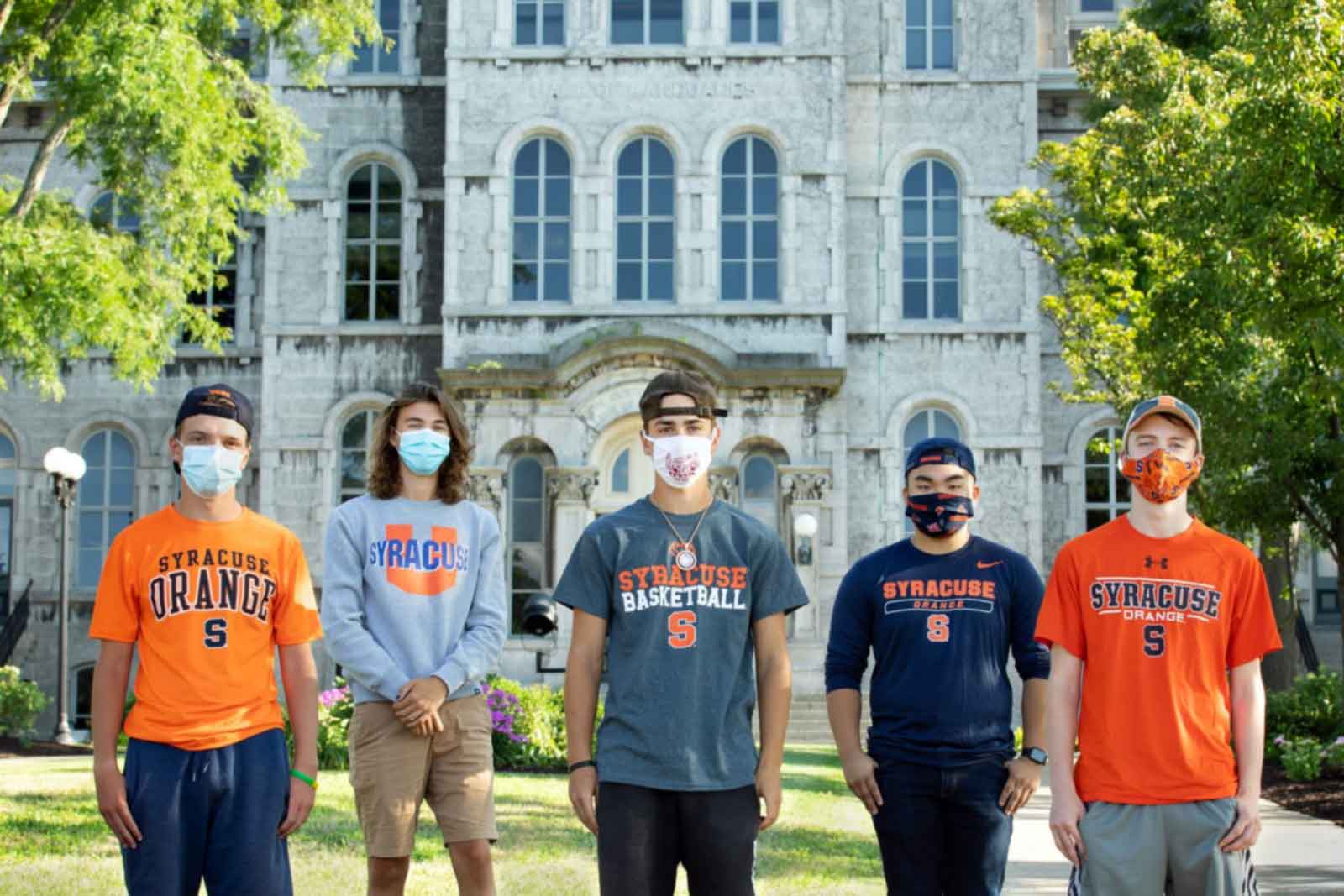 It was winter 2020 and six Corcoran High School seniors had some big decisions to make. Their final year in the Syracuse City School District (SCSD) was winding down, the new coronavirus was changing life as they knew it and their college destinations needed to be finalized. Marwa Abedrabbah, Bobby Cecile, Sam Livingston, Connor Shanahan, Joey Sojewicz and Kyle Tran—all high-achieving students and outstanding athletes—had nearly unlimited college options. Acceptance letters had come from Fordham, Northeastern, Notre Dame, Rochester Institute of Technology and other reputable colleges, and the opportunity to venture far from home was both appealing and intimidating. They weighed their options, did some soul searching and went with the school that was closest to their homes and their hearts.
All six chose Syracuse University.
And three choose Falk College, Joey Sojewicz, Bobby Cecile and Connor Shanahan.
Shanahan, Corcoran High School's 2020 valedictorian, says it was the opportunity to major in sport analytics at Falk College that tipped the scale toward Syracuse. "It's a very unique program, and I want to have a career that I am really passionate about," he says. "I also feel like it's important to stay close to family and friends during this uncertain time."
Sojewicz and Cecile also chose Falk College; Sojewicz will study sport management and Cecile is undecided about his major. "I want to have a career that involves working with a professional sports league, and I believe that Falk College will help me get there," he says.
All of the Corcoran graduates had a powerful motivation for choosing Syracuse University: Each one will receive a four-year, full-tuition scholarship through the Say Yes to Education program. This partnership between the SCSD and Syracuse University began in 2008 to address issues like poverty, dropout rates and educational deficits in the urban school community. Since that time, more than $10 million in scholarships and grants has been awarded and $120 million in state, federal and institutional aid has been leveraged. SCSD students do not get special consideration for admission, but they do have a strong incentive to stay on track academically. "That's almost impossible to turn down," says Cecile.
Diversity Matters
The students all believe that attending urban schools with a wide range of racial and socioeconomic disparity in the student body has given them good preparation for life on a diverse college campus.
"I got a great education at the SCSD schools," says Shanahan, a National Merit finalist. "The teachers and staff are really interested in helping the students, and it's reflected in a strong community." Shanahan is this year's recipient of the 1870 Scholarship, the highest recognition offered by Syracuse University's Office of Admissions. Named for the year of the University's founding, it recognizes academic and personal accomplishments, community service and demonstrated caring for others.
"When it comes to the quality of the Syracuse City School District, I give it a 10 out of 10," says Sojewicz. "It's excellent!" He is a recipient of Syracuse University's Chancellor's Scholarship, which recognizes academic achievement based on credentials, performance on standardized tests, class rank, leadership and citizenship.
Corcoran High School offers the International Baccalaureate Diploma Programme (IB), a challenging academic curriculum recognized by some of the world's leading universities. All three students took part in IB, which required them to take higher-level classes and fulfill core requirements like an extended essay and theory of knowledge course to broaden their educational experience. "It really made me college-ready and I believe it has put me in a position to be successful," says Cecile.
It's not just academics they're excited about. "I want to take advantage of all the experiences that are available to me, like study abroad and internships," says Sojewicz. "I want to make friendships and connections that will last a lifetime," says Shanahan.
Sports and Hobbies
The students have followed Syracuse University athletics with great passion most of their lives, and all have distinguished themselves in that arena. Sojewicz and Shanahan were captains of Corcoran's cross country team, and also took part in indoor and outdoor track. Cecile was a varsity lacrosse player, and earned the prestigious Coach's Award.
"Bobby was a key player as an attackman junior year and was going to be a huge part of our offense senior year," says Matt Dowd, Corcoran's varsity lacrosse coach. "Unfortunately they missed out on these opportunities due to the COVID-19 virus." Cecile also played basketball and soccer at Corcoran and hopes to play club lacrosse at Syracuse this year.
For Shanahan, a fascination with robotics will be well served at Syracuse. His Corcoran High School robotics team made it to the world championship of the Vex Robotic Competition this year, but the event was canceled due to the coronavirus. ECS's Orange Robotics team placed eighth out of 48 teams the first time it competed in the American Society of Mechanical Engineers student design competition in 2017. ECS offers an Introduction to Robotics class where students originate designs like sumo wrestling robots, and the University also has a new unmanned aerial systems club—a big draw for students who want to experiment with drones.
All of the students live within a 10-minute drive of the University. There are a lot of family connections to Syracuse University. Cecile's parents, James '88, L'91 and Julie Cecile L'91, are both graduates of the College of Law. His sister Hannah '19 is an alumna and their grandfather, Robert Cecile, was associate dean of University College. Shanahan's parents both earned graduate degrees at Syracuse; his mother, Amanda G'94, from Falk College and his father, Michael '08, from the School of Education. Sojewicz's grandfather, Timothy Gorman, L'72, is a graduate of the College of Law.
Even though their senior year in high school was cut short by the pandemic, the students have pushed aside their disappointment and feel optimistic about what awaits them in the next chapter of their lives. They are united in their belief that Syracuse University will give them a valuable connection to a network of people focused on the greater good.
"Being Orange means being part of a strong community that works together to improve society," says Shanahan.
Adapted from a SU Story by Mary Beth Horsington published on August 28, 2020.