Chandice Haste-Jackson Appointed Associate Dean of Falk College Student Services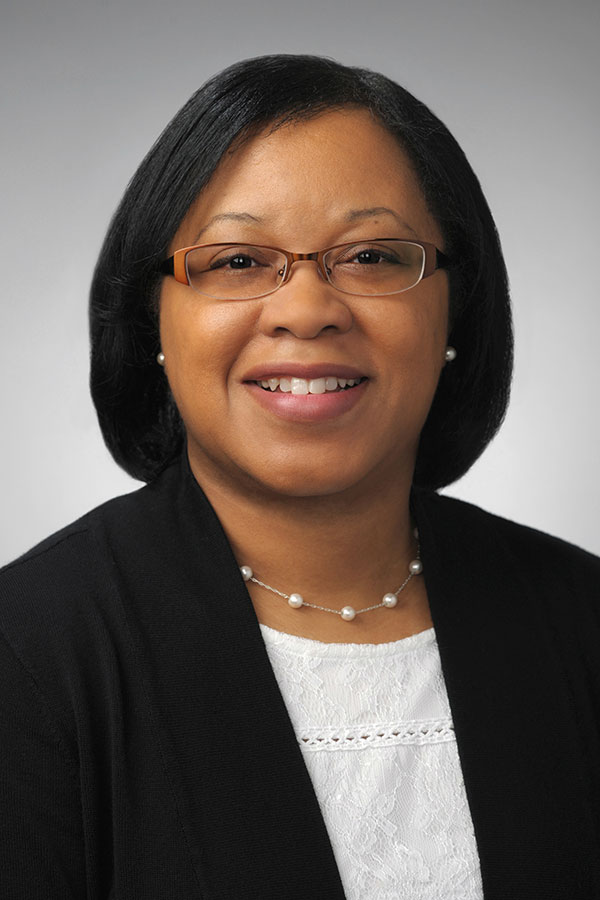 Chandice Haste-Jackson, Ph.D., an associate teaching professor in the Department of Human Development and Family Science in the Falk College, has been named Associate Dean of the Office of Student Services in Falk College effective July 2022.
In her new role, Haste-Jackson will lead the Office of Student Services' team that provides a range of services for students. In addition, Haste-Jackson will work with numerous committees across campus to represent the interests of Falk students as Syracuse University strives to improve the student experience.
"Falk students are changemakers, making a difference in the lives of people across the lifespan, across systems and structures, and in unique, innovative, and entrepreneurial ways," Haste-Jackson says. "Supporting the holistic development of these students is essential to their success as emerging professionals and global citizens, and I look forward to working with a talented team of professionals in delivering high-quality, unsurpassed services to our student body."
The Student Services team includes academic counselors, who teach new students to develop and implement an academic plan and counsel them in the process of adapting to the University environment, and recorders, who manage multiple academic transactions and maintain a record of all academic achievements towards students' degrees and provide consultation to students, advisors, and faculty if complications arise.
Haste-Jackson will oversee the Career Services team, which works directly with students and alumni to ensure that students can develop a plan for a rewarding career following graduation. Student Services, students, alumni and the administrative staff plan and deliver critical aspects of academic events, including Syracuse Welcome events for new students and parents and the Falk College Convocation.
"Chandice has been part of the Falk College family for years as a professor, mentor, and leader," says Diane Lyden Murphy, Dean of Falk College. "She brings professional experience advising and teaching students, academic expertise in youth and human development, and a deep personal dedication to diversity, equity, inclusion, and accessibility. We are privileged to have her among our leadership as Associate Dean of Falk College Student Services, a dedicated team that provides essential resources for Falk students to support their academic success, personal development, and overall wellbeing."
The Falk College Office of Student Services strives to provide a caring, comfortable, and private environment where students can discuss academic, social, and emotional concerns. In addition, the office provides advising for undeclared students and tracks all requirements for degree completion.
Student Services staff members use a strength-based advising and counseling approach to listen to student concerns, identify their strengths and challenges, and work towards positive solutions. The office collaborates with other resources on campus to best meet student needs.
As an associate teaching professor in the Department of Human Development and Family Science, Haste-Jackson teaches courses on intimate relationships and gender roles, family development, development in immigrant and refugee families, and selected topics in diversity, equity, and inclusion. She previously coordinated the undergraduate internship program and supervised graduate students in their applied research internships. In addition, she coordinated the first year Gateway course in Falk College, was chair of the Dean's Committee on Diversity and Inclusion, and is a University Senator.
In 2021, Haste-Jackson served as Syracuse University's interim director of the First-Year Seminar course. Along with the inclusion, diversity, equity, and accessibility (IDEA) course requirement, the First-Year Seminar is part of a commitment the University made to students in the 2019-2020 academic year requiring all students to take courses covering IDEA topics. In this role, Haste-Jackson collaborated with faculty, administrators, and students across the University to develop and deliver the new course.
Her past roles have included serving as director of the Liberty Partnerships Program in Syracuse University's School of Education; executive director of a transitional homeless shelter for women and children; executive director of a historical African American settlement house; and assistant director of an urban community center.
Haste-Jackson earned a Ph.D. in child and family studies from Syracuse University, an M.S. in behavioral sciences from Cameron University in Lawton, Oklahoma, and a B.A. in cultural anthropology from Syracuse University.
Haste-Jackson succeeds James (Jim) Byrne, J.D., CASAC, who concluded his tenure as Associate Dean of Falk College Student Services in June 2022 and was honored for his 22 years of service to Syracuse University. As Associate Dean, Byrne was actively involved in the Falk College Dean's Committee on Diversity and Inclusion, and specifically on the undergraduate student sub-committee, which gives students a voice in these efforts and supports student-initiated advocacy, training, and educational efforts.
In recent years, Byrne led Falk Student Services through the COVID-19 global pandemic as the team provided students with the dedicated support system they needed to process, adapt, and succeed in their studies despite extraordinary challenges.
"Throughout his years of service in Falk College, Jim has been remarkably influential in the development of our college, and most importantly, the success of our Falk students," says Murphy. "Falk College thanks Jim for the personal integrity and professional commitment he brought to our community here at Falk and well beyond."