Social Workers United's Spring Donation Drive to Support Q Center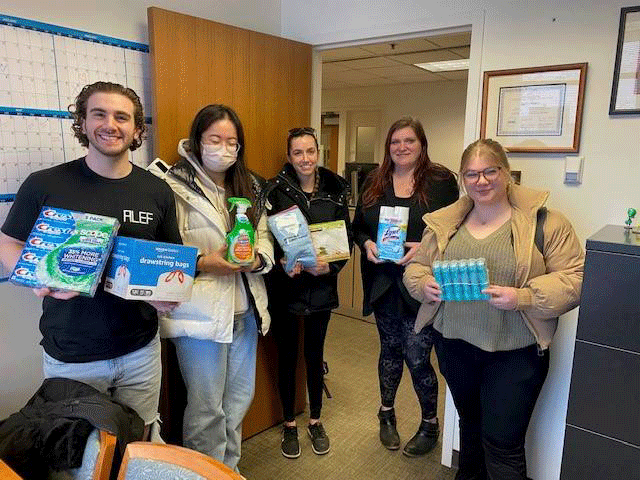 Social Workers United from the School of Social Work at Falk College has selected the Q Center at ACR Health as the beneficiary of its annual Spring Donation Drive.
The Q Center, which has locations in Syracuse, Utica and Watertown, offers a safe space for lesbian, gay, bisexual, transgender, queer, and questioning youth, their families, and allies to gather, share, and receive support. Q Center programming promotes equality, celebrates diversity, provides resources that cultivate pride and leadership skills, and strives to create a safe and inclusive community for all.
Social Workers United is comprised of undergraduate (BSSW) and graduate (M.S.W) students from the School of Social Work.
"We are so excited to be able to help such an amazing organization in our Syracuse community and look forward to the great work ahead of us this semester," says Jennifer Genovese, an assistant teaching professor and the M.S.W. program director.
For the donation drive, the Q Center provided Social Workers United with a list of items needed to help provide support for LGBTQIA+ youths and their families in Central New York. The items include:
Menstrual products (liners tampons, pads, menstrual cups).
Affirming hygiene products for both gender neutral and gendered (deodorant, razors, shaving cream, soap, body wash, toothbrushes, toothpaste).
Household cleaning supplies.
Social Workers United has provided three ways to donate:
An Amazon Wishlist to donate safely and securely through Amazon.
Through the mail to Syracuse University School of Social Work, 244 White Hall, Syracuse, NY 13244
In person at the School of Social Work office at 244 White Hall on the Syracuse University campus.
ACR Health is a not-for-profit, community-based organization providing support services to a wide range of individuals. Q Center programming includes case management, after-school programs, support groups, outreach and education, special events, school-based GSA support/education, and free LGBTQ-affirming HIV/STD testing.
If you're unable to donate items through any of the methods provided and would like to donate, please contact Jennifer Genovese at jgenoves@syr.edu. To learn more about social work academic programs, career paths, and experiential learning opportunities, visit the School of Social Work webpage.