Graduate students in Falk College's
Sport Venue and Event Management
(SVEM) master's program at Syracuse University held a charity event at SU's Dome on April 9.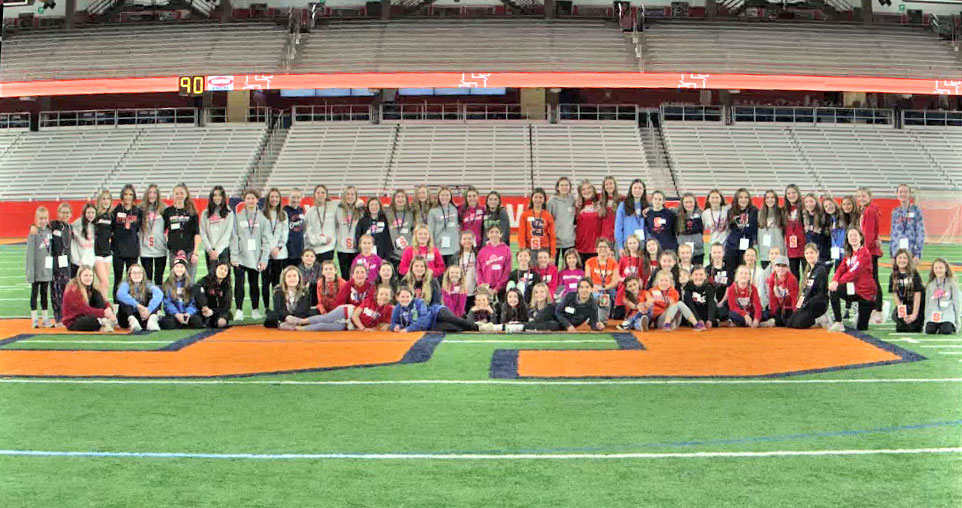 The graduate class hosted more than 100 female youth lacrosse players from local clubs, who took part in activities on the Dome turf before the SU women's lacrosse team took on the University of North Carolina.
The Future's Lax Bash featured a raffle and a silent auction. All proceeds benefitted Tackle ALS, an organization dedicated to finding a cure for Amyotrophic Lateral Sclerosis (ALS), commonly known as Lou Gehrig's disease, a progressive neuromuscular disease. This charity was chosen by the graduate students due to their relationship with local businessman Jimmer Szatkowski, who owns two Chick-fil-A restaurants in the Syracuse area, and has served as a dedicated philanthropist and supporter of SU women's lacrosse. His dedication has not waivered since his 2021 ALS diagnosis.
"Working with Jimmer was an amazing experience, as his positivity and willingness to support us despite his struggle was inspiring," said SVEM student Julian Santiago '22.
In addition to raising money for charity, the Lax Bash aimed to inspire the youth attendees with stories from SU athletes as well as by offering an opportunity to see a different side of the iconic Dome. Extraordinary efforts from SU lacrosse student-athletes Sam Swart, Najé Murray, Colby Barker, Julianna Walker, Alaina Rice, Ava Irvin and others, made this a special day for the participants as they learned and played alongside the student-athletes. A tour of the locker room and games on the Dome field were followed by lunch catered by Jimmer's Chick-fil-A restaurants. As game time approached, attendees decorated signs and wrote letters to their favorite players.
The Lax Bash raised $5,000 to support Team Jimmer's fight to Tackle ALS, as well as provided a fun and inspiring opportunity for aspiring young athletes.
"I am very proud of our graduate students, who worked hard for months planning this event," said Sport Management associate professor Dr. Gina Pauline, who served as the faculty advisor for the event. "They gained real-world experience, interacted with community members, and assisted a worthy charity, all while completing their studies and dealing with the unexpected. Events like these prepare them for careers in the sport industry."