A Boston sport industry and culture immersion experience.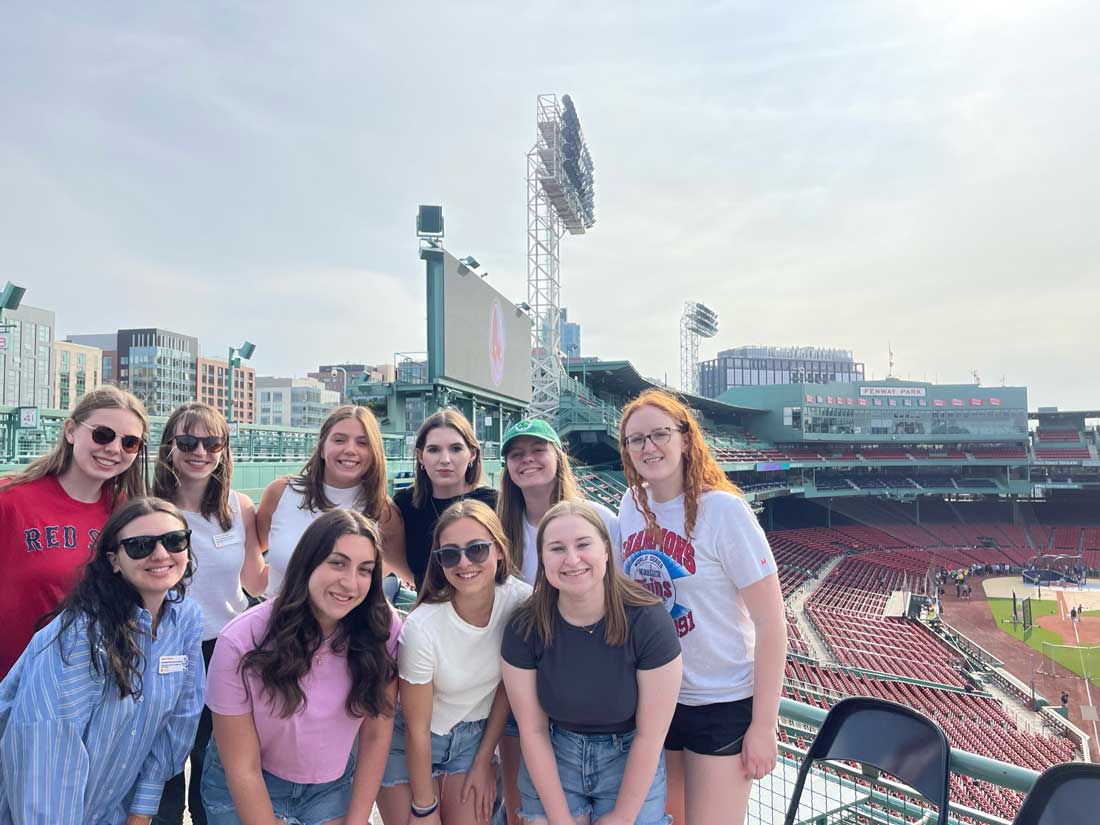 The city of Boston and the surrounding area is home to five major professional sports teams, including the Boston Red Sox, the New England Patriots, the Boston Celtics, the Boston Bruins, and the New England Revolution. In addition, the Hub, as Boston is known, hosts numerous sporting events throughout the year, including NCAA Tournaments and international competitions at world-class venues like Gillette Stadium and TD Garden.
Over the course of four days in May, eight female Sport Management students from Syracuse University's Falk College of Sport and Human Dynamics met with seven sports organizations and 36 sport industry professionals. The meetings included executives from numerous sectors of the industry, including the Boston Athletic Association, Boston Celtics, Boston Bruins, Fenway Sports Management, Spartan, ISlide, and Kraft Sports and Entertainment. Jake Doft and his daughter, Class of 2022 Sport Management graduate Dara Doft, hosted the group for dinner at Yvonne's in downtown Boston. The group also attended a Red Sox vs. Seattle Mariners game. The students were accompanied by Sport Management internship placement coordinators Kailyn Jennings and Beth Perez.
Students on the trip included Nina Bilotti, Kate Bradley, Emma Issacson, Sydney Kossoy, Anna McDonald, Erin Moore, Marni Nirenberg, and Ashley Stewart.
We asked Bilotti '24 to share her experiences and thoughts about the Boston Immersion Trip, and this is what she wrote:
"We were completely immersed into the Boston sports world for four unforgettable days!
"This amazing opportunity would not have been possible without the generous donation from Mr. and Mrs. Jake and Suzanne Doft and their family, who supported this trip. Also, we'd like to thank Falk College and the Department of Sport Management for putting the trip together.
"The Boston Immersion Trip was a whirlwind of excitement. Meeting with teams from each of the five major professional sports leagues and top sport organizations was an incredible experience. We were honored to meet and connect with top executives and Syracuse alumni. I've always been curious about Boston/New England sports teams and culture having been a long-time Chicago sports fan.
"Each day offered new experiences! We began one memorable day at TD Garden, where we met with SPM alumna Chrissy Leach'10 and Kate Sullivan, from the Celtics, and Siobhan Sherbovich, from the Bruins. We learned how both teams must work together and which aspects each team controls in the Garden and even got a tour.
"Executives at the Boston Athletic Association and Fenway Sports Management offered advice and tips to help us navigate our budding careers. I also enjoyed our visit to Islide, where we met with executives who specialized in different areas of the company. We also had the opportunity to speak with Chief Executive Officer Justin Kittredge. An added bonus was playing knockout on their in-office basketball court wearing our new Syracuse-branded slides!
"At Spartan, we learned about all the different races they offer, as the executives shared their extensive and impressive backgrounds, as well as taught us how they secure partnerships for different target audiences.
"At Kraft Sports and Entertainment, we were lucky enough to witness Gillette Stadium being set up for a Taylor Swift concert that weekend. I took note of different sponsors around the stadium, and the comfortability of their club lounges and suites and compared it other stadiums I've been to. We were honored to speak with a confident and talented group of women, including Robyn Glaser, Abbey Thistle, Tara Sullivan, Paris Healy, Jen Gahan, and Katherine Hauck. We were originally greeted by Phil Buttafuoco, who highlighted the importance of networking and building relationships with the people you meet, especially on trips like this one.
"At each of our stops, we spoke with knowledgeable, passionate, and kind professionals who were eager to answer our questions. Emphasis was placed on building your network, which coincides with what we're being taught in the classroom.
"I am fortunate that this was my second trip of 2023, as I spent my 2023 spring break in Los Angeles with the Department of Sport Management's Los Angeles Immersion class. After the Boston trip, I compared East Coast and West Coast work culture and now have a clearer picture of what I am looking for in a place of employment. I am thankful to all the professionals who welcomed our group and took the time to speak with us, some even during playoffs. It was an absolutely incredible experience."
Nina Bilotti '24 is a Sport Management major in the Falk College of Sport and Human Dynamics. She is a member of Falk College's Women in Sports and Events (WISE) Club and the Sport Management Club. Nina interns for the Syracuse University Marketing and Communications Department, and is a member of the SU women's club lacrosse team.