A social work alumna fosters inclusivity while honoring her family legacy.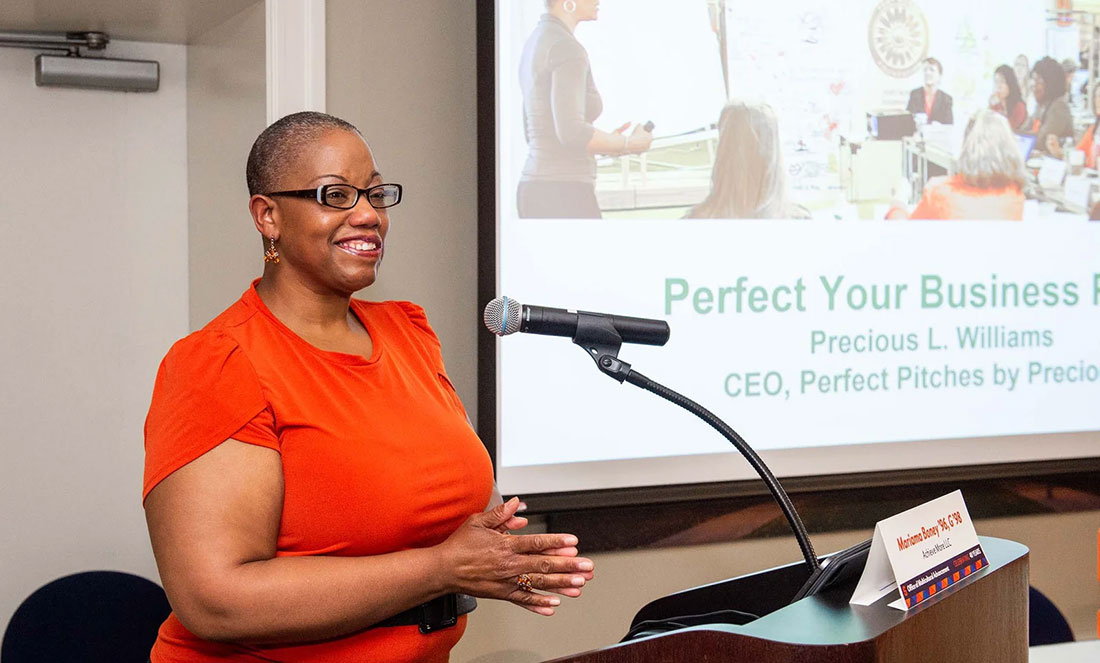 Mariama Boney '96, G'98 wants to bring out the best in everyone. As the president and CEO of Achieve More LLC, a Virginia-based consultancy firm, Boney—a social work alumna of Syracuse University's Falk College—helps companies and organizations solve leadership challenges, develop goals and focus on building positive cultures and work environments that embrace well-being, diversity, equity, inclusion and access (DEIA). "At Achieve More LLC, we are about helping people be better, achieving more and then ultimately maximizing results—getting the best out of a person, a system, a group of people to then impact the community and the world in a better way," she says. "I am an advocate and straightforward, so I highlight where there's an opportunity to shift and grow. I try to do that in as supportive a way as possible, yet also challenge people to think in new and different ways and be willing to do new and different things."
For Boney, understanding the root cause of issues and creating solutions to address them is an inherent part of her work. Whether engaged in executive coaching, facilitating a DEIA workshop or guiding a company through strategic planning, she draws on her social work background and her leadership skills to advance positive change through tumultuous times. Boney also brings to her work more than two decades of experience as an administrator in higher education and in leading associations and nonprofit organizations. She sees social work—which seeks to create social and economic justice for those who are vulnerable—as essential to improving the human condition and credits her Syracuse University and School of Social Work experiences for shaping her professional philosophy and approach. "I'm constantly looking at systems—whether it's organizations or the larger societal system—and how they are impacting the individual person, the team, the volunteer group and how that then resonates throughout the organization," says Boney, a licensed social worker and author of VENT (Volunteer your Emotions and Needs through Talking), a series of three solution-focused guides.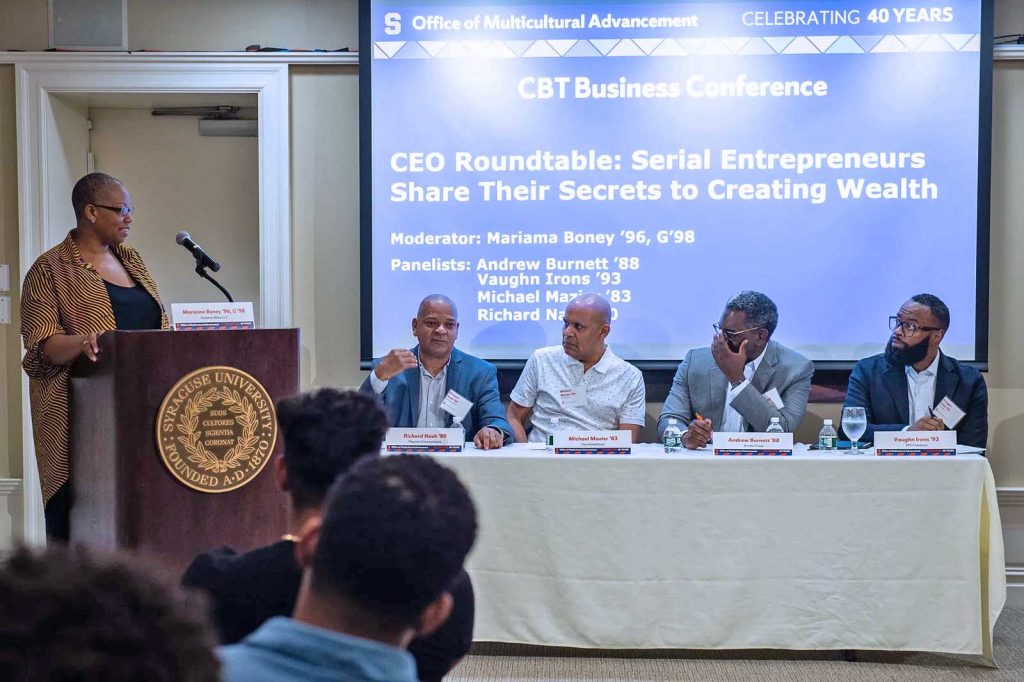 Honoring Her Parents and Syracuse
Boney grew up in Syracuse and likes to say she was raised at the University and has an affinity for all things Orange. Her mom, Maxine '73, G'76, was a longtime teacher in the Syracuse city schools. Her dad, Robert Boney, who passed away in 1996, served as associate vice president for undergraduate studies for 25 years, pioneering educational opportunity programs for underrepresented students and students from disadvantaged socioeconomic backgrounds. Among them was the Syracuse Challenge—considered to be a first-of-its-kind private university initiative that ensured admission and need-based financial aid for program participants. Robert Boney's work continues today at the University through the Arthur O. Eve Higher Education Opportunity Program and TRIO Student Support Services. "I've talked to so many people who have said, 'I would not have been at Syracuse University if it wasn't for your dad,'" she says. "I think a lot about my dad and my mom and what they were able to do within the Syracuse community as well as the University. My dad represents the essence of change leadership, of being a pioneer—and that's important to me."
It's evident that her parents' commitment to the community and improving lives was influential for Boney, both personally and professionally. She found her calling when her father encouraged her to consider social work as a major after she transferred to Syracuse from Xavier University of Louisiana. She earned both bachelor's and master's degrees in social work and was active on campus, participating in the Collegiate Science and Technology Entry Program and NANBPWC Inc., volunteering as a peer mentor and working as an office assistant and a reader and exam proctor for students with learning disabilities. "Those experiences at Syracuse helped me to continue to want to serve and work with those who are underrepresented," she says, noting how it reflected on her father's legacy. "It ended up being a passion as well."
In honor of her father, she established the Robert L. Boney Endowed Undergraduate Social Work Scholarship at Falk College through the Our Time Has Come scholarship program. Her support for social work students also extends to creating a scholarship in her name as well as contributing to the dean's fund for field placements. In addition, she's an advocate and donor for 119 Euclid, a gathering place that celebrates the culture, history and contributions of the Black community at the University and features the Sankofa Staff Office. "I'm so grateful that we have the Our Time Has Come scholarship program because if we are truly committed to diversity, equity and inclusion, then we also have to ensure that not only are we growing the education elements for everyone on campus—faculty, staff and students—but we also have to ensure that we are continuing to grow the student body and the faculty body in terms of representation," says Boney, a member of the Office of Multicultural Advancement Advisory Council and the Hill Society. "You want individuals of different backgrounds, cultures and heritages to be able to come together."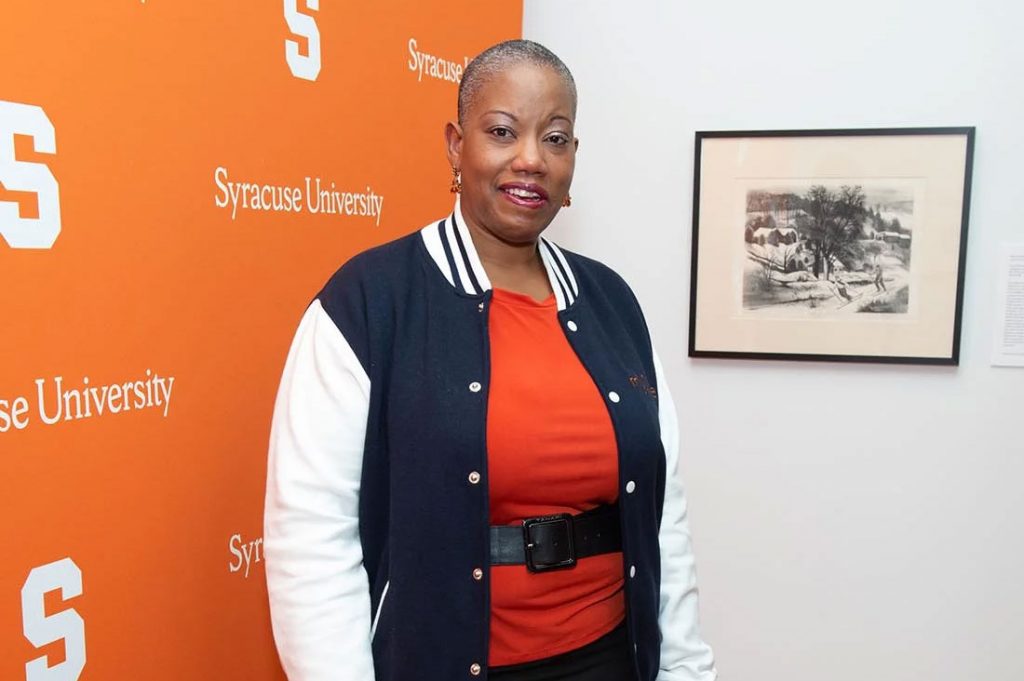 An Influential Journey to South Africa
As a graduate student, Boney was a Whitney Young Fellow and delayed her graduation so she could join a study tour of South Africa led by the late social work professor Wynetta Devore. During the six-week visit, group members participated in internships, studied the country's social development and learned firsthand about its culture and history, including the truth and reconciliation process following the end of its apartheid system. "It was an amazing experience," says Boney, who interned at an orphanage, working with children with disabilities. "It really cemented for me that I wanted to do more work in the area of diversity, equity and inclusion, seeing what South Africa had gone through as a country, especially with the deep-rooted issues related to race and their racial caste system."
Boney carried her focus on DEIA issues with her—first as an academic services coordinator at the University's College of Nursing, and then through a series of higher education administrative positions, including serving as director of university information and relations at George Mason University. She also worked as a certified association executive at several organizations, including the American College Personnel Association, NFSA: Association of International Educators, Year Up, and Advocates for Children and Youth. For Boney, each step in her career provided experiences to launch first-time programs, from working with parenting teens and runaway and homeless youth to initiatives for underrepresented students to creating strategic action plans or training.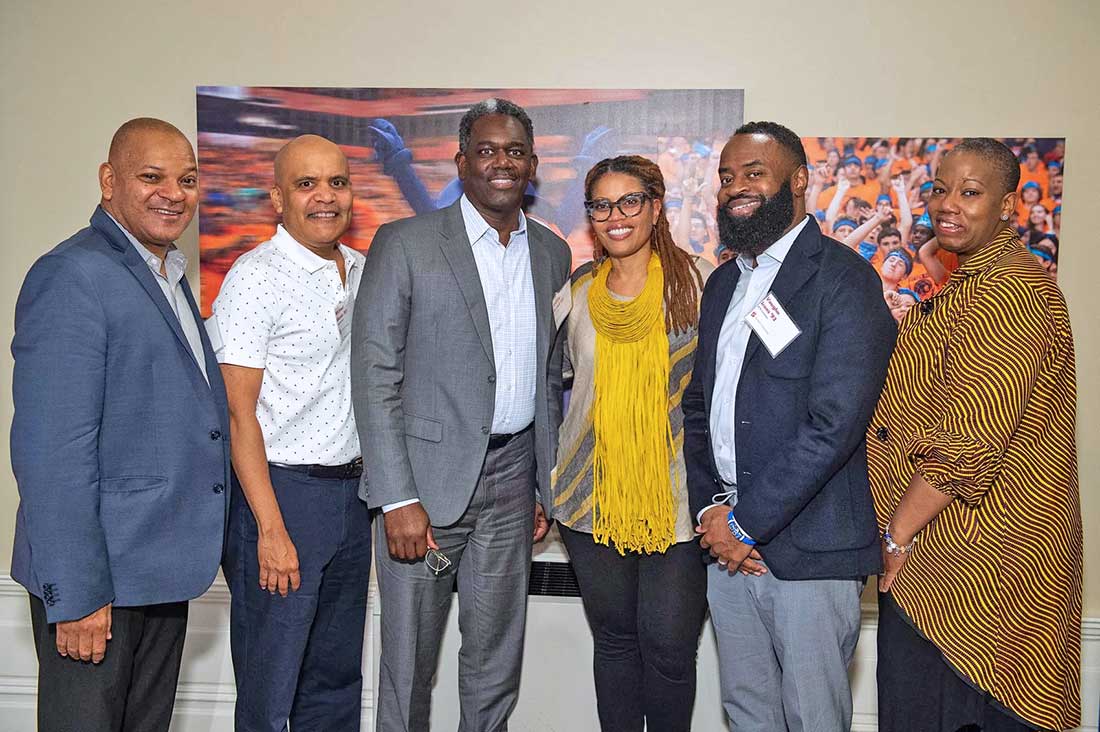 Faith-Driven Entrepreneur
In 2015, Boney launched Achieve More LLC while working full time. She was familiar with the rigors of entrepreneurship since she had worked for her mom's business, Creative Reflections, which offered a comprehensive experience related to Black dolls and the African diaspora. She envisioned Achieve More LLC—with a focus on leadership coaching and solution-focused therapy—as part of her retirement plan. But as more requests for advice and guidance arrived, she made a full-time commitment to the business. "To me, it was all about helping people be better because I'm also very faith and spiritual driven," she says.
Boney sees history as cyclical, and with the racial and ethnic reckoning that's occurred in the past two years, she says a renewed focus has emerged on DEIA issues. She believes the U.S. can learn and mend from the lessons of South Africa's truth and reconciliation, emphasizing the importance of facilitating dialogue so that people share their truths and experiences, gain an understanding of one another, and align their goals in working and moving forward together.
While it's challenging to get some people to understand the value of DEIA in the workplace, Boney says a company's culture reflects its core values and leadership, including decision making and the hiring and treatment of employees. "It's all connected, and helping people to see that it's all connected and that we're all better as a society and as an organization is important," she says. "We have to be willing to learn and then grow so that we can have a positive impact. We're at such a critical time—and if we want to continue to grow in a different way as a country, an organization, a team or as a person, then we have to be willing to do the good work as well as the tough work to get to that different place."
~ An SU Story by Jay Cox originally published on August 2, 2022.