Falk College Dean Diane Lyden Murphy Receives Chancellor's Medal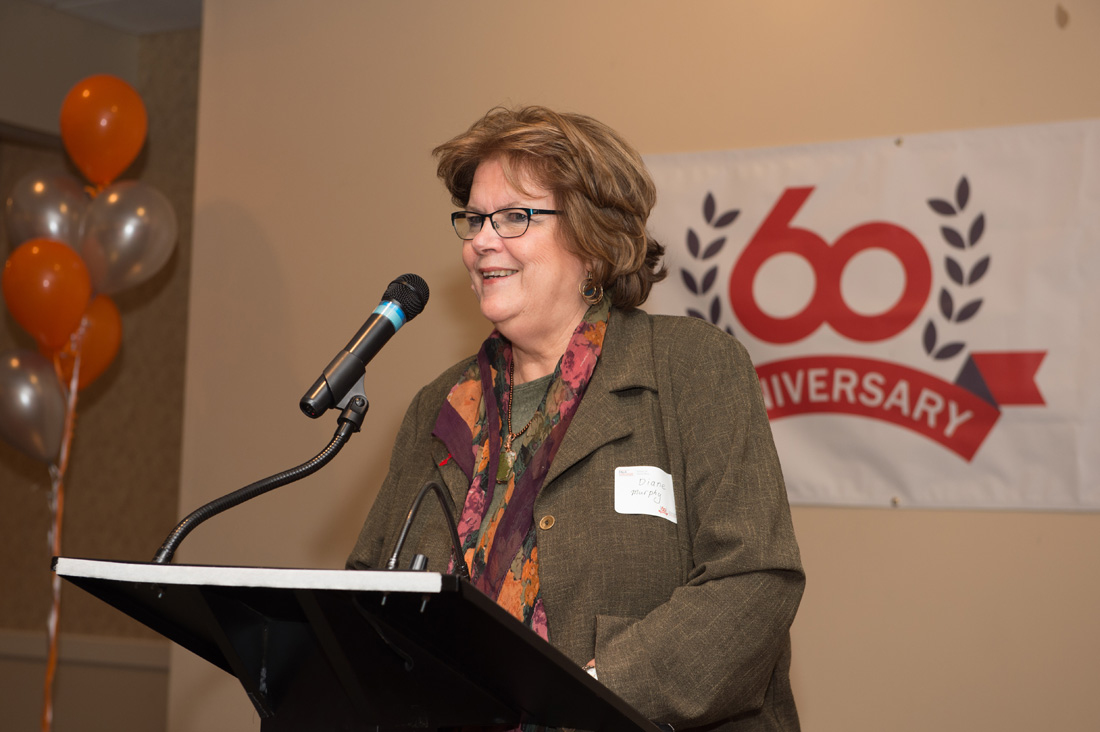 Diane Lyden Murphy, dean of the Falk College of Sport and Human Dynamics, received Syracuse University's highest honor–the Chancellor's Medal–at the One University Awards Ceremony April 21 at Hendricks Chapel.
The Chancellor's Medal is awarded to individuals in honor of their trailblazing and extraordinary contributions to the University, to an academic body of knowledge, or to society. Dean Murphy, who was appointed Dean of the College of Human Services and Health Professions (now Falk) in May 2005, checks all three boxes.
"This medal is given for the very things Diane has always done here: extraordinary contributions to the University, to the community, to academic knowledge," Chancellor Kent Syverud said before presenting the Chancellor's Medal to Dean Murphy. "She's done those things, but she's also done one thing that's even rarer and worth celebrating and I can say this from experience, she has consistently and faithfully had the courage to speak up.
"She's had the courage to speak up, including to chancellors, when things are not right, when they could be better, and even more rare is that after speaking up she has the integrity to roll up her sleeves and actually work to make them better," Chancellor Syverud added.
Dean Murphy was one of several 2022-23 award recipients who were honored at the April 21 ceremony. Watch the video of the Chancellor's Medal presentation here:
Dean Murphy received four degrees at the University and joined the faculty in the School of Social Work in 1978. Prior to her appointment at Falk, Dean Murphy served 17 years as director of the Women's Studies program in the College of Arts and Sciences.
Dean Murphy's many contributions to the University include co-authoring the University's sexual harassment policy; initiating studies of gender pay equity; developing adoption and domestic partner benefits; and creating a family-friendly environment for students, faculty, and staff.
Chancellor Syverud started his remarks by reading a news release from January 1973 about Dean Murphy's appointment as a personnel intern in the Office of Student Affairs who would "specialize in the problem of married students." She served as a liaison between married students and the administration and from that work arose the first childcare center on campus.
"There have been a lot of initiatives in the last 50 years at Syracuse University to help people and populations in our community," Chancellor Syverud said. "There have been precious few where Diane Lyden Murphy has not been present and accounted for in support of doing the hard work and listening and doing the problem-solving and speaking up to make things better.
"We talk about diversity, equity, inclusion, accessibility, and support for survivors, Diane was there often before most of the world had developed the vocabulary to describe the problem and the opportunity," Chancellor Syverud added. "Going back to that first press release, Diane never regarded married students as a problem, she never regarded these things as problems, she regarded them as opportunities. And boy, she's made an impact on this University! I can't imagine what this place would be like today without her work, but I'm certain it would be a less accomplished and a colder and less just and less human place."
The Chancellor's Medal is the latest in an extensive list of awards Dean Murphy has received while at the University, including the Excellence in Graduate Education Award from the Graduate School, the Francis McMillan Parks Women of Influence Award, and a Chancellor's Citation. In 2005, the Women's Studies Program established the Diane Lyden Murphy Women's Studies Activism Award in her honor.