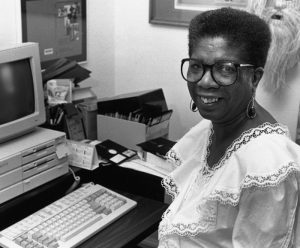 Professor Emerita of Social Work, Dr. Wynetta Devore, was a teacher and scholar whose life focused on serving God, the Syracuse community where she lived and that she loved, and students she taught during her decades-long distinguished career.
She received her undergraduate degree in 1951 from Hope College in Holland, Michigan, pursuing her MSW and doctorate in education at the State University of New Jersey. She worked in several public welfare programs and taught at Kean College, New Jersey. She subsequently joined the faculty at Rutgers University.
In 1980, she joined Syracuse University's School of Social Work where she taught foundational courses including Human Diversity, Human Behavior in the Social Environment, and Foundations of Social Work Practice. She was a consistent advocate for ensuring that the School of Social Work was a model program for student success taught by a diverse faculty. She taught at both the main and London campuses, later developing a social work program in Cape Town, South Africa where she returned in her retirement to volunteer for the Presbyterian Church. She was active in the social work profession, serving on numerous editorial boards and presenting at global conferences on topics and trends of significance.
In 1981, she co- authored Ethnic Sensitive Social Work Practice with Elfriede G. Schlesinger, Ph.D. The book, a seminal work on race, social work practice and social work education, is now in its fifth edition. It was a response to the increasing needs of a multicultural America and has been a staple in social work education for many years.
Wynetta was a celebrated teacher and scholar, receiving the Syracuse University Chancellor's Citation for Exceptional Academic Achievement in 1996. After retiring in 1999, she remained a vital presence, giving occasional guest lectures and, among other things, serving as the keynote speaker for the School of Social Work's 60th anniversary celebration in 2017.
A long-standing member of the Park Central Presbyterian Church, Devore served faithfully as a deacon and an elder. Her church family treasured her for her trust in God, love of scripture, delight in children and young people, honest assessments, and great humor. A frequent guest preacher, she volunteered with Vacation Bible School and Open Table, participating in and occasionally leading Sunday morning Bible classes. Professor Devore went on several long-term mission trips to New Orleans, Haiti, and South Africa where she taught courses on AIDS.
She dedicated her time to community organizations including Hiscock Legal Services and the Xi Chapter of Lambda Kappa Mu, Inc. where she shared her knowledge, talents, and time unselfishly, including ongoing support of its youth group, the Kopelles.
As a member of the Syracuse Chapter of The Links, Inc., she led many successful fundraising and service programs, including the African Doll Project. This international effort collected more than 250 Black dolls that she personally took to childcare centers in townships outside Cape Town in South Africa for local children who, under Apartheid, were denied the privilege of owning dolls in their own images and skin types. The Chapter was awarded first place by the International Services Committee at the 1996 National Assembly for this project.
Friends describe Wynetta as someone who loved to entertain and share information, noting "if you were going to her home, you could always expect to have tea or some type of beverage and conversation. It could be to drop off or pick up something, and you would always be prepared to stay for a while as she shared her love of arts, travels, and various cultural expeditions."
Several years ago, she teamed up with the Vicki Brackens Financial Solutions Network and used her talent as a gifted artist of decoupage to design and create "Money Jars" to help families and youth develop better financial planning and saving skills. "No doubt, tens of dozens of people around town are current owners of these one-of-a-kind artifacts of Wynetta's efforts to improve people lives," says Brackens.
Planting seeds for positive change by providing people the tools they needed to do so was evident in the way Professor Devore lived life each day.
Wynetta is survived by her two children, Julia Bryant of Brooklyn, New York, and David Bryant of Tucson, Arizona, her brother, Jesse Devore of Newark, New Jersey and a host of cousins. She was predeceased by her sisters, Zenobia Smith and Betty Jean Daniels, and her former husband, Julius Bryant.