Falk College Celebrates Record Breaking Attendance at 2023 Trans Support Day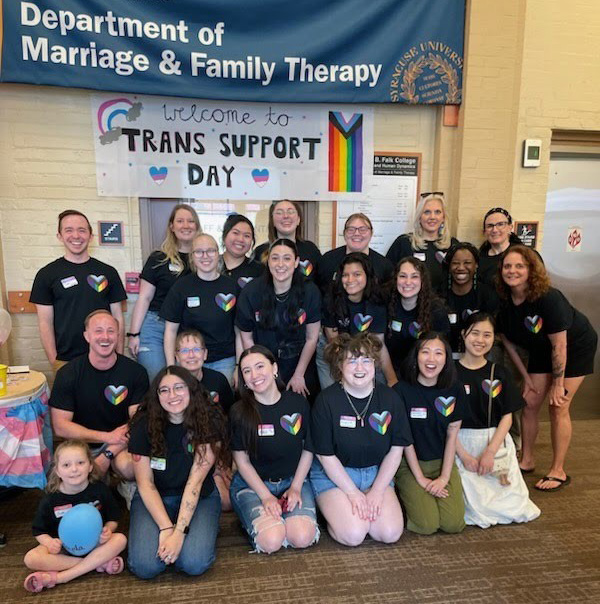 More than 240 individuals, including individuals, couples, parents, and children, attended Trans Support Day on April 22, 2023, hosted by the Syracuse University Trans and Gender Expansive Support Team. Guests had the opportunity to connect with local trans-affirming providers and resources; access free clothing and makeup; get free services from hair, nail, and makeup artists; access trans-affirming sex products; receive therapeutic support for parents of trans youth; and have a space for youth to connect.
"It was absolutely heartwarming to see the excitement and support radiating from all who participated to provide such a welcoming, affirming, and loving space for the trans community," says associate professor Deborah Coolhart, Ph.D., LMFT.
The annual Trans Support Day started in 2018 and returned this year after a hiatus due to the COVID-19 global pandemic. Coolhart says the 2023 event was a huge success, thanks to the leadership and support of assistant teaching professor Tristan Martin, Ph.D., 22 marriage and family therapy students, and marriage and family therapy faculty and staff. This year, Trans Support Day saw a remarkable increase in attendance—from 40 in 2019 to 244. "This is what support looks like!" says Coolhart.
"The current political landscape for trans folks is threatening and scary, making this event so necessary and special," she says. "In a world that often does not welcome trans people, I could see on the faces of the guests the gratitude, validation, and support they felt having a space that was celebrating them and connecting them to the resources they need."
Coolhart founded the Trans and Gender Expansive Support Team in 2004. The Trans and Gender Expansive Support Team is part of the Syracuse University Couple and Family Therapy Center, housed within the Falk College Department of Marriage and Family Therapy, located in Peck Hall, just north of main campus on East Genesee Street.
Students on the Trans and Gender Expansive Support Team receive specialized training to provide gender-affirmative therapy for transgender people and their families and assist in the readiness process for medical gender transition. "It is amazing to see how the team has grown in all that it does for the community," Coolhart says.
In the Couple and Family Therapy Center, marriage and family therapy students gain supervised, hands-on clinical experience while providing free therapy services to families, couples, and individuals across Central New York. The Department of Marriage and Family Therapy prepares students to work with marginalized populations, at-risk youth, and the LGBQ and Transgender communities.
For events in June to celebrate the LGBTQ+ community during Pride Month, visit Syracuse University's community calendar.