For Social Work Students, Legislative Policy Day is an Opportunity 'Like No Other'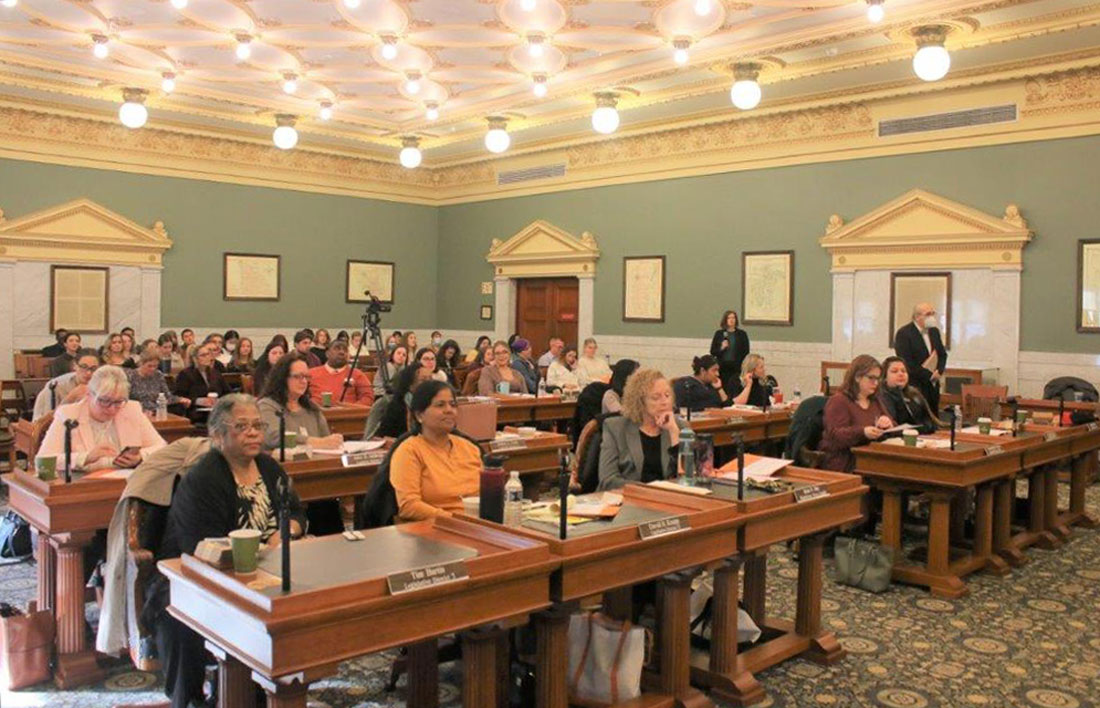 For the 23rd time, the School of Social Work at Falk College hosted the James L. Stone Legislative Policy Day Oct. 28 at the Onondaga County Courthouse in downtown Syracuse.
And for the 23rd time, the School of Social Work students who attended the annual symposium were provided a unique opportunity to witness the real-life involvement of community leaders, citizen organizations, politicians, and social workers who are actively involved in shaping policies that address an important social issue.
"Legislative Policy Day sounded quite daunting at first, but being surrounded by so much passion for change was energizing, enlightening, and motivating," says Lauren Barry '24, a first-year Master of Social Work (MSW) student. "The opportunity to expand my learning beyond the four walls of the classroom and be surrounded by people who are driven by passion is like no other."
The most recent Legislative Policy Day symposium in October was called "Equity in Reproductive Health and Wellbeing: A Human Right," and it focused on the causes, impacts, and possible solutions for the disparate maternal and child health outcomes in Central New York and across the country.
The event featured distinguished speakers from a range of governmental, non-profit, and community organizations, and the keynote speaker was reproductive justice advocate Sevonna Brown, co-executive director of Black Women's Blueprint, a nonprofit organization dedicated to co-creating a vibrant and safe community where women and all people can live lives of sovereignty and dignity.
In the United States, perinatal health outcomes are substantially worse than in other high-income peer nations. Community advocates in Onondaga County have worked to direct attention to the needs and perspectives of mothers and children to broaden and facilitate a holistic approach to community reproductive health.
With substantial changes in funding for perinatal care in the 2022 New York State budget, a focus on maternal health in the governor's office, and organizations working to reframe approaches to perinatal care, there are opportunities to address longstanding disparities and gaps. Legislative Policy Day explored policies that enable or hinder these efforts and opportunities to advocate for women and their infants.
To get a sense of what the social work students learned in the Legislative Chambers of the Onondaga County Courthouse on Legislative Policy Day, we asked three of them to share their experiences: first year MSW students Lauren Barry and Christine Harris, and final-year MSW student Cheryl Elizabeth Mann. Here are their stories:
Lauren Barry '24
"Legislative Policy Day was on our syllabus as a required event, and I knew it would benefit my education and provide valuable insight into reproductive health and well-being. Additionally, the topic was relevant in an ever-changing political scene with trickle-down policies. These policies create systems that can be exhausting to navigate.
"As a Syracuse native, I am aware of Planned Parenthood, health services at local hospitals, and resources in the community. I assumed professionals from these organizations would share their perspectives, along with how policies influence us today. But in addition to exploring different angles on the topic, I stepped into a room full of passionate people advocating for equity in reproductive health and well-being.
"Standpoints from professors, healthcare professionals, and county legislators stressed the importance of these services and resources. Their insights displayed how students, faculty, and community members are impacted and can alter the path of those seeking this information. These much-needed voices were speaking to many of my classmates, future professionals who will engage with those who are often overlooked or have nowhere else to turn. These viewpoints and many more need to be heard and considered when putting policies in place.
"Legislative Policy Day provided information and expressed how crucial these services are in a community. With foundational information and viewpoints, people can then form their own decisions. There is no way to tell what policies will be revised, created, or established in the future; however, we are headed in a direction that considers the complexity of reproductive health and well-being. A direction that offers more person-centered policies focusing on full-circle and quality care. With various voices impacting policymakers, hopefully, more equity in reproductive health and well-being will develop."
Cheryl Elizabeth Mann, '23
"You can call me an anomaly because I am one of the few MSW students who has attended the Legislative Policy Day twice. LPD is a convenient way to become educated on the issues that are challenging our community, as well as the efforts that are underway to address them. LPD provides a prospective that allows attendees to become informed voters, which assists in bringing about real change.
"In my first experience with LPD, I felt an empowering feeling as I walked through the doors of the beautiful historic courthouse building. As social workers, it is not enough to simply practice social work. We must take the steps necessary in our own lives to stop injustices in our community. LPD has helped me become more informed about the process to bring about change, and specifically understand what role I can play to assist.
"LPD hit home that we must vote in our local elections for our voices to be heard. LPD emphasized our participation in problem-solving with the leaders of our community instead of simply identifying the problems. LPD showed me the way to take an active role in creating a solution.
"Being in a room full of like-minded individuals who care about humanity made me feel optimistic about where the community is headed. Building relationships with influential individuals that have the power to make change is necessary, and opportunities like LPD provide the environment for these types of introductions. The topics discussed provided several new ideas for potential employment following graduation. It was also rewarding to hear the gratitude from the speakers, as they are aware of the benefit that this career path will bring to the community."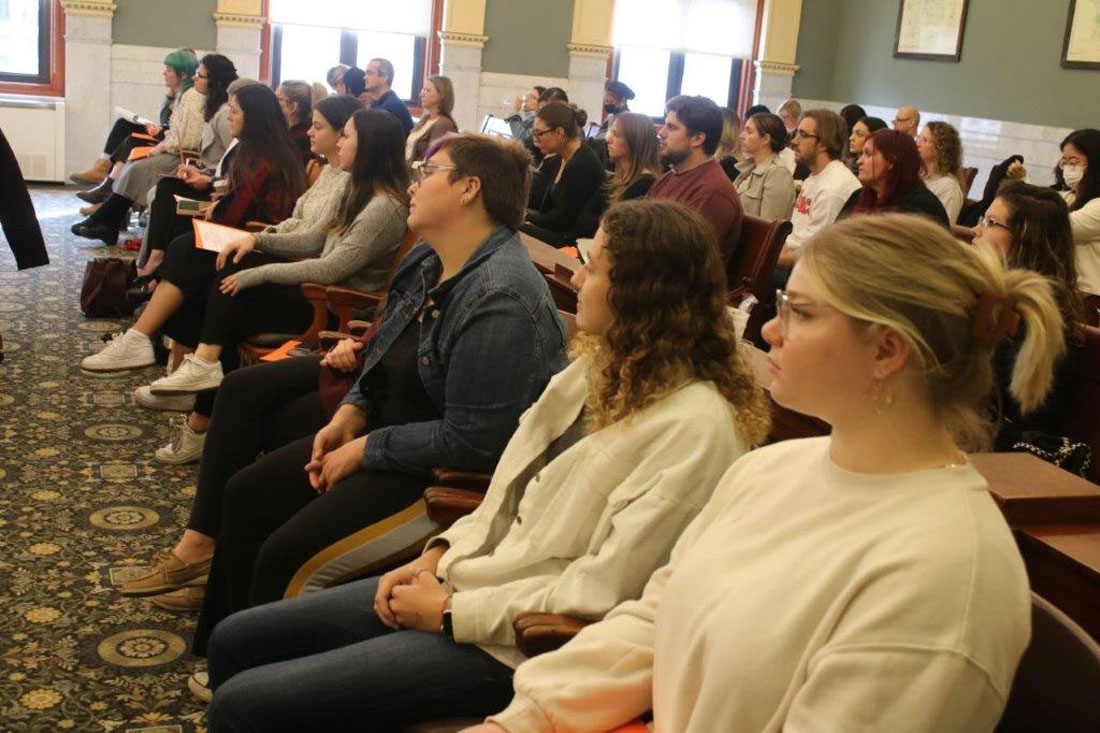 Christine Harris '24
"Legislative Policy Day was an incredible opportunity for social work students to experience the intersection between advocacy work and direct practice. I was so grateful to participate in such a relevant and important topic and conversation around women's reproductive health policies.
"I was inspired to hear from true advocates in the field who are making a difference in our own community. Not only did we get to hear from respected county legislature representatives about issues related to women's reproductive rights, birthing care, and preventing sexual violence, but we had the privilege of hearing from our own professors in the MSW program at Syracuse University. Knowing that we are learning from strong community leaders and advocates, with their vast array of experience and knowledge on the topics, gave me even more confidence in our program of study here at Syracuse. I strongly valued the intentional selection of diverse speakers and topics, including advocacy workers in Black and Latinx communities.
"Speakers shared their work with excellence and extended opportunities for internship, future advocacy work, and networking connections within the community for students. We had the privilege of hearing from speakers such as Christine Kowaleski, a perinatal psychiatric nurse practitioner who started the first perinatal mental health clinic for women in Syracuse. Likewise, Tiffany Lloyd leads a local movement for Black women called Power to Decide and is the director of women's health and empowerment at the Allyn Family Foundation. While these are only two of the incredibly passionate and experienced speakers from whom we heard, all the speakers were inspiring, educational, and informative in their presentations.
"I feel confident that these resources will provide me with future internship and/or career opportunities and they inspired me to join with local social workers, advocates, and leaders as part of my training here at Syracuse University. I am incredibly grateful for the opportunity to have had this educational experience."
The Legislative Policy Day symposia, which have been held annually since March 2000, are a vital component of the curriculum and signature event for the School of Social Work. They are made possible by the generous contributions of James L. Stone, MSW Class of 1964, the former New York State Commissioner of Mental Health and current chair of the Falk College Advisory Committee.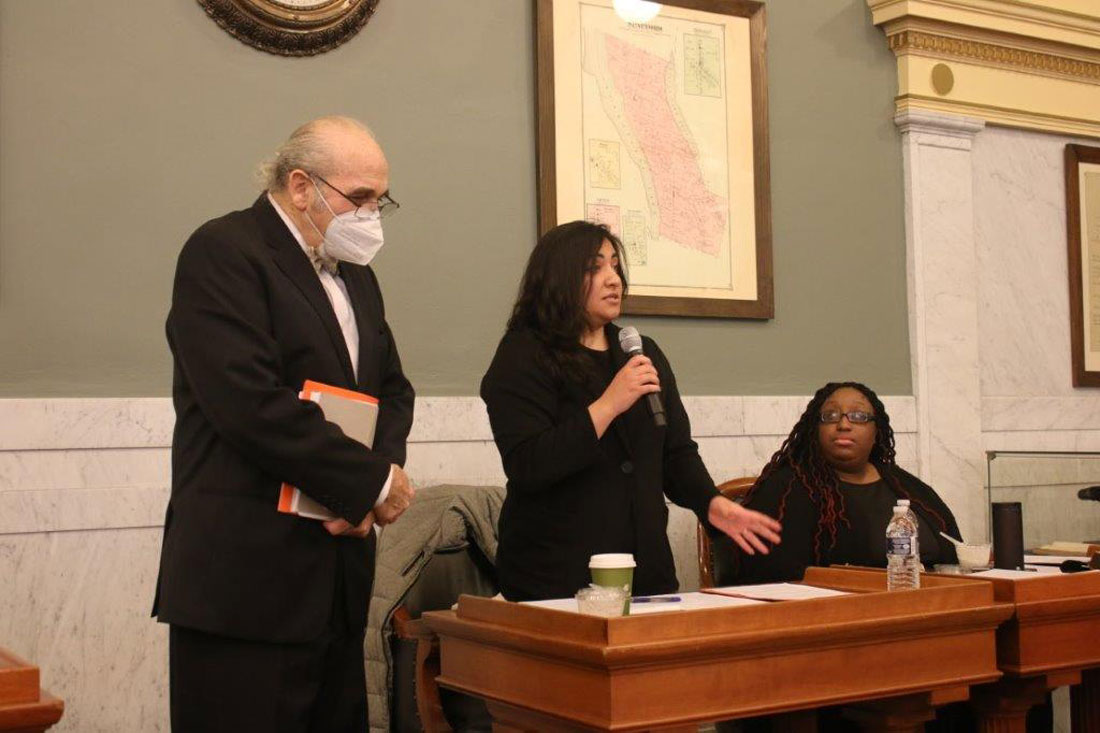 "Each Legislative Policy Day is designed to reflect and reinforce the proud tradition and responsibility of professional social workers to participate in social reform and community change efforts as part of their professional practice," says School of Social Work Professor Eric Kingson, who has been the driving force behind the symposia since they started in 2000.
"Much of the credit for the success of this year's event," Kingson adds, "rightly belongs to Social Work Associate Professor Kendra DeLoach McCutcheon, who played a major role in planning the event, and MSW Social Work student and graduate assistant David Nagle, who, for the second year in a row, helped plan and coordinate all aspects of the event."
The School of Social Work has an important legacy on the Syracuse University campus, in the local and regional communities, and beyond. Visit the School of Social Work to learn more about academic programs, experiential learning, and career opportunities.