New Advisory Board Member Jody Levison-Johnson Found 'Secret Sauce' at Falk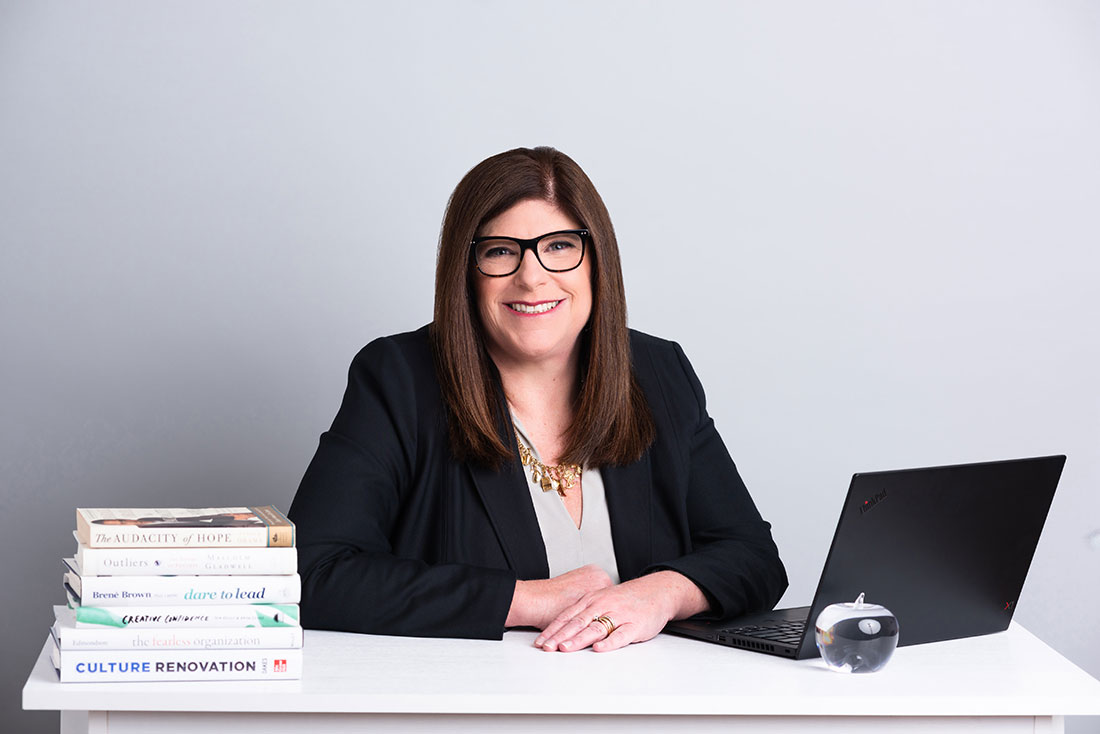 When Jody Levison-Johnson was in high school, she had a close friend who was diagnosed with bipolar disorder.
One night when he was off his medication and behaving erratically, "John" was arrested by police. He was placed in the county jail, where he died by suicide.
John was 18.
Levison-Johnson, who was 17 at the time, learned about John's death that morning and discussed it with her mother.
"My feeling was that he was someone with significant mental health issues who had been in psychiatric hospitals before; it wasn't like it was unknown," Levison-Johnson says. "That he ended up in jail and was able to complete suicide was all wrong from my perspective. So that was the moment that I felt like I wanted to do something to help people like John."
Levison-Johnson made a vow that day to "change the system," and she has spent the past 36 years honoring that commitment by leading reform efforts that have helped thousands of individuals in need.
Levison-Johnson, a licensed clinical social worker, received a master's degree in social work (M.S.W.) from Syracuse University's Falk College in 1998 and joined the Falk College Advisory Board in 2021. She currently serves as president and CEO of Social Current, a consolidation of two organizations (the Alliance for Strong Families and Communities and the Council on Accreditation) that merged to bring together a broad-based network of social sector organizations and partners committed to advancing quality and advocating for the human service ecosystem.
"One of the things that attracted me (to the merger) was this idea that if you leveraged standards established for best practice, you could really impact the quality and coordination that was absent from the system when I was in high school," Levison-Johnson says. "If I'm in a position where I can influence how to achieve quality and work collaboratively so that services are effective, that allows me to move the system in the right direction."
To learn more about Levison-Johnson's impactful career, we chatted with her about the value of her Falk College education, her work in human services, her goals for Social Current, and more. Here's that conversation:
Q: You received your bachelor's degree in psychology from the University of Rochester in 1991 and started your M.S.W. at Syracuse University in 1995. What led you to Syracuse?
A: After working in different human service settings, I was working as a mobile crisis clinician and my partner on the mobile crisis team was working on his M.S.W. at Syracuse and he said, "You should get this degree; this is how you're going to be able to do what you want to do."
On my first day (at Syracuse), my professor (Susan Taylor-Brown) basically asked us, what do you want to do when you grow up? Every single person in the class said they wanted to be a therapist, and I said, "I want to change the system." I remember after I got my first system job that Professor Taylor-Brown followed up with me and said, "Well, you got what you wanted!"
Q: Talk about your time at Syracuse University and Falk College.
A: It truly was a labor of love. I was living in Rochester, working full-time, and I spent the last two years of the program commuting to Syracuse. Plus, I had my field requirement of 16 hours a week, so it was a big chunk of time. But I loved every minute of my graduate program. It was the most formative experience of my life.
When I came to Syracuse, I found my people and I found my home. The faculty was amazing and what's funny now is that Diane (current Dean Diane Lyden Murphy) was my mental health policy professor. Policy was my love, so her class was one of my favorite classes. It was over the summer, four nights a week, so I drove to Syracuse and went to class from 6 to 10 p.m. Monday through Thursday for at least three weeks.
Q: What was your biggest takeaway from the M.S.W. program?
A: I felt the faculty and the program were speaking my language and equipping me with what I wanted to do, which was to understand clinical pieces and family systems and understand that we can have an impact on the bigger context that people lived in. So that mental health policy class that Diane taught was really important to me. Syracuse taught me how to think critically, how to be able to synthesize information, and then how to concisely speak about it. And those skills have served me in every job I've ever had.
There's this Falk secret sauce. You've got this passionate group of people who are committed to the things that are important to you. The students as well as the faculty were really engaged in learning together. I felt like I got taught a lot, but I also felt like the faculty that I worked with, we were sharing our experiences and they were learning from us, too. You felt this cohesion with people who were committed to things that were important to me. With Falk and my Syracuse experience, I felt like all the faculty knew who I was and cared about who I was.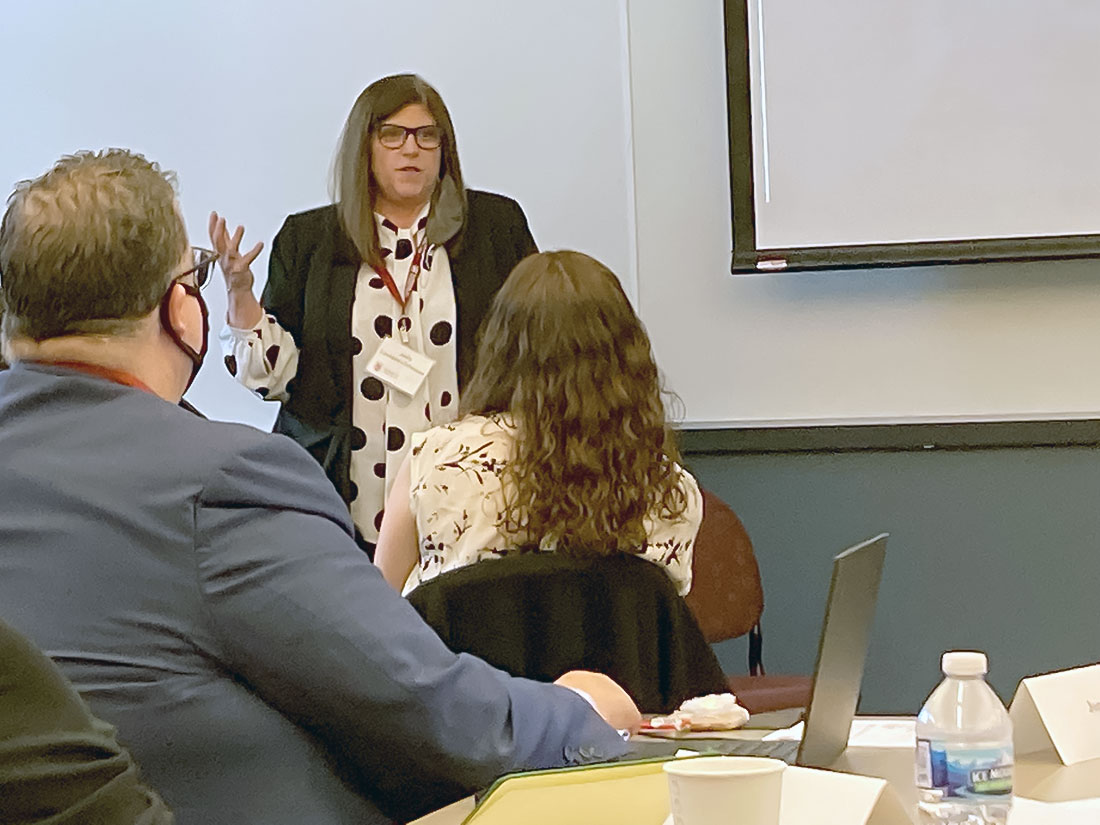 Q: Following your graduation from Syracuse in 1998, you worked for a variety of direct-service organizations or organizations that focused on policy and planning. Was there a moment when it all came together and you realized you could indeed change the system?
A: In 2005, I was working at an organization called Coordinated Care Services, which is based in Rochester. One of my jobs was to be the lead for child and family services for the Monroe County Office of Mental Health in partnership with the staff at the county office. The three of us–the director of mental health for the county, the planner for the county and myself–with help from many others, wrote this big federal grant for $9 million over five years to transform the child-serving systems in Monroe County.
We got the grant–I remember the date, Sept. 21, 2005! I was doing work in Tioga County and getting a coffee in this little coffee shop before we started our day and I got the phone call and burst into tears. From having that desire to change systems, to having the clinical knowledge about what systems were working and not working, to being in the position where I had power and leverage by working with the county director and planner to write this grant, it all came together to actually effect the change that I had envisioned without really knowing what it would look like back in high school.
Q: Tell us about Social Current and the thinking behind merging the two organizations, the Alliance for Strong Families and Communities and the Council on Accreditation.
A: One of the reasons the (Council on Accreditation) board hired me was to increase the value and impact of accreditation. We had this relationship with 1,600 organizations across the U.S. and Canada accredited by us, but we only interacted when their accreditation was due. I thought we should have more ongoing relationships with them, touch points to support them with improving the quality of what they were doing.
That's one of the reasons why the merger ended up happening. One of the people that I talked with was the then-CEO of the Alliance for Strong Families and Communities and she said, "I wonder if we can do this together?" I went back to the board, and I remember the chair-elect of the board who was on the search committee for my position said, "I picked you as my choice for the CEO because I knew you were willing to take reasonable risk. But never in my life did I think you were going to suggest a merger three months into your tenure."
It took them a long time and we didn't vote to proceed with the merger until December 2020, so it was about a year and a half of board conversations and meetings. But what I really saw was this idea that you could bring together the rigor and the knowledge of accreditation with what the Alliance had, which was additional subject matter expertise, knowledge, and infrastructure to deliver training, technical assistance, and consultation. It was leveraging the best of both organizations and blending them to create something that was really going to be able to move the needle on some important outcomes.
Q: This Social Current model–working on the policy side to create the environment where they can succeed and then accrediting them to ensure the standard of quality is being met–do you see it growing?
A: As a combined organization, we have a network of 1,800 organizations now and we have changed the business model. The idea is, people can pay to play; they can pay for what they need. They can choose to work with us on this learning collaborative, but they don't have to be involved in accreditation or other offerings. They can get consultation in equity, diversity, and inclusion, or be a part of a peer group on a specific topic. So, we've made services available in several ways that are more customized. The hope is to grow because there are so many social sector organizations that I think would benefit from what we have to offer. The growth will also allow us to keep price points reasonable.
I think back to my days in other organizations and you don't have tons of cash to pay for things, and you also don't have tons of time to sift through all the research to figure out what you should be doing. So, we're trying to find that sweet spot of how can we bring something that's of high value to organizations but a price point that fits in their budgets.
Q: As we close our conversation, what would you say to Social Work students from Falk who might be where you were at in 1987?
A: When I think about it for students, they come in with these big ideas and they need to be patient. They also need the combination of education and experience. They need to be willing to take the hits, because there will be some. But with persistence and tenacity, coupled with passion, students should have hope that they can have meaningful impact in this word. I really believe that.