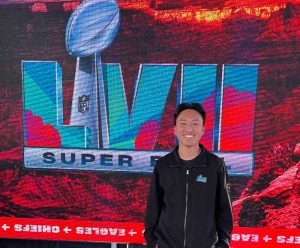 I completed my senior Capstone in Spring 2023 with On Location's event production department as an event production and hospitality intern in Los Angeles, California. My responsibilities were to assist the company's premium hospitality events in the pre-production, onsite, post-production, and closeout stages. My tasks included contracting with vendors, paying invoices, budget assistance, coding payments, expensing credit card charges, retrieving quotes, building decks and diagrams, researching assets, managing onsite events, and working with clients and vendors.
I worked on parties for the Kansas City Chiefs and Philadelphia Eagles at Super Bowl LVII in Glendale, Arizona, as well as events for NCAA March Madness and Final Four across 18 cities. I also worked with two hospitality houses at the 2023 Masters in Augusta, Georgia. Throughout this time, I learned new personal skills and processes to improve my career, such as communication methods, leadership styles, and time management. I also gained industry knowledge in areas such as accounting, event planning, hospitality, sales, and design. While I thoroughly enjoyed this experience, my favorite aspect of the Capstone was the people I got to work with in the office and at the events. The most important takeaway from this experience is that "people make the job." I intend to prioritize office culture and team environment in my future career plans.
After graduation, I joined ESPN at The Walt Disney Company as a Sports Brand Solutions Coordinator, working on the SEC Network properties in Charlotte, North Carolina.