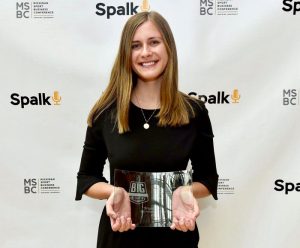 Sport Management senior Brigid Daly '19 was recently named a 2018 BIG Initiative Award Winner by the Michigan Sports Business Conference, an honor presented to 10 high-achieving sport management students in the Unites States and Canada. BIG stands for "Build, Inspire, Grow."
Daly attended the prestigious conference on Oct. 19 in Ann Arbor, Mich. She heard from featured guest speakers and industry professionals such as Jeff Wilpon, Chief Operating Officer for the New York Mets; DeMaurice Smith, Executive Director of the NFL Players Association; and Estee Portnoy, Senior Vice President of Marketing for Live Nation.
"The panelists provided a lot of insight into where the sport industry is headed, and I am definitely more interested in eSports and analytics after hearing from the speakers," said Daly, who is from Ellicott City, MD.
Launched in 2013, the BIG Initiative annually recognizes outstanding student leaders in sport business who have achieved an exceptional level of success. Each year, the MSBC attracts top applicants from across the nation. Those receiving the honor are selected on the basis of demonstrated entrepreneurship, creativity, innovation and leadership. Nominees must be students with a passion for the sport industry that demonstrate a truly remarkable curriculum vitae.
"I was able to network with a lot of the speakers, Michigan sport management students and other BIG Initiative award winners," Daly said. "I was incredibly impressed by the other students at the conference and the connections I made with fellow students were most valuable."
Daly completed her senior capstone in Fall 2018 at Van Wagner Sports and Entertainment in New York City. She previously interned with the NFL, Inside Lacrosse and participated in a job-shadowing program with the Washington Wizards.