Sport Mangement News
Falk College welcomes new faculty and staff
Syracuse University's Falk College is pleased to announce the appointment of new staff members who have joined Falk College in the past academic year, including Karen Goebel, office coordinator in the School of Social Work; Meredith Groman, administrative assistant and Jamie Rhoades, assistant teacher in the Bernice M. Wright Child Development Laboratory School; Kevin McNeill, internship placement coordinator in the Department of Sport Management; Megan Myers, assistant director of development in the Office of Advancement; Kathleen Nasto, office coordinator in the Department of Human Development and Family Science; Jessica Pitcher, career advisor and David Sly, associate director of career services in the Office of Student Services; Laura Sauta, administrative assistant and Megan Snow, internship placement coordinator in the Department of Public Health, and; Zachary Schuster, assistant director of undergraduate admissions and recruiting in the Office of Admissions.
It also welcomes five new faculty members, Justin Ehrlich, Chandice Haste-Jackson, Jeremy Losak, Stefanie Pilkay, and Xiafei Wang.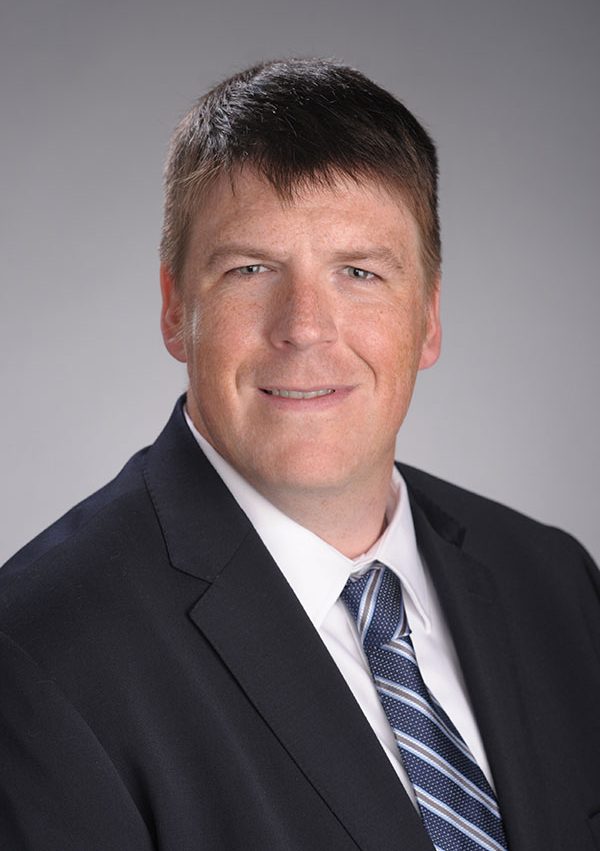 Justin Ehrlich
Assistant Professor, Department of Sport Management
Justin Ehrlich joins Syracuse University's Falk College Department of Sport Management as a tenure-track assistant professor in Fall 2019, where he will teach in the area of sport analytics.
Prior to joining Syracuse University, Ehrlich taught as an associate professor at Western Illinois University, School of Computer Sciences, since 2010 in Macomb, IL. There, he specialized in data visualization, visual analytics, sport data computation and analysis, machine learning, computer graphics, virtual reality, server-side development, languages and technology. He taught several courses such as Topics of Computer Science: Data Visualization, Operating Systems, Advanced Computer Graphics, Server-Side Development, and served as chair of the Council for Instructional Technology and chair of the IT Governance Executive Committee. He previously worked as an AViSSS (Animated Visual Supports for Social Skills) lead software developer for the University of Kansas and has held roles such as ASP.net developer for Nomise Systems and lead developer for HSSportsTV.net, both in Wichita, KS.
Ehrlich has published several papers in sport data visualization and analysis in Public Choice, Mathematical Social Sciences, Games, and the Journal of Quantitative Analysis in Sport. He has conducted many talks and live demonstrations on sport data computation, visualization, and analysis that incorporate use of Tableau (with VizQL), R, Python, and D3.
Ehrlich's research has received support from the U.S. Department of Education, the U3E, and from Falk College. He was awarded the Moore Best Ph.D. Dissertation Award from the University of Kansas School of Engineering, the Provost's Award for Academic Excellence in Teaching with Technology from Western Illinois University, and several awards from WIU's College of Business and Technology.
Ehrlich earned a Ph.D. in computer science from the University of Kansas in 2010. His dissertation was titled, "The Effect of Desktop Illumination Realism on Presence and Generalization in a Virtual Learning Environment." He also holds a computer science M.S. earned in 2007 from Wichita State University, and an accounting and business administration B.B.A., earned in 2004 from Friends University in Wichita, KS.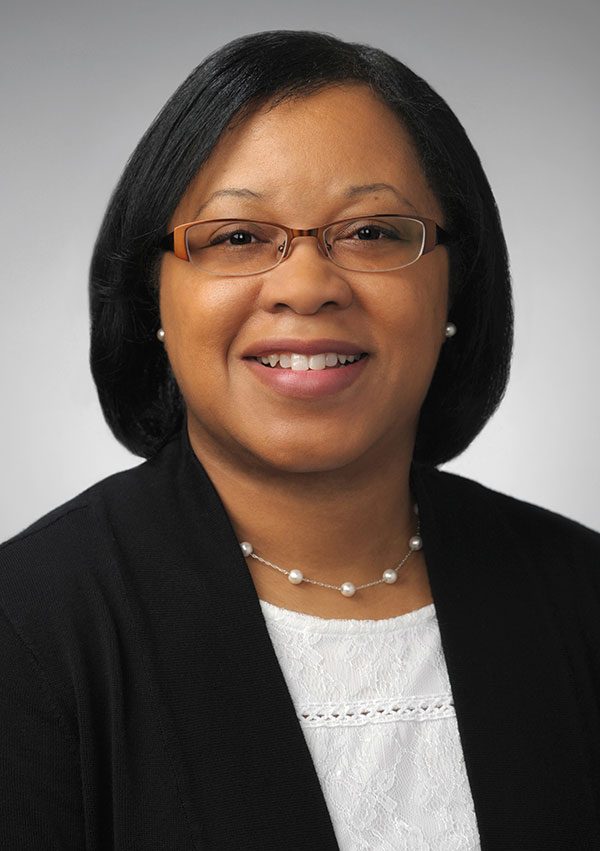 Chandice Haste–Jackson
Associate Teaching Professor, Department of Human Development and Family Science
Chandice Haste–Jackson is an associate teaching professor in the Department of Human Development and Family Science beginning Fall 2019.
In addition to working as internship coordinator in Falk College since 2016, Haste-Jackson has served as adjunct faculty in the Department of Human Development and Family Science since 2005, teaching courses such as Intimate Relationships and Gender Roles, Family Development, and Diversity, Equity and Inclusion. She has also taught as adjunct faculty for Onondaga Community College and the American Public University/American Military University System Department of Human Development and Family Studies. She previously served in Syracuse University's School of Education as director of the Liberty Partnerships Program and has held positions at the Chadwick Residence, Inc., the Dunbar Association, and Syracuse Model Neighborhood Facility, Inc.
Haste-Jackson serves on the School Counselor Advisory Board for the Syracuse City School District and is a consultant for My Brother's Keeper Syracuse initiative founded by President Obama.
Haste-Jackson has presented for the Society for Research on Adolescence in San Francisco, CA and the National Council on Family Relations in Orlando, FL. She has given presentations for the U.S. Department of Education Office of Innovation and Improvement in Washington, DC, the New York State Education Department Empire State Youth Summit in Albany, NY, Ethiraj College and Women's Christian College in Chennai, India, as well as for the National Diversity Council's Upstate New York College Diversity Summit in Syracuse, NY, among others.
Haste-Jackson's work in urban youth development, vulnerable families, cross-cultural family dynamics, and diversity education has received support from the United States Department of Housing and Urban Development, New York State Office of Temporary Disability Assistance, New York State Legislature-Joan Christensen, Onondaga County Department of Long-Term Care and Aging Services, Onondaga County Youth Bureau, Onondaga County Department of Health, Onondaga County Department of Social Services, United Way of Central New York, and Syracuse University.
Haste-Jackson earned a Ph.D. in child and family studies from Syracuse University in 2013. Her dissertation was titled, "Strengths and Risk Factors for Romantic Relationships: Perspectives of African American Women." She also holds a M.S. in behavioral sciences with a concentration in psychology, earned from Cameron University in 1999, and a B.A. in cultural anthropology, earned from Syracuse University in 1996.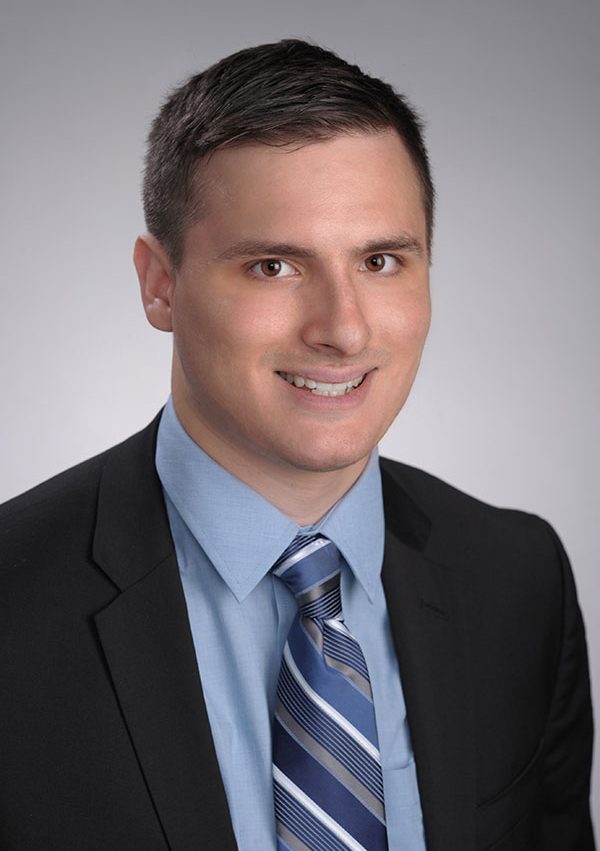 Jeremy Losak
Assistant Professor, Department of Sport Management
Jeremy Losak joins Syracuse University's Falk College Department of Sport Management as a tenure-track assistant professor in Fall 2019, where he will teach in the areas of sport management and sport analytics.
Prior to joining Syracuse University, Losak was a graduate assistant in the John E. Walker Department of Economics at Clemson University. His teaching experience includes positions as teaching assistant for Sport Economics, teaching assistant and later head teaching assistant for Undergraduate Principles of Microeconomics and Principles of Macroeconomics, and teaching assistant for Managerial Economics. In the sports industry, he was a baseball analytics consultant for Wasserman Media Group, marketing analytics consultant for The Madison Square Garden Company, and analytics intern for the Auburn Doubledays.
Losak's research focus is in sports economics, particularly sport labor markets and betting markets. He is published in Managerial Finance and in the Academy of Economics and Finance Journal. He has given several presentations at venues such as the 2019 Eastern Economic Association Conference in New York, NY; the 2018 Southern Economic Association in Washington, DC; the 2018 Missouri Valley Economic Association's Sports Economics Session in Memphis, TN, and; the Center for Research in Sports Administration's Sports, Data, and Journalism Conference at the University of Zurich in Switzerland.
Losak is the recipient of a Junior Researcher Award for the 2018 Sports, Data, and Journalism Conference at the University of Zurich and the Distinguished Student Paper Award at the 2018 Missouri Valley Economic Association Conference. He is also the recipient of travel grants from the Institute for Humane Studies Hayek Fund and Clemson Graduate Travel Grant Service. He was named a 2016 Falk College Class Marshal and a Falk College Scholar while at Syracuse University.
Losak earned a Ph.D. in economics from Clemson University in 2019 where he was a Koch Fellow in the John E. Walker Department of Economics. He also earned a B.S. in sport management from Syracuse University's Falk College in 2016.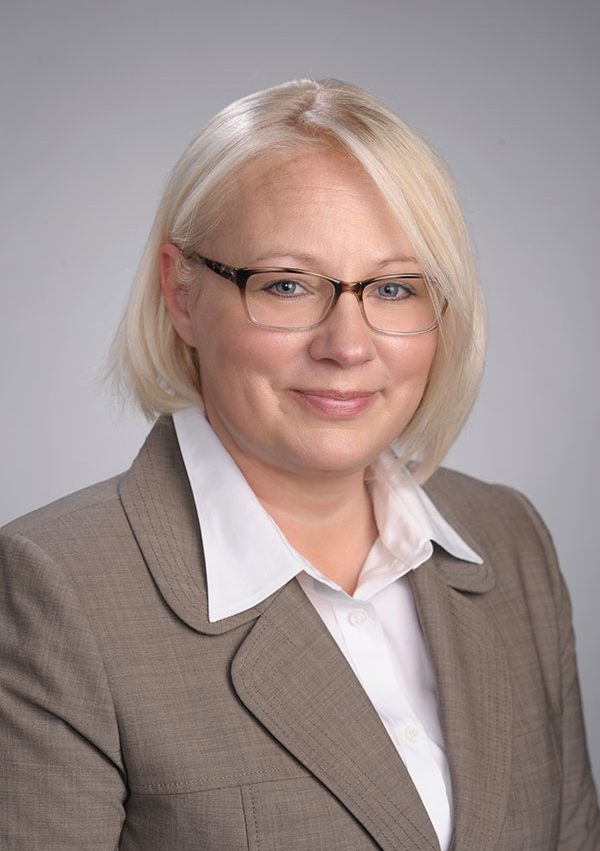 Stefanie Pilkay
Assistant Professor, School of Social Work
Stefanie Pilkay joins Syracuse University's Falk College School of Social Work as a tenure-track assistant professor in Fall 2019.
Before joining Syracuse University, Pilkay served as an adjunct lecturer at both Yeshiva University's Wurzweiler School of Social Work in New York, NY since 2018 and the University of Tennessee, College of Social Work in Knoxville, TN since 2015, teaching research methodology, trauma theory and practice, lifespan and neurophysiological development, and human behavior in the social environment. She was also a postdoctoral fellow at the Emory University School of Medicine, Department of Gynecology and Obstetrics in Atlanta, GA since 2017. She has served as a court-appointed special advocate for Anderson County Tennessee Juvenile Court. In 2014, she was a forensic social worker for the Community Law Office, Knox County Public Defender's Office. Specific to her research experience, Pilkay has served since 2018 as an early investigator trainee on "Developmental Origins of Health and Disease," an international cross-discipline research study with collaborations between Canada and the U.S.
Pilkay's research interests include trauma, early-life adversity, inter-generational transmission of adversity, adversity and trauma mechanisms for risk and resilience in human development. She is published in the Journal of Social Work Education, the Journal of Social Service Research, and has given several peer-reviewed presentations, most recently at the 64th Annual Program Meeting of the Council on Social Work Education in Orlando, FL, Connecting for Children's Justice Conference in Murfreesboro, TN, the International Congress on Child Abuse and Neglect in Prague, Czech Republic, and the 73rd Annual Scientific Meeting of the Society of Biological Psychiatry in New York, NY. Pilkay's work has been supported by the National Institute of Health/National Institute on Minority Health and Health Disparities and the University of Tennessee Health and Science Center.
Pilkay earned a Ph.D. in social work with a minor in graduate statistics from the University of Tennessee, Knoxville in 2017. She holds a M.S. in social work, an evidence-based interpersonal practice major with trauma treatment graduate certification, and a B.S. in social work with majors in honor's social work and psychology, earned in 2014 and 2013, respectively, from the University of Tennessee, Knoxville.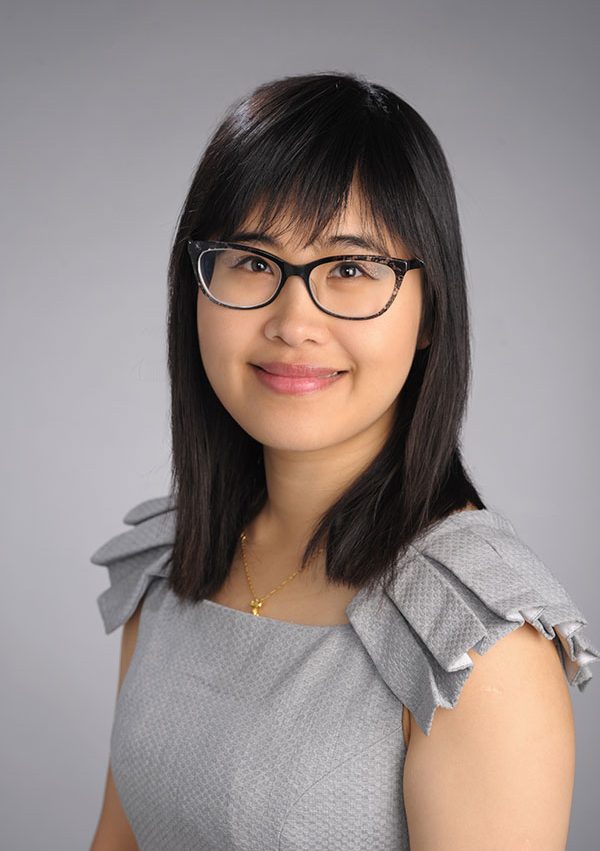 Xiafei Wang
Assistant Professor, School of Social Work
Xiafei Wang joins Syracuse University's Falk College School of Social Work as a tenure-track assistant professor in Fall 2019.
Prior to joining Syracuse University, Wang served as a research assistant on "Evaluation of Chinese National Working Committee on Children and Women & the United Nations Children's Fund Joint Child Friendly Spaces Project in China," funded by the United Nations Children's Fund: China since 2017, and on "Improving Child and Adolescent Mental Health and Health Outcomes: Integrative Family and Systems Treatment (I-Fast) Integrated Episode of Care Model" since 2014, funded by the Ohio Department of Mental Health & Addiction Services and Department of Developmental Disability.
Wang has published peer-reviewed articles in Social Work Research, Journal of Social Service Research, The Journal of Health Disparities Research and Practice, Children and Youth Services Review, Journal of Developmental Behavioral Pediatrics, PsyCh Journal, Community Mental Health Journal, Child Psychiatry and Human Development, Child Abuse & Neglect, and Social Work in Mental Health, as well as multiple book chapters.
Wang recently presented at the 32nd Annual San Diego International Conference on Child and Family Maltreatment in San Diego, CA, the Council of Social Work Education 64th Annual Program Meeting in Orlando, FL, National Association of County and City Health Officials 2018 Annual Meeting in New Orleans, LA, the Joint World Conference on Social Work, Education and Social Development 2018 in Dublin, Ireland, ResilienceCon 2018 in Nashville, TN, and the Society for Social Work and Research 22nd Annual Conference in Washington, D.C., among other presentations.
Wang's work has received support from the Society for the Psychological Study of Social Issues, Big Cities Health Coalition, Central Benefits Health Care Foundation, and the Ohio State University College of Social Work.
Wang earned a Ph.D. from The Ohio State University in 2019. Her dissertation was titled, "Breaking the Cycle of Intergenerational Trauma: A Mixed-Methods Study." There, she also earned her M.S.W. in 2015. She earned a M.A. in social work and social policy from Peking University in 2012 and a L.L.M. from the Peking University Law School & The Raoul Wallenberg Institute of Human Rights and Humanitarian Law in Beijing, China and Lund, Sweden in 2011, where she was named valedictorian. She also earned a B.A. in social work from Peking University in 2009.
---
Welcome Class of 2023!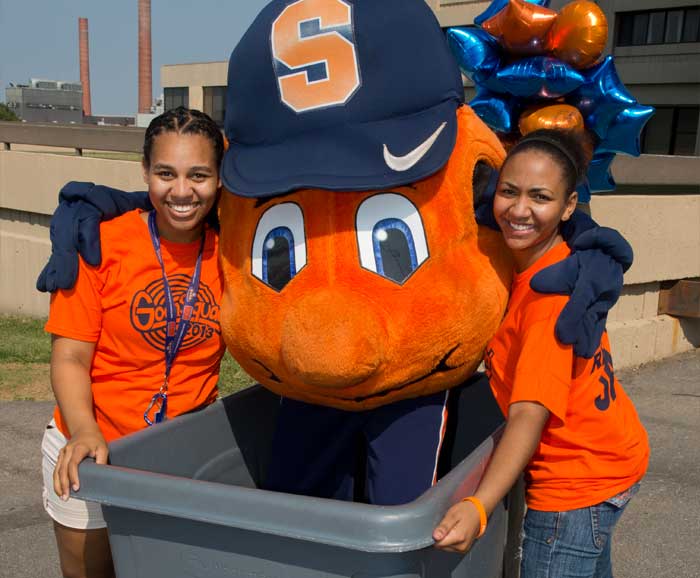 Falk College welcomes the Class of 2023 including 307 first-year and 20 transfer students who join 140 graduate students who are new as well. Welcome back to all Falk students who, this year, represent 40 states and 30 countries!
The entire welcome week schedule for new students can be found by visiting the Syracuse Welcome 2019 Guide.
---
Congratulations to the Class of 2019!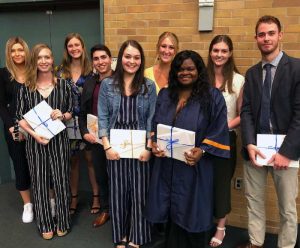 On May 11, 2019, the David B. Falk College of Sport and Human Dynamics celebrated its Class of 2019 Convocation ceremony at Manley Field House. One-hundred Sport Management undergraduates, five Sport Analytics undergraduates, and 10 Sport Venue and Event Management master's students took part in the ceremony.
SPM senior Anthony de la Fuente served as a Falk College Marshal delivered a speech during the Convocation. The 2019 Sport Management Marshals were Nicholas Carlson (undergraduate) and Baylee Douglas (graduate). Caitlin Burke, Daniel Hamilton and Justin Perline were named Falk College Scholars.
Twenty-four Sport Management students in the Class of 2019 graduated with honors with a GPA of 3.4 or higher. Eighteen students graduated Magna Cum Laude (GPA of 3.6 or higher) and nine graduated Summa Cum Laude (GPA of 3.8 or higher).
The Department of Sport Management's traditional celebration of its graduates on Commencement weekend continued this year with more than 200 parents, family members, friends, faculty and staff gathering in Falk College on May 10 to celebrate the accomplishments of the Sport Management and Sport Analytics undergraduates and Sport Venue and Event Management master's students.
The awards ceremony featured remarks by Sport Management director and chair Michael Veley, and College benefactor David B. Falk.
Awards presented included:
Director's Award – Anthony de la Fuente
Academic Excellence Award – Nicholas Carlson
Matt Brodsky Philanthropic Award – Caitlin Burke
Sport Management VIP Award – Sarah Lundmark
Professional Engagement Award – Brigid Daly
Jason Morales Perseverance in Sport Award – Courtney Anderson
Academic Promise Award – Da'Sha Prescott-Moore
Kate Veley Civic Engagement and Social Responsibility Award – Olivia Lavelle
Graduate Student Award – Baylee Douglass
Sixteen students received the Director's Academic Achievement Award for earning a GPA of 3.4 or higher for each of their consecutive semesters at Syracuse University. Those students were: Cody Barbuto, Jan Breitenmoser, Caitlin Burke, Nicholas Carlson, Brigid Daly, Anthony de la Fuente, Charles Garrett IV, Daniel Hamilton, Joshua Katz, Xinyu Li, Sarah Lundmark, Shuk Ching Jocelyn Mong, Austin Natowitz, Justin Perline, Micah Rubin and Sara Stanley.
Five students were noted for being dual majors: Caitlin Burke (Sport Management and Spanish Language, Literature and Culture), Michael Cavalier (Sport Management and Economics), Charles Garrett IV (Sport Analytics and Broadcast & Digital Journalism), Matteo Lovece (Sport Management and Economics), and Justin Perline (Sport Analytics and Newspaper & Online Journalism.)
Four students were named Berlin Sport Analytics Scholars: Cody Barbuto, Charles Garrett IV, Justin Perline and Evan Weiss. These four students are the first graduates of SU's Sport Analytics program.
---
Sport Venue and Event Management Master's program graduates its seventh class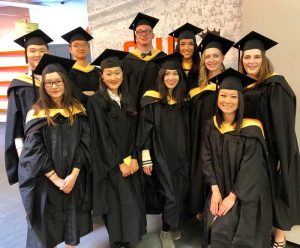 Syracuse University's master's program in Sport Venue and Event Management (SVEM) graduated its seventh class on May 11, 2019 at Manley Field House. Ten members took part in the Falk College Convocation ceremony. The graduate students arrived on campus in July 2018 for 36 credit hours of intensive classroom learning, skill development and experiential opportunities.
The students began in an immersive nature, working three days at the Musselman Triathlon in the Finger Lakes region during the first week of the program, followed by an immersion experience at the Buffalo Bills preseason training camp.
The graduate students also took part in professional development seminars conducted by Sport Management internship placement coordinators on networking, cover letters, resumes, strategic interviewing, salary negotiation, career guidance and using LinkedIn.
In the Spring 2019 semester, students worked with SPM associate professor Dr. Gina Pauline in the advanced event management course to plan a charity event benefiting Griffin's Guardians. Read more about the event.
Students in the first seven cohorts have immersed themselves in the program's academic and experiential opportunities, and leveraged relationships to launch their careers in the industry. Graduates have secured positions at McFetridge Sports Center in Chicago, Dover Speedway, Brown University, Spectra Venue Management, Legends Hospitality, Spartan Race Inc., Country Music Hall of Fame, Syracuse University's Carrier Dome, Boston Celtics, Boise State University, and Tulsa Sports Commission, among others.
The following SVEM students completed their graduate practicum work in Fall 2018: Peng Chen, USTA National Campus; Marisa Duval, Syracuse University Athletics; Paige Hammond, Comcast Spectacor at Wells Fargo Center; Anna Vergara, AT&T Stadium; and Janelle Williams, LA Clippers and LA Rams. Baylee Douglass, Twenty 3 Group; and Yaohui Wei, Syracuse University Recreation Services; completed their practicum work in Summer 2019.
The eighth SVEM graduate class began in July 2019. Learn more about the graduate program.
---
Students immerse themselves in New England sports culture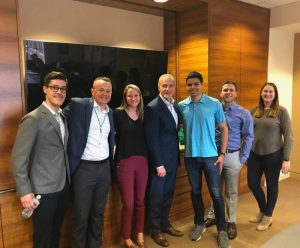 Eighteen students enrolled in SPM 300 spent eight days during Maymester 2019 in the Boston area touring sport-related facilities, and meeting with industry executives from nearly 20 venues and organizations. The New England Sports Immersion course compares and contrasts business practices, marketing strategies, branding initiatives, social media outreach and the organizational culture of competing sports franchises and entities in the greater New England market.
Students conducted professional networking and met and interacted with more than 70 industry executives and practitioners in the sporting industry, including 13 Syracuse University graduates. The group was accompanied by Sport Management Director Michael Veley and Sport Management assistant teaching professor Dave Meluni.
"Building the Syracuse Sport Management footprint throughout New England is important for our students and our program," Veley said. "We met with a multitude of executives, alumni and practitioners in nearly every facet of sports, which was a transformative experience for the students."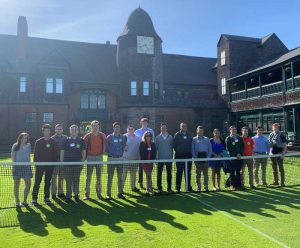 This year's trip included meetings with professionals from the Boston Red Sox, Boston Celtics, Boston Bruins, TD Garden, Kraft Analytics and Sports Entertainment Group, Basketball Hall of Fame, New England Sports Center, Tennis Hall of Fame, UMass Lowell Athletics, American Athletic Conference, UMass Amherst Athletics, Major League Lacrosse, ISlide, Baseballism, and Boston Athletic Association.
"The engagement, support and welcome from all of the organizations was incredible," Meluni said. "Our students made important connections with numerous executives as they begin to pave their path for the future."
Students attended a professional soccer game between the New England Revolution and Chelsea; a minor league baseball game at historic McCoy Stadium, home of the Pawtucket Red Sox; a Boston Red Sox game; a collegiate baseball game between Boston College and Notre Dame; and visited Faneuil Hall Marketplace.
"Seeing so many facets of the industry truly opened my eyes to what I could do with my career, from managing sports complexes to sales," said sport management major Tasha Getten '21. "I made connections that will help me in my future for sure."
The trip is made possible by a gift from Jeff and Andrea Lomasky.
---
Students visit 4 countries on 19-day European Olympic Odyssey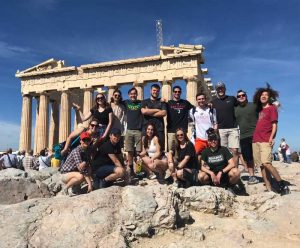 Fourteen students from across the University and the Department of Sport Management, led by SPM assistant professor Dr. Jeeyoon Kim, traveled to Europe in May as part of a 19-day, four-country Olympic Odyssey trip.
The program began in London, where students experienced the impact of the 2012 Summer Games. From there, they traveled to Paris, birthplace of the modern Olympic movement and host of the 2024 Summer Games. The students visited the French Paralympics Committee and INSEP (the National Institute of Sport, Expertise, and Performance) as well as attended a PSG Ligue 1 match. Next, the group traveled to Lausanne, Switzerland, to inspect the present-day "Olympic Capital" and headquarters of the International Olympic Committee (IOC) since 1915. Students met with IOC representatives from Television and Marketing Services, The Court of Arbitration for Sport, and the Olympic Studies Center. They also visited the Olympic Museum and tried archery at the World Archery Excellence Centre. The group then headed to Greece and toured the ancient facilities at Olympia, Delphi, and Marathon. The trip concluded in Athens, site of the 2004 Summer Games.
"This was the trip of a lifetime," said sport management major Andrew Perodeau '22. "Learning about the Olympics while touring four amazing countries is a rare opportunity that most people won't experience. My eyes have been opened to a whole new world of job opportunities, with the IOC or even partner organizations and Olympic committees."
The group also visited Wembley Stadium, the British Museum, Buckingham Palace, Eiffel Tower, Notre Dame, Alps, Parthenon, and the New Acropolis Museum, among other sites.
Students spent the Spring 2019 semester learning about the Olympic Games as part of SPM 356 Olympic Sport Management. They kept a blog of the trip which you can read online.
---
Inaugural Berlin Sport Analytics Symposium Highlights Rising Importance of Data in Sport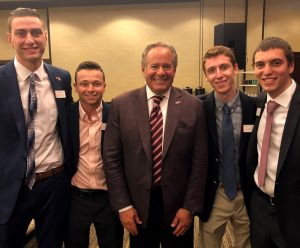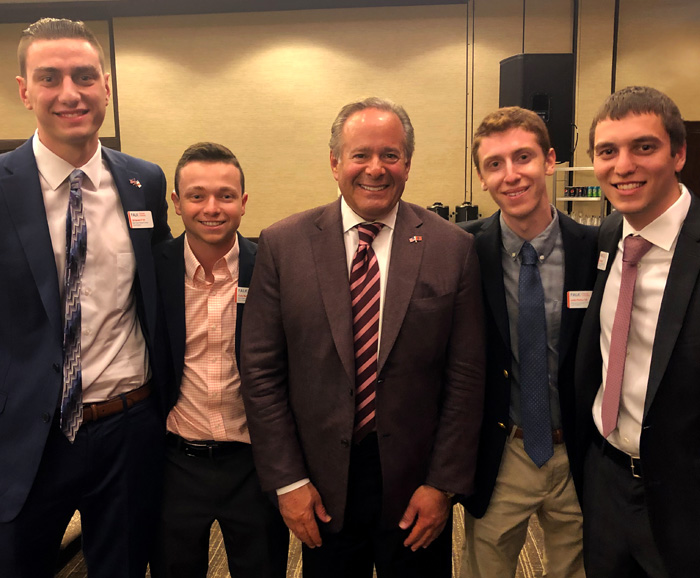 "Calculating the Future of Sports Through Analytics" was the featured theme of the Inaugural Andrew T. Berlin Sport Analytics Symposium, hosted by Syracuse University's David B. Falk College of Sport and Human Dynamics on April 3 at the Westin Michigan Avenue Chicago.
Now more than ever, information and data are driving the sports industry, the fifth largest economic sector in the U.S. economy that generated slightly less than $500 billion in 2016-17. Scouts and agents rely on sport analytics to identify unusual talent and athletic capabilities. Performance data helps professional athletes monitor fitness and predict likelihood of injury. Sport marketing executives value data analytics to improve the fan experience.
The Berlin Sport Analytics Symposium brought together leading industry innovators and Syracuse University faculty members to take a closer look at the critical issues in sport analytics. Chicago Cubs senior vice president of player development and amateur scouting, Jason McLeod, gave the keynote address. McLeod began his front-office career with the San Diego Padres and served as scouting director for the Boston Red Sox.
A panel discussion was moderated by Michael D. Veley, founding director and chair of Falk College's Department of Sport Management at Syracuse University, and the Rhonda S. Falk Endowed Professor of Sport Management, with remarks from Dr. Rodney Paul, sport analytics program designer, director, professor, Syracuse University. Panelists included:
Dafna Aaronson, founder, Be Sports Minded;
Sean Ahmed, analyst, research and development, baseball operations, Chicago Cubs;
Kevin Brilliant, business strategy and analytics senior manager, Chicago Bulls;
Dr. Shane Sanders, sport analytics associate professor, Syracuse University;
Dr. Robby Sikka, professor, associate director, data analytics for sports medicine, Mayo Clinic, and;
Hart Zwingelberg, manager, business intelligence, Chicago Fire Soccer Club.
Berlin Scholars participated in a senior thesis poster presentation during the pre-event reception. The featured student presenters included Syracuse University sport analytics seniors Cody Barbuto, Charles "CB" Garrett IV, Justin Perline, and Evan Weiss. Falk College's Department of Sport Management also presented the inaugural "Pioneer in Sport Analytics Award" honoring Theo Epstein, president of baseball operations for the Chicago Cubs.
Falk College's bachelor of science in sport analytics provides students with a deep understanding of math, statistics, research methodology, sport economics, database management, finance, and computer programming. The degree incorporates a mandatory foreign language requirement to prepare students for the global sport industry. The U.S. Bureau of Labor Statistics reports that the job market for various data analyst disciplines is growing at 27 percent annually, far exceeding the national job growth average of 11 percent.
Since it was launched in 2016, sport analytics at Syracuse has celebrated many successes. The program has established student-industry collaborations with EDGE10, XFL, Spotted, and Syracuse University Athletics. Students have secured professional job placements prior to graduation with teams in Major League Baseball and the National Football League. Students and faculty have published and presented research internationally, most recently at the European Sports Economics Association Conference in Liverpool, England. In addition, they have competed and placed in prestigious industry and academic competitions, including SABR Diamond Dollars Case Competition, MIT Sloan Sports Analytics, ACC Meeting of the Minds, and the NFL's inaugural Big Data Bowl earlier this year.
In addition to a bachelor of science in sport analytics, Falk College's academic portfolio of programs in the Department of Sport Management includes sport management (BS), and sport venue and event management (MS). For more information about Falk College, visit falk.syr.edu.
The Berlin Sport Analytics Symposium event was made possible by the generosity of Syracuse University Trustee and alumnus, Andrew T. Berlin '83. Berlin is a partner investor of the Chicago Cubs, chairman and owner of its minor league Cubs affiliate, the South Bend Cubs, and chairman and CEO of Berlin Packaging. For more information on the Symposium, visit cc.syr.edu/BerlinSymposium.
---
Sport Analytics students accepted to Carnegie Mellon Research Experience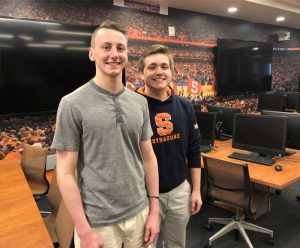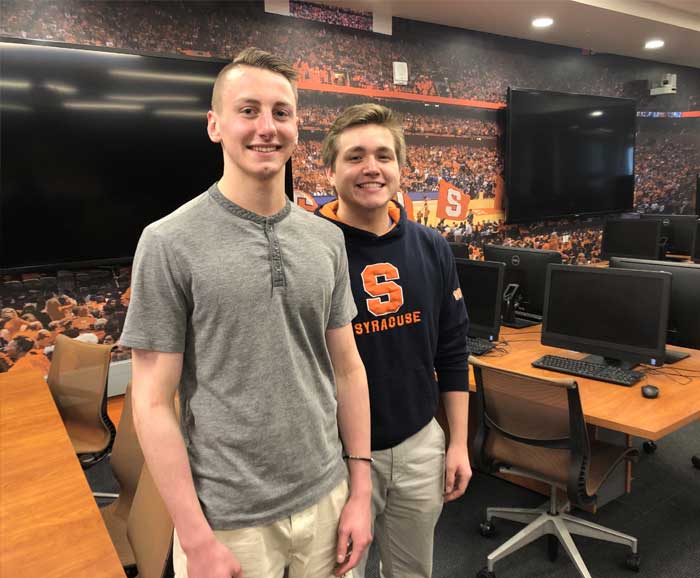 Sport Analytics students Jonathan Bosch '21 and Alejandro Pesantez '21 have been accepted into Carnegie Mellon's Summer Undergraduate Research Experience in Statistics.
The theme is "Data Science in Sports Analytics." The program provides participants with hands-on experience working with real data, on real problems, in a stimulating, collaborative, and supportive environment.
"I'm looking forward to the opportunity to develop my sport analytics skills, connect with peers and professionals in the field, and live in an exciting city away from home," Bosch said. "I'm honored to be chosen for this extremely competitive and prestigious program."
The Department of Statistics & Data Science at Carnegie Mellon University is world-renowned for the quality and depth of its collaborations with disciplines ranging from astronomy and genetics to neuroscience, education and finance. This summer, participants will take part in a variety of sports analytics projects, some of which are sponsored by professional sports organizations and related companies. Students will have opportunities to learn from guest experts in the field and gain first-hand experience in modern sports analytics.
"This is a great opportunity to expand and grow my research and analytical skills," Pesantez said. "It's an honor to represent the Syracuse University sport analytics program."
The students have worked with Syracuse University Sport Analytics professors Dr. Rodney Paul and Dr. Shane Sanders on research projects while attending classes and being active members of student-run analytics clubs on campus.
"Jon and Alex's hard work and commitment to research has led to a well-deserved opportunity at Carnegie Mellon this summer," Paul said. "It's an excellent program that Jon and Alex will benefit from, and their peers at Carnegie Mellon will certainly be impressed by their skills, work ethic, and character."
The program runs from June 3 to July 26 at Carnegie Mellon's Pittsburgh campus.
---
Falk graduate students host Orange Guardians charity benefit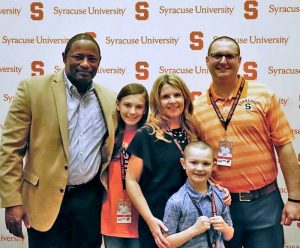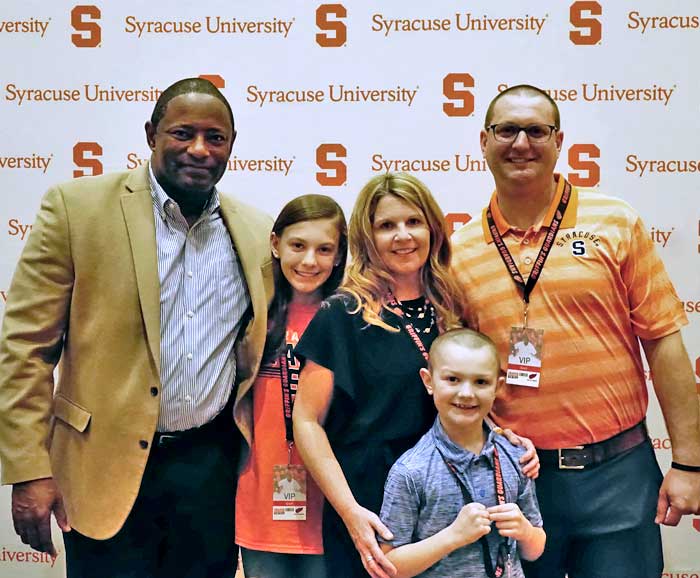 Syracuse University's Sport Venue and Event Management (SVEM) graduate program raised $15,000 during its Orange Guardians Kickoff fundraiser to benefit Griffins Guardians on April 8 at Embassy Suites at Destiny USA in Syracuse. The event included more than 150 attendees, a dinner and reception, entertainment, silent auction, and guest speakers.
Monies raised will support Griffins Guardians, which provides financial assistance to families in Central New York that have a child battling cancer.
"It's through organizations like Griffin's Guardians that patients and their families receive the resources they need to fight this disease," said Syracuse University head football coach Dino Babers. "I commend the Sport Venue and Event Management program for organizing this event."
This event connected event management courses, including experiential learning opportunities, and social responsibility, which are hallmarks of all academic programs across Syracuse University's Falk College. The execution of this event is part of the SVEM curriculum that requires students to organize an event to gain hands-on learning experience working in all facets of the sports industry.
"Being involved in all steps of the event planning and management process was a great way to learn and develop as industry professionals," said Sport Venue and Event Management graduate student Baylee Douglas '19. "The hands-on experience is truly invaluable. Griffin's Guardians is such a deserving partner and we really cherished furthering their efforts in bringing awareness to pediatric cancer."
The students worked on the event as part of their SPM 665 Advanced Event Management class and SPM 635 Marketing Sport Venues and Events class. Students were responsible for all aspects of the event, including selecting the community partner, operations, marketing, hospitality, fundraising, and sponsorships.
"The students decided to plan a different event than what was done in previous years," said Dr. Gina Pauline, Sport Management associate professor and undergraduate director. "The result was the creation of a top-notch experience for attendees that included guest speakers, cancer survivors and athletes such as Rex Culpepper and Rob Long, specialty food, music, and an incredible keynote speaker. Falk College is proud of our graduate students for bringing awareness to pediatric cancer while helping to raise funds for this very worthy cause."
---
Congratulations 2019 Falk Student Research Celebration Winners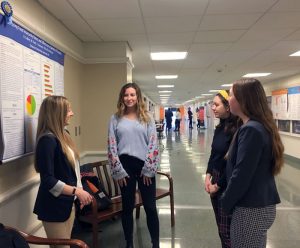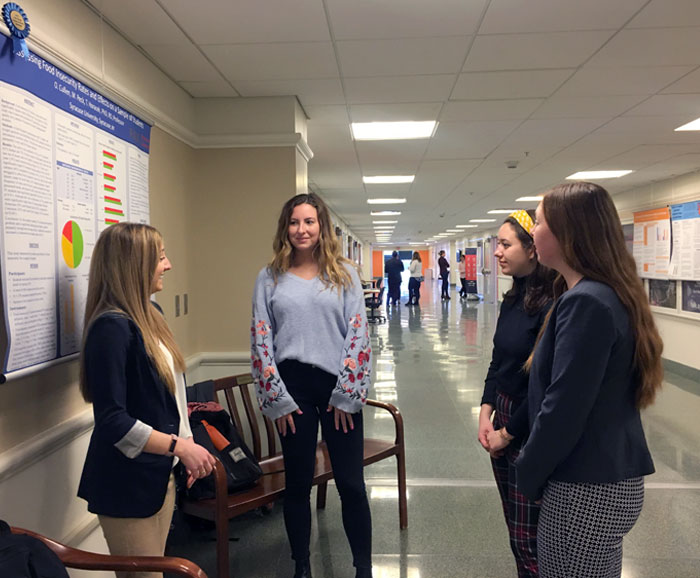 Falk College congratulates the following winners of the 2019 Falk Student Research Celebration:
Undergraduate Winners
Name: Bridget Clark
Kelly Brown, BS; Heather Brubacker, MS, Dietetic Intern; Laura Brown, MS, RD; Baylee Carroll, BS, Dietetic Intern; Elizabeth Gardner; April Hill; Sarah Mihalko, BS; Katie Obojkovits, BS, Dietetic Intern; Madeline Peck; Tanya Horacek, PhD, RD, Professor; Syracuse University, Syracuse NY.
Program/Major: Nutrition Science
Faculty Research Mentor: Tanya Horacek
Title: Process Evaluation of the Healthy Campus Environmental Audits
Name: Olivia Cullen
Madeline Peck; Tanya Horacek, PhD, RD, Professor; Syracuse University, Syracuse NY.
Program/Major: Nutrition Science
Faculty Research Mentor: Tanya Horacek
Title: Assessing Food Insecurity Rates and Effects on a Sample of Undergraduate Students
Name: CB Garrett
Program/Major: Sport Analytics
Faculty Research Mentor: Rodney Paul
Title: Impact of Birthplace on Player Performance in Different Weather Conditions
Graduate Winners
Name: Jennifer Guzzy
Program/Major: Master of Social Work (MSW)
Faculty Research Mentor: Ryan Heath
Title: Extracurriculars and Teachers as a Substitute for Parents: Do they support strong academic outcomes in students without parental involvement?
Name: Madeline Hilton
Program/Major: MSPH Global Health
Faculty Research Mentor: David Larsen
Title: Indoor Residual Spray Campaigns in Community Protection Against Malaria
Name: Ying Zhang
Program/Major: Human Development and Family Science
Faculty Research Mentor: Rachel Razza
Title: Positive Development in Adolescence: the Reciprocal Relationships Between Facets of Self-Compassion and Self-Regulation
---
Page 1 of 15