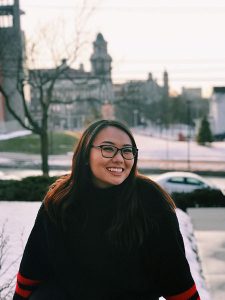 An Interview with Errant Son
Food Studies Major
Class of 2019
What is the focus of your interests in Food Studies? What did your practicum in Food Studies entail?
For my internship, I was among 85 other interns at Lettuce Entertain You Enterprises in Chicago. Each intern was placed in a different restaurant and would shadow the managers. I would attend weekly seminars with the other interns, where partners and corporate leaders discussed philosophies, values, and departments of the company. The interns also worked together in groups of 8 to create a restaurant concept project, and we presented them at the end of the internship at an expo where partners and corporate leaders judged and ranked the groups.
What did you enjoy most about your experience?
My favorite part of interning at Lettuce was the exposure I gained from the restaurant industry. I had many unique experiences! I had the opportunity to manage a crawfish food tent at Lettuce's country and barbeque music festival, Windy City Smokeout. Lettuce also had a burger tent at Lollapalooza, where I was able to serve mass crowds of hungry festival attendees.
How did your Food Studies classes experiences/degree/internship prepare you to work in the broad field of Food Studies?
Through the food studies classes I have taken throughout college, I have found a passion for the social side of food systems. I enjoyed learning how food brings people together in a way nothing else can. The sensations from the flavors and environment are what made me realize that the restaurant industry is where I belong.
What's next for you or what are you up to now?
After graduation, I would like to return to Chicago. I have an interest in working for special events and catering in the restaurant industry. Helping celebrate special life events through food is a field that I would find much joy in.