Gain experience with and understanding of the physiological, mechanical, and psychological aspects of physical activity and health-related behavior
This program in the Department of Exercise Science examines all aspects of human performance including a background in natural sciences, human physiology, anatomy, metabolic and muscular systems, and research and testing protocols. There are three tracks available for this program:
The general health and exercise science track prepares students for careers in community or corporate fitness, clinical physiology, medicine, sports medicine, research, public health, and a wide range of clinical health-related professions.
The pre-physical therapy track allows students to complete some requirements for graduate study in physical therapy or related areas as a part of their undergraduate degree, with a modified version of the general track.
The 3+3 DPT program with SUNY Upstate Medical University allow students to complete both their undergraduate degree and a doctorate of physical therapy (DPT) in 6 years, instead of the usual 7. Students complete their undergraduate program in three years instead of four, and spend their senior year completing first year coursework at SUNY Upstate Medical University. Syracuse University is the only Health and Exercise Science program in the region that is a part of this partnership.
Sample Courses
As a student in Health and Exercise Science, you'll study natural and life sciences, human movement, psychology, injury prevention and care, aging, disability, and a liberal arts core. Students in the pre-physical therapy track and 3+3 Program with SUNY Upstate will take additional courses in physics and child psychology. You will work with your advisor to choose many of your EXE and open elective courses based on your personal and professional interests. Sample courses in your program may include:
Analysis of Human Motion
Physiology of Exercise
Nutrition in Health
Foundational Human Behavior
Motor Development Across the Lifespan
Prevention and Care Athletic Injury
Student often use their electives to complete a minor in Disability Studies, Sports Management, Nutrition, Psychology, or Management, to pursue a Coaching Minor toward New York State certification, or to take additional requirements for further educational interests.
Your first semester will include introductory exercise science, math, natural science, and writing courses.
View all course requirements and electives
---
Why Choose Syracuse?
Over half of our students choose to pursue a doctorate of physical therapy (DPT) program or another clinical health program, while other graduates are top candidates for roles in training and coaching, including certifications offered by the American College of Sports Medicine and the National Strength and Conditioning Association.
Complete over 270 hours of internships and field placements, including shadowing, observation, research, or working with Syracuse University Athletics.
The campus is your classroom, including the extensive facilities of the Syracuse Recreation Services: four gymnasiums, two pools, dance studios, tennis courts, weight rooms, and various indoor and outdoor athletic fields.
You will receive advising support, career services, and one-on-one mentoring from the Exercise Science faculty, who hold leadership positions in professional organizations and receive prestigious awards for their research and writing. An intensive research focus at the undergraduate level includes opportunities in the Muscle Biology Laboratory, the Human Performance Laboratory, an Altitude Simulator, and other work to help you build your professional skills and identity.
---
What Our Students Are Saying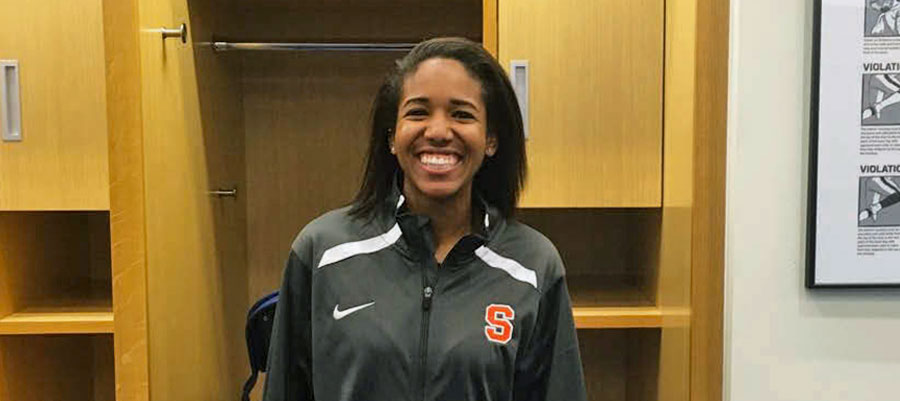 Tyler Daymon '17
I had four different placements; two in physical therapy clinics and two working with athletic trainers for sports teams. Working with the athletic training staff for the SU football team made me realize how much I would like to work around athletics.
---
Study Abroad
Consistently ranked one of the top international education providers in the U.S., Syracuse Study Abroad offers more than 100 programs in 60 countries that allow students to customize their abroad experience to their availability, academic requirements, and interests. Students have opportunities to study for a semester at one of Syracuse's centers or partner programs for a semester abroad, or participate in a short-term signature program for 1-6 weeks. If you're interested in studying abroad during your time at the Falk College, contact your advisor as early as possible to discuss how a semester or short-term trip can fit into your academic program.
Mount Everest Base Camp: The Human Response to High Altitude
Join a 3-week research and teaching expedition to the foot of the highest mountain on Earth, Mount Everest in Nepal! Learn how the human body responds to high altitude and participate in research projects, experience Himalayan culture, test yourself physically, and be treated to the most amazing views. This trip is not for everybody, but for the adventurous and motivated student, the personal rewards are as big as Everest itself! Read more Talk with an SU Abroad advisor
---
Student Organizations
The WHEEL Club was formed in order to bring people with common interests in Wellness, Health, and Exercise together so they could expand their knowledge of possible career paths and benefit the surrounding community through education and services in health related fields. WHEEL Club events have included kickball tournaments, meditation sessions, tours of Manley Field House (one of Syracuse University's athletic facilities), and community service opportunities. The club brings in several guest speakers each semester with exercise-based and health care occupations to speak about their professions, run activities, and lecture about topics of interest. Recent speakers have had backgrounds in exercise science, strength and conditioning, nutrition, occupational therapy, physical therapy, chiropractic, athletic training, stress management, and more. If you are interested in joining WHEEL Club, or have any questions, you can contact us through suwheelclub@gmail.com. All are welcome!
---
Getting Admitted
Applying is easy and only takes minutes using a Common Application. Learn more about application requirements and deadlines:
3+3 Physical Therapy (DPT) Admissions
The third track, the 3+3 program with SUNY Upstate Medical University, allows students the opportunity to spend three years in our health and exercise science program focusing on physical therapy preparation, and then continue with three years in the Doctorate of Physical Therapy (DPT) program at SUNY Upstate. Students transfer the first year of credits taken from SUNY Upstate to SU, which then completes their fourth year at SU and grants them a B.S. degree in health and exercise science. Please note that this track has specific admissions requirements. It is not an option available to current SU students or students transferring to SU from another college or university. To be guaranteed a place in the 3+3 DPT program, students must be accepted by SUNY Upstate Medical University and Syracuse University. You must submit a SUNY Upstate 3+3 DPT application by February 1st of your senior year in high school, along with submitting an application to Syracuse University.
---
Learn More:
For additional admissions information, contact the Office of Admissions at falk@syr.edu, or fill out our online form:
Return to top