As a public health major, you'll focus on practical solutions to promote positive health changes in public and private settings.
The Bachelor of Science degree in Public Health (BSPH) prepares students for health-related careers in government, private and non-profit organizations that address health promotion and illness/disease prevention in individuals, families and communities. Service learning and community engagement are key in this major – beginning freshman year and extending through the senior capstone internship, students work with community partners to improve health in the Syracuse University and regional community. The 30-credit public health core provides foundational public health knowledge and skills important for entry-level public health practice or post-graduate study. In addition to the public health core, a 15-credit concentration in Addiction Prevention, Community Health Education, Health & Society, or Healthcare Management provides tailored career-related training. Students who complete either the Addiction Prevention concentration or the Community Health Education concentration are also eligible for initial professional credentialing in corresponding careers. The public health major also provides a pathway to advanced studies in public health, healthcare administration, medicine, dentistry, physician assistant, nursing, occupational therapy, physical therapy, or psychology. The Office of Health Professional Advising provides additional guidance and support to students during their pre-professional preparations for post-graduate study in clinical health fields. With the assistance of their academic advisor, students can fit a minor and some second majors into the undergraduate curriculum without additional course requirements.  Fifty percent (50%) of Public Health majors pursue a second major or minor. Seventy five (75%) of those who go on to graduate school choose public health graduate degrees. See a listing of complementary programs in the right-hand column for common options for undergraduate second majors, undergraduate minors, or graduate degrees relevant to public health offered at Syracuse University.
Sample Courses
Core coursework includes biology, oral communication, nutrition, and psychology. Sample courses include:
Environmental Health
Epidemiology
Health Disparities and Underserved Populations
Human Health and Disease
Public Health Data and Decision-Making
View all course requirements and electives
---
Degree Options
Accelerated Undergraduate/Graduate Degree Options The 150 credit BSPH/MPH and B.S./MSPH programs provide public health majors the option to complete the Bachelor of Science degree in Public Health and an advanced public health degree (MPH or MSPH) in 5 years, vs. the usual 6 needed if both degrees were completed separately.
---
What Our Students Are Saying
Majoring in Public Health gives me a unique background for a future in clinical medicine. I was able to do a lot of hands-on work in the community through service learning courses, and a full-time semester long capstone internship at SUNY Upstate Golisano Children's Hospital. —Diana Cohen, Public Health '17
---
Experiential Learning
Field-based learning opportunities are an integral requirement of the public health curriculum. Experiential, community-based learning requirements are included across the four years of undergraduate study and provide students with opportunities to apply knowledge gained in the classroom to real-world public health related challenges. These experiences culminate with PHP 422—Senior-Year Capstone Internship Experience. In addition, many public health students engage in summer internship experiences to further their skills in public health practice or research.
Research
Students are actively engaged in ongoing research projects in local and global settings. Faculty and students adopt an interdisciplinary collaborative research approach that frequently bridges multiple laboratories, centers, and institutions including the Syracuse University campus, Upstate Medical University's Research Institutes and Centers and Upstate Medical University faculty, as well as research centers and faculty at SUNY College of Environmental Science and Forestry. This mentored research with public health faculty provides an opportunity to examine a wide range of public health problems including environmental toxicants, infectious disease, addictions, community level violence, health disparities, and trauma and stress. This work has resulted in numerous conference presentations and publications with students as authors and co-authors. View public health faculty research projects
---
Study Abroad
Many study abroad options exist for public health students. For students who wish to spend a semester abroad, Syracuse University Abroad operates eight Study Abroad Centers where Syracuse University and other university students reside and study. In addition, Syracuse University maintains partnerships with over 60 World Partner programs. Short-term and summer programs are also available. Liberal arts courses are offered at the Syracuse University Center programs and at the World Partner Programs. For students interested in studying public health while abroad, public health core courses are available at World Partner programs in Kenya (Nairobi University or SIT Kenya), Denmark (DIS Copenhagen), Sweden (DIS Stockholm), South Africa (SIT South Africa), or Australia (University of Queensland, University of New South Wales, or University of Sydney). Global Medical Brigades at Syracuse University is a student organization that serves to promote health in rural, resource-challenged villages in Central America. The group travels annually to Central American countries in an effort to provide medical care, sustainable resources and education to people in rural, resource-challenged areas. As a volunteer, students not only provide integral support to a community, but also gain first-hand clinical and public health experience while being culturally immersed in the host country.
---
What's Next
When considering a next steps after your bachelors degree in public health, the following information is helpful:
A bachelor degree is sufficient for entry-level career positions.
Advanced degrees allow people to specialize in various public health fields and assume increased leadership within public health
The master in public health (MPH) is a practice-based, professional public health degree. The master of science in public health (MSPH) is a research-based academic public health degree.
Other advanced degrees suit the range of fields that public health touches: master in health communication, master in community health education, master in behavioral health, master in health administration (MHA), or master in public administration (MPA). Other relevant graduate work can be pursued in law, political science, psychology, anthropology, or sociology.
Public health provides a solid foundation for those interested in clinical health careers. Admission requirements for these post-graduate programs may be fulfilled within the natural science and elective requirements of the public health major.
A Ph.D. is required for college teaching and advanced research positions.
---
Careers
The program prepare students to build community, corporate, and college health programs, design health messages to inspire people to action, and pursue careers in such fields as Health Advocacy, Community Health Promotion, Employee and College Health, Public Health Research, Health Marketing & Communication.
Students who complete the Community Health Education concentration are trained to provide health education to groups and communities.
Students who complete the Addiction Prevention concentration are eligible for entry-level positions in programs that provide alcohol and substance abuse prevention services (e.g., evaluation and planning, prevention education and services, risk and harm reduction, and public policy and environment/community change).
Students who complete the Healthcare Management concentration are prepared for entry-level positions as health program coordinators or managers or for advanced study in Healthcare Administration.
The Health and Society concentration provides additional study in social justice, neurobiology as it relates to behavioral health, and nutritional interventions for special populations.
Public health is a growth career. According to an analysis by the de Beaumont Foundation and the Public Health National Center for Innovations, the nation needs 80,000 more full-time equivalent public health positions to provide basic community health services.  To learn more about careers in Public Health visit our career page.
---
Student Organizations
The Society for Public Health Education (SOPHE) student organization is devoted to providing health education and resources to Syracuse University and the surrounding community. SOPHE collaborates with many other organizations and gives its members the opportunity to implement their ideas into successful events, furthering their development in leadership. SOPHE welcome students from all majors, offering unique opportunities to everyone.
---
Accreditation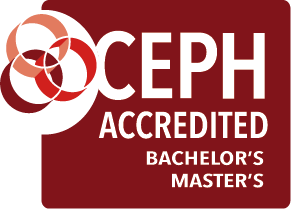 The BSPH is accredited by The Council of Education for Public Health (CEPH), is the independent agency recognized by the US Department of Education to accredit academic public health programs. The CEPH board of Councilors acted at its June 1-3, 2022 meeting to accredit the Syracuse University Public Health Program for a five-year term, extending to July 1, 2027. The self-study report is available by request from the Department of Public Health.
---
Financial Support
Undergraduate financial aid will be provided as awarded via Syracuse University Financial Aid Office. For those interested in pursuing the Accelerated Public Health BSPH/MPH or B.S./MSPH degree options, competitive graduate assistantships and scholarships are available during the 5th year of the 4+1 program, including the Syracuse University Forever Orange Scholarship which includes a waiver of the application fee and GRE and a 50% tuition discount incentive.
---
Getting Admitted
Applying is easy and only takes minutes using a Common Application. Learn more about application requirements and deadlines:
---
Learn More:
For additional admissions information, contact the Office of Admissions at falk@syr.edu, or fill out our online form:
Return to top