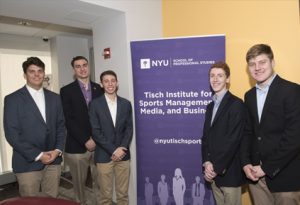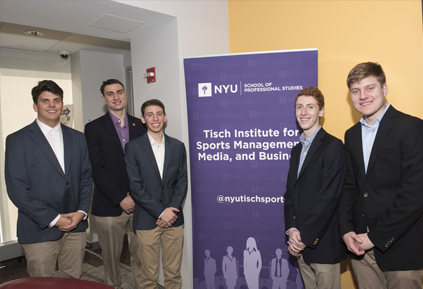 A team representing the Syracuse University Sport Management Baseball Statistics and Sabermetrics Club won the SABR Diamond Dollars Case Competition at NYU earlier this month. Sport analytics majors Justin Perline '19, CB Garrett '19, Luke Scheetz '21, Trevor Olofson '21, and Zak Koeppel '21 won the competition against other universities such as Villanova, NYU and Fordham.
The teams were tasked with creating a model to determine a player's BABIP (Batting Average on Balls In Play), both for hitters, as well as the BABIP that pitchers allow. They were then asked to use this to determine the players who are going to see the biggest increases and decreases in their BABIP next season.
The teams were given five days to collect data, create a model, and prepare a 30-minute presentation on the topic to be given in New York City on Nov. 17. Judges for the competition included Ben Jedlovec (Baseball Info Solutions), Chris Pang (New York Mets), Tom Tippett (consultant, formerly of the Boston Red Sox), and Cameron Barwick (MLB).
"I'm very proud of the students who competed in the Diamond Dollars Case Competition," said sport analytics professor, Dr. Rodney Paul. "The new Analytics program has accumulated very talented students and I look forward to their continued interaction with each other, their progress through the curriculum, and their present and future successes in the field. Our students are a genuine pleasure to teach and I look forward to future classes following in their footsteps."
This is the fourth year that SU has competed in this event. Also competing for SU this year were sport analytics majors Evan Weiss '19, Kyle Liotta, '20, and Colby Olson '21, as well as sport management major Mike Cavalier '19 and sport analytics minor Chris Karasinski '19.