Food Studies Graduate Student Ethan Tyo Brings Native American Students Together With Campus Garden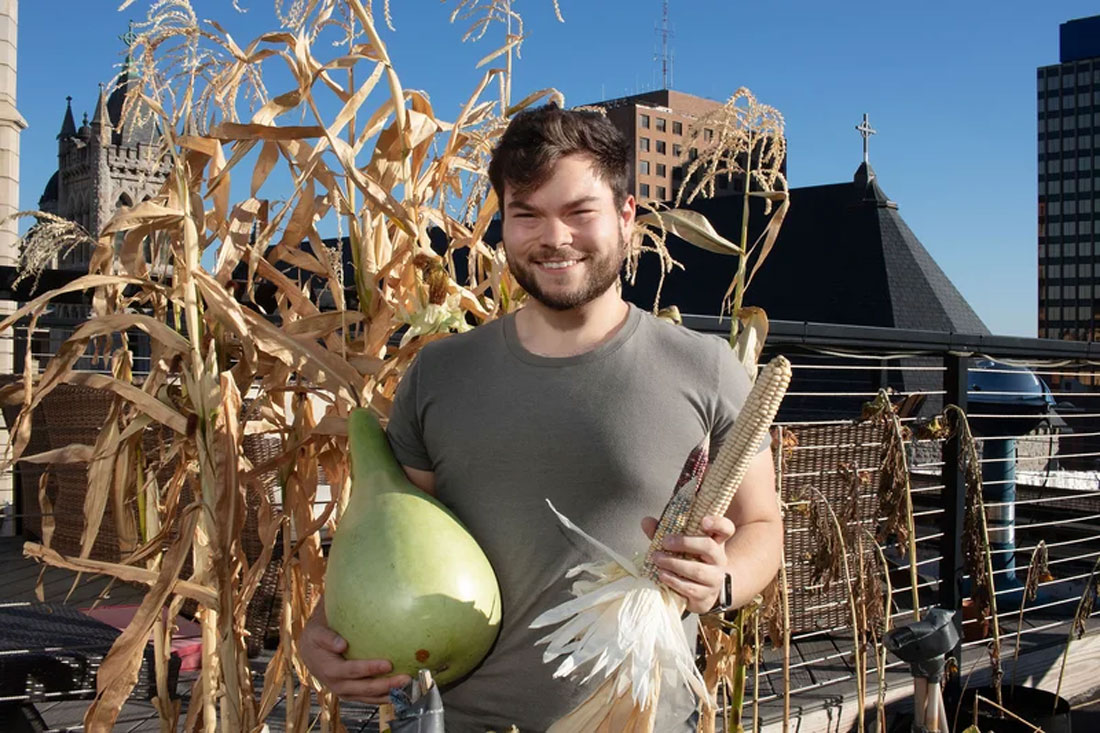 Located near the heart of Haudenosaunee territory, Syracuse University is committed to empowering and supporting Indigenous students of any tribe or nation. From academic programs and resources to welcoming and supportive communities, Syracuse University provides a campus community with faculty, staff and alumni who are invested in helping Indigenous students succeed—like these students and alumni who call the University home.
On campus last summer, Ethan Tyo '17, G'22 started a garden featuring the Three Sisters—corn, beans and squash—to honor the traditions and culture of the Onondaga Nation, firekeepers of the Haudenosaunee, the Indigenous people on whose ancestral lands Syracuse University now stands.
For Tyo—a food studies master's student in Falk College who recently published the cookbook Fetagetaboutit—the garden, a cultural installation located in Pete's Giving Garden on South Campus, represented a way to bring Native American students together and to thank the campus community for its support when he was an undergraduate majoring in information management and technology in the School of Information Studies.
The Three Sisters are the foundational foods of the Haudenosaunee people, and their growth from seeds embodies progress toward recognizing the contributions of Indigenous peoples, Tyo explains. Tyo, who's Akwesasne Mohawk, wolf clan, used the traditional planting methods of the Onondaga Nation in creating the garden, which is part of his graduate practicum. The garden is being kept for seeds and extra will be given back to the Nation as a reciprocal gift and to acknowledge the important work they have contributed to the University community.
"Indigenous students need people to come together and understand projects like this," Tyo says. "I'm happy to see how much the school has adopted the garden and given us these opportunities."