In the words of our students, food is a fantastic lens through which we can understand the world. It intersects every facet of everyday life and impacts how agriculture, economics, science, politics, culture, and human rights connect.
The 30-credit hour Master of Science in Food Studies curriculum focuses on the economy of food systems, including food governance, human rights, international trade, and food justice. Students develop skills and proficiency in how human health and nutrition, economic development, and the environment are shaped by local and global food policy, economic trends, and civil society. Additionally, we emphasize the development of competencies in research methods and program evaluation which magnifies graduate competitiveness for both Ph.D. academic positions and the job market. We pursue and welcome analyses that incorporate social justice, race, ethnicity, and gender and sexuality. The program culminates in either a graduate practicum or thesis. For detailed degree requirements, including a course list, visit the course catalog. Food Studies at Syracuse University's Falk College introduces a political economy and human rights-based approach to food systems. We pursue the dynamics of food justice and sovereignty: can individuals and diverse communities in the US and abroad control their local food economies to promote sustainable food and farm livelihoods within regional, national and transnational webs of trade, policy, and universal human rights. Topics of particular focus include food systems and governance, food and nutrition security, trade, and agroecology—the interaction of plants with the environment and each other in the context of agriculture. In this way, we differ from most Food Studies graduate programs, which more typically focus on the cultural history of food and gastronomy—the practice of selecting, preparing, and consuming food. We respect those approaches, and incorporate them where possible, but our goal is to emphasize our niche.
Why this degree makes a difference in society today…tomorrow…
Food is a universal component of every facet of life. Government, business, and the public have growing awareness of and interest in where food comes from, how it is produced, and its impact on culture, health, the environment, economics, and politics. A career in food provides limitless opportunities to make significant impact. Graduates can position themselves at the forefront of community advocacy where they support public education, urban development, and food access. In the government sector, they work with legislators to initiate food system policy reform, labor reform, and more, all of which which impact public health, the economy, and the environment. In business, from farms to restaurants and everywhere in-between, graduates connect the dots to help build sustainable food systems, communities, and human livelihoods.
Sample Courses
Core courses focuses on multi-scale interpretations of the political economy of the food system, human rights to adequate food, as well as transnational food movements and related public policy. Sample courses include:
Seminar in Food Studies and Systems
The Human Right to Adequate Food and Nutrition
Political Economy of Food
Transnational Food, Health and the Environment
Food and Public Policy
Gender, Food, Rights
Applied Epidemiology in Global Health
Food Systems Planning and Design
Seminar in Political Ecology
View all course requirements and electives
---
Expand Your Degree
While pursuing our M.S., you may also want to consider completing a Certificate of Advanced Studies in another department at Syracuse. Some options, among others, include Geographic Information Systems and Spatial Analysis, Women's and Gender Studies, Global Health and Civil Society Organizations. Graduate certificates are important when pursuing a master's or doctoral degree because they can give you a leg up on employment once you graduate. You build knowledge, skill and credentials in a specialized area of interest above and beyond the master's or doctoral degree without extending your time at Syracuse University. And when you graduate with a graduate degree and a Certificate of Advanced Study, the CAS letters next to your MA, MS, PhD on your new business cards are a valuable addition.
---
What Our Students Are Saying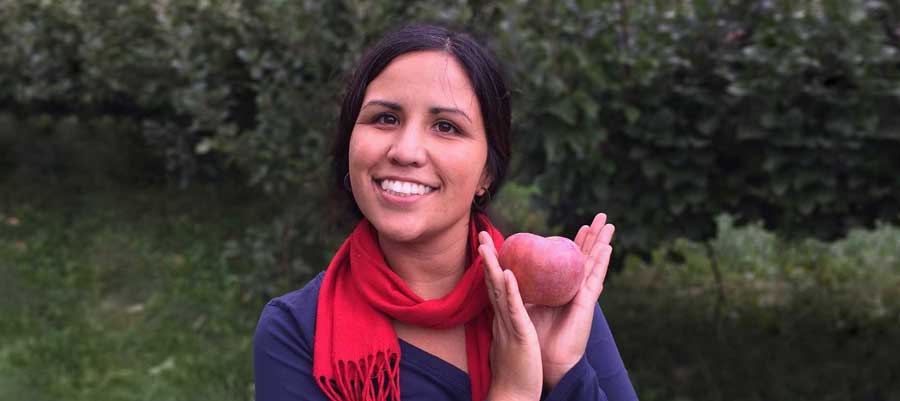 Briana Alfaro, G'18, M.S. Food Studies
Outreach Coordinator, Northeast Organic Farming Association of New York (NOFA-NY)
"The Food Studies program was a perfect fit for my interest and experience in social justice and food systems work, because food is a tangible vehicle for understanding strengths and weaknesses within our socio-economic systems. Learning to think more critically and reflectively in my courses enabled me to be a more confident and effective advocate, while the research methods I practiced as a student and research assistant have been an asset as a practitioner. I can't thank the faculty and staff enough for their expertise and support."
---
Practicum or Thesis
At the culmination of their Food Studies M.S., students have the option to complete either a practicum or thesis. Very generally speaking, a practicum provides exposure and experience to Food Studies career directions; the thesis builds research proficiency useful for further academic training. Both options remain open, regardless of immediate post-graduation plans. The graduate practicum places students in a public, private, or private-nonprofit organization. Students apply for a practicum assignment with the help of a Food Studies Internship Placement Coordinator. Under the direction of a site preceptor, students apply their knowledge and skills to gain new competencies and critically evaluate food systems through firsthand experience. Student practicum sites have included:
Capital Roots – Food Systems Assessment
FarmNet – Mental health resources for organic farmers
Syracuse City School District – Farm to school supply chain
FoodPlan CNY – food policy council development
Embassy of the Republic of Indonesia – agricultural imports product development and food safety
Mountain Roots School – teaching gardens and agri nutrition education
Cornell Cooperative Extension – food summit development and producer outreach
The thesis option is conducted with the approval and guidance of a faculty adviser aligned with a student's interests. Students are expected to write their thesis on an original topic that has a substantial research component and that can contribute new knowledge to the field of Food Studies. Learn more about student practicum sites Read the graduate student newsletter
---
Immersion Travel
Syracuse University students have access to one of the highest-quality international study programs in the country. The "South Asian Cultures: Family, Food, and Health Care Systems" course takes place on campus in the fall, followed by a cultural immersion trip to India. Students and faculty visit New Delhi (Qutub Minar) and Agra (Taj Mahal) in North India, Anand/Ahmedabad (AMUL, Gandhi's house, step wells, Ayurvedic College) in Western India and Coimbatore (elephant corridor and tea estates) in Southern India. During the visit to India, students stay in a family home, visit schools, community program sites, nongovernment organizations, educational institutions (Indian Institute of Management, M.S. University of Baroda), traditional and modern healthcare facilities, go on food walks, and learn about the South Asian culture by interacting with families and communities in both rural and urban areas. Abroad programs are subject to scheduling changes. For a precise schedule of when these programs offered, please contact the department directly. For more information, visit suabroad.syr.edu.
---
What's Next
Goodfoodjobs.com, comfoodjobs.com, foodnavigator.com, idealist.org, and foodsystemsnetwork.org are examples of websites that promote the steadily growing professional opportunities in food-related fields with public, for-profit, and not-for-profit organizations. Graduates of our food studies programs are well prepared for these jobs, as well as for advanced graduate work at the Ph.D. level. Many doctoral programs available today are increasingly focusing on food studies and food systems research. We have a record of students being admitted to competitive Ph.D. programs upon graduation from our M.S. – here at Syracuse University and beyond. Complementary Ph.D. studies to follow a degree in Food Studies include Geography, Sociology, Public Administration, and others.
---
Careers
Growing awareness and understanding of the food system and its effects on the public health, the environment, economy, and beyond, has led to a growing number of exciting, evolving careers. The Bureau of Labor statistics reports expanding career opportunities for those with experience in global food systems and governance in sustainability, environmental health, epidemiology, advocacy, economy policy and regulation, public health and nutrition, trade and food oriented labor, and food production, distribution and security. Similarly, the USDA forecasts growing career opportunities in business, government, education, communication, as well as science, technology, engineering and mathematics (STEM), for graduates with experience in food, agriculture, and environmental matters such as renewable natural resources. The following Food Studies-related employment titles were selected from recent job announcements.
Food Systems Coordinator (building local food economies)
Food Justice, Sovereignty, and Equity Program Coordinator
Sustainability Officer (promoting sustainable food systems, agroecology, linking nutrition and food systems)
Emergency Food Access Administrator
Food Safety/Inspection Manager at national, regional, or local level
Food Policy Officer & Coordinator, (e.g. with food policy councils and other private, public, and private-non-profit sectors groups)
General Manager regional food hub & local food distribution company
Farm Education Director; Coordinator
Agricultural Administrator
Organic Materials Review Program Manager
Practicum Coordinator Food Studies Program
Food Journalist/ Editor
Communications Manager for sustainable agriculture group
Food Assessment Researcher (at community or regional scale)
Manager of food, tourism, and hospitality ventures
---
Getting Admitted
A Bachelor's Degree from an accredited college or university with a graduating GPA of 3.0 or higher, minimum score of 100 on the TOEFL (for international applications), undergraduate transcripts, three letters of recommendation, a resume and personal statement, and optional GRE scores. Undergraduate research methods and/or program evaluation training preferred, but not required. Upper division social science-based food studies coursework also preferred, but not required. Students from broad inclusive fields of undergraduate study and work experience will be considered for admission. Exceptions to the university requirements will be reviewed on a case-by-case basis by the Food Studies Graduate Admissions Committee, to be made up of three members of the Food Studies Program. The Admissions Committee is mostly looking at the academic and practical experience a student will bring to the program and how well the program fits into a students' career goals and dreams and how well the program can support these aspirations.
---
Learn More:
For additional admissions information, contact the Office of Admissions at falk@syr.edu, or fill out our online form:
Return to top